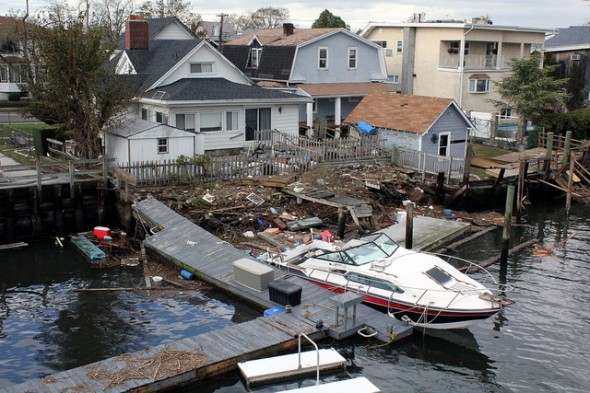 On October 29, 2012, the totally unexpected happened when Hurricane Sandy descended on the east coast of the United States like a belligerent running back. The super-storm forged a path of destruction, ravaging areas such as Staten Island, Manhattan and large swaths of New Jersey. Power failures, flooded underground transport tunnels, fires, wind and waste water contamination each threatened to turn New York City and the tri-state area upside down.
Find out now: What is cash value life insurance?
In total, Hurricane Sandy caused $65 billion in economic loss throughout the U.S., the Caribbean, the Bahamas and Canada, according to the 2012 Annual Global Climate and Catastrophe Report, issued by AonBenfield. Within the U.S., Hurricane Sandy — considered the largest global disaster of 2012 — created an insured loss of about $28.2 billion. The tally, which includes private insurers and government-sponsored programs, left SmartAsset to wonder: How has Hurricane Sandy has affected insurance rates? Here's the scoop.
Hurricane Sandy wreaked havoc and destruction at multiple levels. There were various insurance categories affected, namely: property, business and contingent business interruption, civil authority, ingress and egress, event cancellation, general liability and extra expenses. For insurance companies that are, after all, in it for profitability, Superstorm Sandy dealt a particularly hard blow, depleting insurer earnings and diminishing capital.
In New York and New Jersey, more than 642,000 homes and businesses were damaged, according to Mayor Bloomberg. With the city's high population and concentrated financial market, insurance companies were required to make some hefty payouts.
The damage incurred in and around New York City is undeniable, but was still not enough to knock Florida off the top of a list of states with the highest homeowner insurance premiums, since it is subject to a high number of hurricanes per year. Insurers will need to look at the big picture and factor Sandy in with all the other risk events that took place when it comes to premium hikes, aside from the annual premium price creeping taking place.
According to panelists speaking at Standard & Poor's Bermuda Reinsurance 2012 conference, most damages incurred by Hurricane Sandy will not have a direct impact on insurance pricing. Most of the risk pertaining to Hurricane Sandy fell on flood insurance, a separate beast altogether. Traditionally, insurance companies do not provide flood coverage and you need to purchase this protection separately through the National Flood Insurance Program (NFIP). A few private insurers also offer plans.
National Flood Insurance Flood Program drives insurance costs higher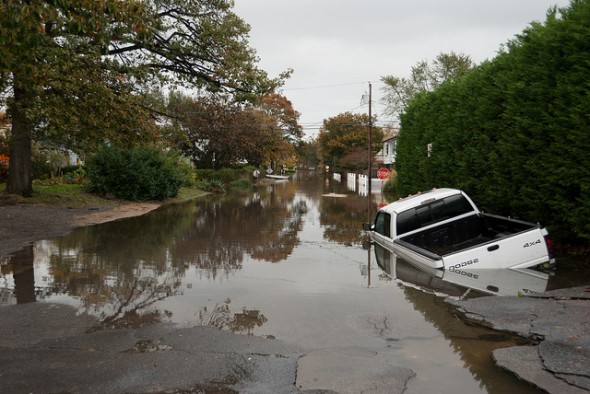 The NFIP is already treading on dangerous waters, having accrued $18 billion in debt from Hurricane Katrina. With an estimated number of new claims far exceeding 115,000, Hurricane Sandy may be the straw that breaks the NFIP's back. Hurricane Sandy has dumped an additional $7 billion in debt on the government program, which has had to learn risk that left them begging for intercession. Last year, U.S. Congress implemented the Flood Insurance Reform Act of 2012, a reform that is driving flood insurance premiums up while restructuring claim filing standards.
If you tried to purchase coverage after Hurricane Sandy hit, it was already too late to file a claim, according to most insurance companies. Whether or not you were previously covered, flood insurance rates have already begun to soar. Previously, increases were capped at 10%, but not anymore. Since January, premiums have jumped 20-25% and they will continue to creep up annually. The increases will add hundreds, even thousands to insurance holders' bills.
Price hikes are not the only way that insurers are protecting themselves. Agencies are finding ways to restrict their losses and lessen the degree of consumer payouts.
Congress declared that homeowners living in high-risk areas such as coastal towns are now mandated to have flood insurance, to the tune of $1,000-3,000 per year. In yet other instances, insurance agents are advising that clients either hold off or pay for some damages out-of-pocket. The reason: if you take out too high or one too many of a claim the carrier can drop you for high liability.
Insurance is also altering zoning maps so that, while your property may have previously been in a low- to moderate-risk area, it is now classified as high-risk. There are limited grandfathering benefits to be had for those whose areas are transitioning. For example, you can take on a Preferred Risk Policy for a low- to moderate-risk zone that will soon be categorized as high due to risk learning, with the ability to renew the plan at a lowered rate. As part of the restructure, however, grandfathering is gradually being phased out. Insurers are also limiting coverage reach, or exclude certain items from the list.
Residents in New Jersey have expressed their grievances about how poorly insurance companies and government programs have handled claims. One Woodbridge citizen received a check for $37.74 from Allstate after Sandy destroyed his home. Biased adjusters have deflected blame from Hurricane Sandy for certain damage claims. Claims are being handled at a very slow pace, leaving many people stranded.
To better protect yourself from the dangers of a future catastrophe, there are certain things to know. Familiarize yourself with all the terms related to your insurance coverage. The underinsured may be liable for loss and damages, for which he or she might have thought they had protection. Make sure to keep up-to-date with the terms of your insurance, as rules and regulations change regularly. Keep a detailed record of all the articles in your possession and revise it annually; keeping in mind the original purchase price for said items. Even if you are renting, it is important that you secure coverage so that all the goods you own that are in your dwelling are protected. Most landlords will only cover damages incurred on the building structure.
Photo Credit: flickr