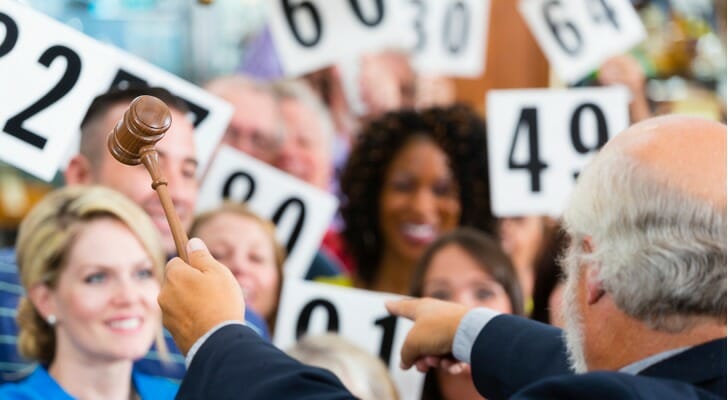 House auctions generally involve the sale of foreclosed homes at possibly below market value. They can serve as a low-cost gateway to homeownership. But home auctions also involve plenty of risk. Many times, you won't actually get to step inside the home before bidding on it. You also may be hit with hidden auction fees. But this guide will help you navigate these auctions like a pro. We'll cover how real estate auctions work, where to find them and what you need to know before putting in a bid. When you're ready to buy, a financial advisor can help you determine how much house you can afford as well as help you plan for other big financial goals.
How Home Auctions Work
When a homeowner misses several months of mortgage payments, the bank or other lender can place the property under foreclosure and move to get the tenants evicted. It then places the home in a foreclosure auction, which is held by bank-hired trustees. The lender hopes to recoup what is still owed on the mortgage, but often gets less. It isn't allowed to get more or profit from the auction.
In other cases, a homeowner can fail to pay property taxes for many years. So local tax authorities take control of the property and place it in a tax lien auction. These are held by governmental authorities.
Each of these can break down into two other types of auctions. In a confirmation auction, the lender has the choice to accept or not accept the winning bid (in other words, it could decline the sale if the bid is too low). In an absolute auction, the highest bidder wins the property. But before going through with a home auction, make sure you consult your fiduciary financial advisor, as there are risks involved.
House Auction Risks: What You Need to Know
In many cases, house auctioneers won't allow you to inspect a home before you bid on it. It's for sale as is. So if you win the bid, you're stuck with the property regardless of its condition.
Remember why these homes were foreclosed on in the first place. If the homeowners skipped their mortgage payments and/or property taxes, they probably neglected basic maintenance expenses as well. In some cases, they may have even intentionally done damage when they knew they were losing the home. You'll be on the hook for the cost of all those repairs when you get the house.
And even if you can tour a home before the auction, you can only see so much. Unless you're a skilled contractor or home appraiser, you may not know what to really look for. There could be severe problems behind the walls or under the floors. Again, you'll have to shell out more money to fix these issues. And if utilities aren't running, you won't detect any leaks, faulty electrical systems and other hazards.
You may even be responsible for expenses that don't have anything to do with the home's structure. The property may have claims or liens against it from any number of creditors. That burden shifts to you along with the keys to your new house.
Of course, we're covering some worst case scenarios you should be aware of. There are ways you can win big on foreclosure auctions. But you have to do it the right way.
Try to See As Much of the House As Possible
A good way to start is by narrowing your search to houses that allow pre-auction inspections. You may want to bring a trusted real estate broker or licensed home appraiser for their take on the property's real value. Or if you know an experienced contractor, you could ask them to accompany you to assess the home and estimate the cost of any repairs.
By visiting the property, you'll also see if it's occupied. If there are squatters, removing them may take time and additional money. This may affect how much you can afford to bid or if you even want the home.
Of course, you may not find any homes you like if you only consider those that allow pre-inspections. If you need to expand your search, try, at least, for properties that provide photos. If you can see only exterior shots, know that the interior is typically in worse shape than the outside.
Check for Claims Against the Property Before You Bid
As mentioned earlier, a property up for auction may have several liens against it. You can hire a title search company to run an investigation into these. It can also uncover if there are any ownership claims against the property. In the event that you win a bid, you may also want to take out title insurance soon after to protect yourself from anything the title company may have missed.
Know Who You're Bidding Against
Auctions can be prime opportunities for scoring a deal on a house because fewer people are competing for a property. But be forewarned: this competition is fierce. These auctions don't attract just first-time homebuyers. You'll also likely be in the bidding room with experienced real estate investors and other professionals in the housing industry.
"Those who attend home auctions are extremely well informed," explains Ben Mizes, a licensed Realtor and real estate investor . "They know the area and what's driving profits on real estate investments. Of course, new investors should give home auctions a try, but you need to understand who you're bidding against."
One way to get ahead of the competition is to research the real estate market in that area. Look into how much homes are selling for in the locality to determine where you should draw the line in terms of what you bid. A Realtor can help here.
Come with Cash to a House Auction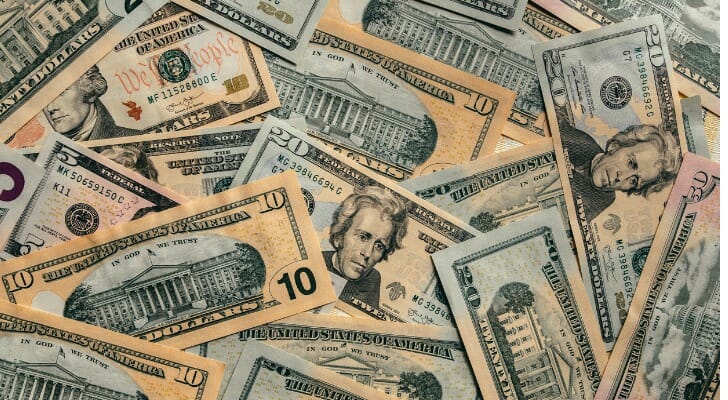 Once you've identified some properties with possibility, it's time to get your cash ready. Each auction place, whether online or in-person, has its own rules and regulations, but generally speaking, you can expect to have to put down a chunk of change upfront.
"You'll likely be required to pay a deposit of 5% to 10% of a home's projected value just to bid on it," says Mizes. "While the deposit is refundable, if you plan on bidding on more than one home, that adds up quickly."
Then if you win an auction, you'll probably have to pay for the home in full with cash or cashier's check. Often you have to do this immediately or you have a short time span to do so. If you fail to pay in full, you can lose your deposit along with the property and face a ban from future auctions.
Additionally, you may be hit with fees. Property auctions involve more players than just the bidders and a bank, and these other people all have to be paid. Typically their fees fall to you, including the charge from the venue hosting the auction, attorneys and other entities involved with bringing the property to auction.
Where to Find House Auctions
One of the best ways to find a home auction is by looking through direct multiple listing services (MLS). These are county databases that offer a wealth of useful information about properties up for bid. You can find photos, occupancy status, leases and even details on any property defects. In essence, they can trim or eliminate some of the steps we listed above. However, each county sets its own rules and limits. In some cases, you may need a real estate license to access these.
You can also find listings online through sites like RealtyTrac. Online house auctions continue to grow in popularity, but information here isn't always complete. For instance, a website may list a home that isn't officially foreclosed. The owner may be in the process of making up late payments or negotiating a deal with the lender. In this case, the listing can disappear as you bid for it.
Local real estate brokers may offer some guidance too. But this pool is small, because most don't collect commissions from these auctions.
What to Do After a House Auction
If you win the bid, congratulations. But the property isn't technically yours until you get the title certificate. This can take a few days. So avoid taking major steps like renovation projects until you receive it. A previous owner may still be able to file a legal objection.
The Takeaway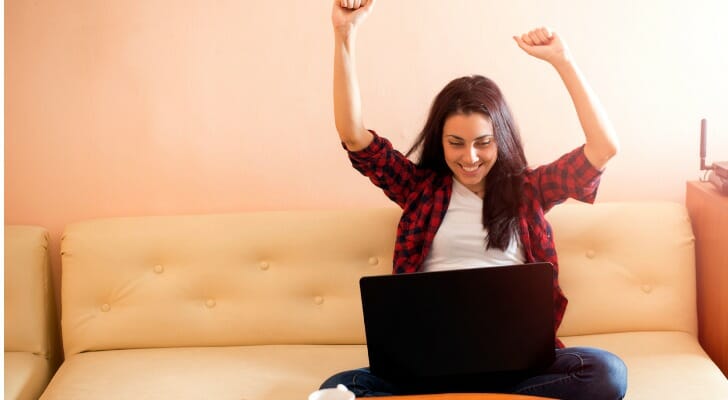 House auctions work by giving prospective homebuyers a chance to bid on foreclosed properties. Winning bids are typically lower than market prices, but you'll have to do your homework. A lot of it, in fact, to make sure you don't end up with a money pit. You'll also probably need to be able to pay in full with cash. All in all, these deals can make for great investment properties.
Tips for Homebuyers on a Budget
Get a good sense of renovations costs before buying a fixer-upper. They tend to run over budget, so make sure you have enough funds to cover the bills.
If house auctions aren't for you, consider the many first-time homebuyer programs out there. Through them, people with small down payments or lower credit scores can get low-cost mortgages.
Seek professional guidance. A financial advisor can help set you on the financial path toward owning a home. And we can help you find one. Our SmartAsset financial advisor matching tool connects you with up to three financial advisors in your area. We vetted each to ensure their qualifications. But you can evaluate their profiles before deciding to work with one.
Photo credit: ©iStock.com/RichLegg,/©iStock.com/MarioGuti, ©iStock.com/marrio31