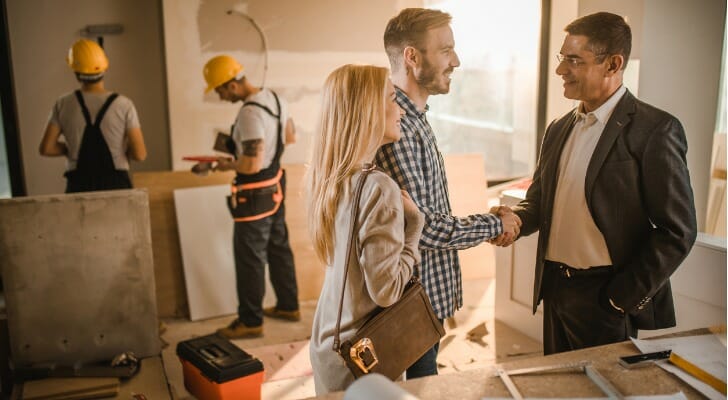 Buying a home is no small decision, but when it comes to building a home, the stakes are even higher. Between finding the right contracting company and figuring out your mortgage payments, building your home can quickly become a daunting task. But a construction loan, essentially a sum of money you get to finance your building costs, can help you manage this large financial undertaking. Whether you're putting up a house from scratch or renovating, construction loans have quirks that differentiate them from a traditional mortgage. So before you sign on the dotted line, make sure you're up to date on the basics of construction loans and how they work in practice.
What Are Construction Loans?
When you buy a house, you secure a mortgage loan. But when you build a house, you will likely have to take out a more specific type of loan called a construction loan. Unlike mortgage loans that are often for a 30-year duration, construction loans are shorter-term. Because they are considered a financial risk to the lender, they typically have higher interest rates. For construction loans, the lender pays the building contractor directly rather than giving the money to the homeowner. These payments come in periodic stages over the course of the building process. They arrive usually once the developers have met certain observable benchmarks. Once the builders have completed the home, the homeowner will typically have paid the loan in full. If not, the loan will be converted to a permanent mortgage on the part of the borrower.
How Do Different Types of Construction Loans Work?
Much like with regular mortgage loans, one size does not fit all with construction loans. There a three main types of constructions loans you may encounter:
Construction-to-permanent loans.
Stand-alone construction loans.
Renovation construction loans.
In a construction-to-permanent loan (also referred to as a single-close loan), you borrow money in order to pay for the construction of the home itself. Once you move into your new home, the loan automatically becomes a mortgage. At the time of your closing, you will cement your interest rate. For individuals with firm plans for their house's construction, a single-close loan will provide an equally firm set interest rate that is unlikely to fluctuate.
The next main type, stand-alone (also referred to as "two-close") construction loans, are actually two separate loans. Essentially, your first loan will pay for the construction. Once you complete the house and are set to move in, you will get a mortgage. That second loan is to pay off the debt you incurred from construction. Stand-alone construction loans are right for you if you have substantial cash on hand. Ditto if you're not set in a relationship with a lending bank by the time building commences.
The third main kind of construction loan is called a renovation construction loan. With a renovation construction loan from a trusted lender, individuals may pack the costs of the entire construction and renovation into the final mortgage. The projected value of the house after repairs and renovations will determine the size of the loan. These are primarily for individuals looking to purchase a house in need of substantial repairs. We often refer to these homes as "fixer-uppers."
Construction Loan Coverage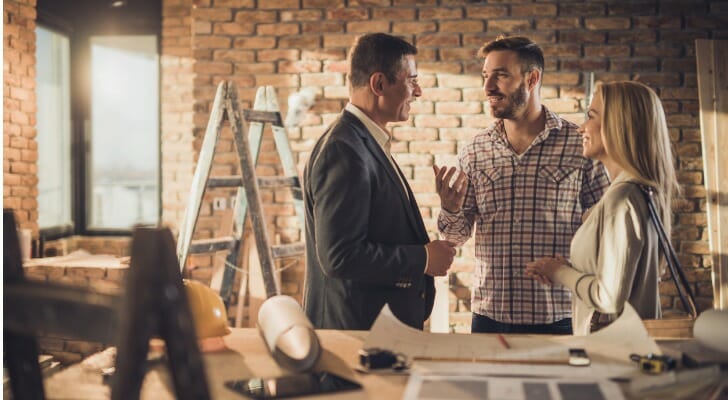 Construction loans can be of great assistance to any individuals or families looking to build the home of their dreams, rather than purchasing an existing model. Even so, a construction loan covers a multitude of different home-owning initiatives. Most notably, that includes the purchase price of the plot of land on which you intend to build your home, and the cost of closing the deal. Additionally, many lenders will include a clause providing money for so-called"soft costs" like house plan design fees, mechanical engineering and work and land permits.
How Construction Loans Work For Your Project
Construction loans cover a vast array of costs, can apply to numerous house purchase and revamp settings and cater to first-time home builders. They are thus an attractive option for your own building project. But will a construction loan work for your specific financial and home buying situation?
The main differences between the types of construction loans spring from whether the borrower is building a new home or renovating an older one. In the case of a new build, your lender will want to ensure that you are in a solid place financially and that you have concrete and achievable plans for your house. Once your lender considers you a viable candidate, he or she will provide the construction loan. You get the money in periodic installments as your home's building process takes form. If you're more inclined to spruce up a fixer-upper, the loan will instead be factored into your permanent mortgage. The choice is yours.
The Takeaway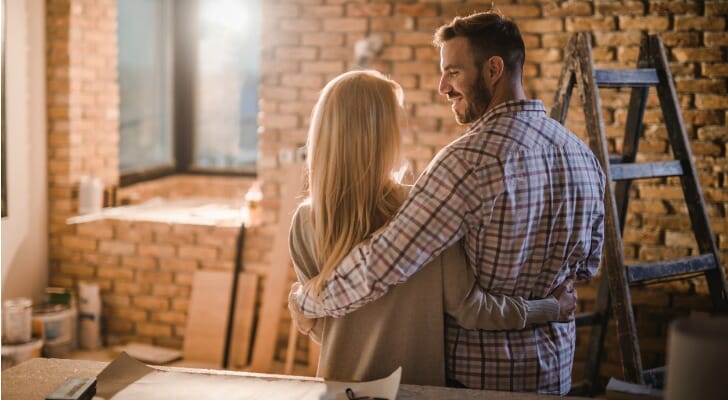 Simply put, construction loans work by enabling first-time house builders with adequate credit scores to execute their project plans. As always, the relationship between the lender and the borrower is key. Communication on the part of the lender, the borrower and the builder—upon whose work the deal hinges—is paramount. Construction loans offer incredible benefits for home building projects that otherwise may never have come to come to fruition. Lacking an existing relationship with a lender or sufficient capital on hand can otherwise prevent such construction projects.
Think you're a good candidate for a construction loan? Before heading to your local credit union or regional bank, be sure that your credit score is in a good place and that you've hired a reputable and qualified builder.
Tips for Managing Your Finances
If you're interested in taking out a construction loan, but are unsure of whether your current finances allow it, get the answers you need from a financial advisor. Our financial advisor matching tool can help you find an advisor in your neighborhood who can assist you with everything from construction loans to finding the best mortgage rates in your state. First you'll answer a series of questions about your financial situation and goals. Then the program will narrow down your options from thousands of advisors to three registered investment advisors who suit your needs. You can then read their profiles to learn more about them, interview them on the phone or in person and choose who to work with in the future. This allows you to find a good fit while the program does much of the hard work for you.
Building the house of your dreams can be an incredible experience, but if you aren't careful, it can also break the bank. Be proactive, and before you build, set up a savings account. This way, you can set aside funds in case unexpected needs arise. Who knows? You may face rock shelves underground on your plot of land or contract disputes with your builders. Better safe than sorry.
Photo credits: ©iStock.com/skynesher, ©iStock.com/skynesher, ©iStock.com/skynesher