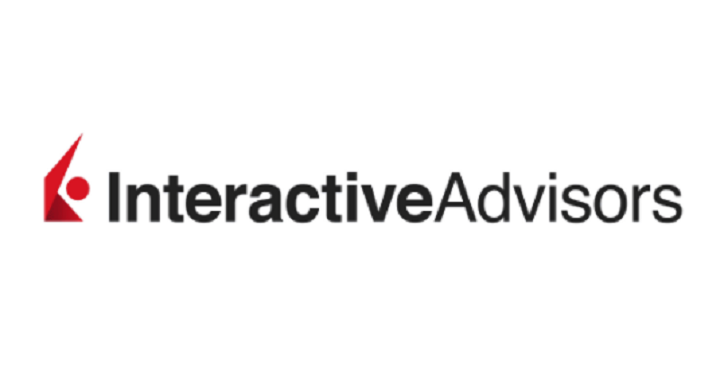 Interactive Advisors offers access to automated and actively managed portfolios that mirror those run by major investment firms like Vanguard and Legg Mason. This feature makes it drastically different than other robo-advisor providers that simply use algorithms to create automated portfolios that invest in a small range of passively managed funds based on the user's risk tolerance. Interactive Advisors goes a step further. It allows you to pick a diversified portfolio managed by some of the biggest investment firms in the country, and it creates an automated replica of it for you. As a result, you get an actively management portfolio without the high management cost.
With Interactive Advisors, you have access to a variety of investment strategies. For instance, you can invest in a socially responsible investing (SRI) portfolio built with stocks from companies that reflect your personal values. You can also look up portfolios to mirror based on parameters like management fees, investment minimums and risk profiles.
Interactive Advisors is offered by Interactive Brokers (IBKR), a technology-focused broker dealer with more than $7.9 billion in equity capital.
Interactive Advisors Overview
Pros
– Access to many investment strategies and asset classes
– User-friendly desktop interface that lets you look up portfolios based on factors like management fees, investment minimums and risk profiles
– Capability to make trades on your own or let the account remain completely automated
Cons
– Asset-based management fees can be as high as 1.50% for some portfolios
– Investment minimums can be as high as $120,000 for some portfolios
Best For
– Sophisticated and tech-savvy investors who want low-cost access to actively managed portfolios
Drawbacks
– Depending on your portfolio, fees and investment minimums can be drastically higher than those found at other robo-advisor providers
Pricing: How Much Does Interactive Advisors Cost?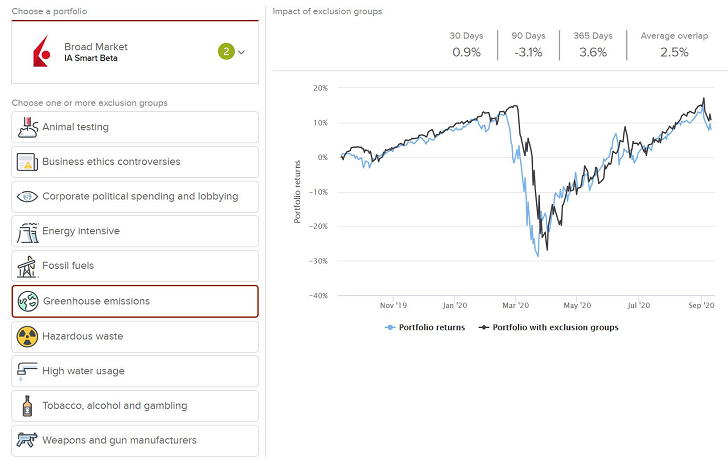 Asset-based management fees range from 0.08% to 1.50%, depending on the portfolio you invest in.
Fees for automated portfolios directly managed by Interactive Advisors climb up to about 0.20%. Fees on accounts that mirror actively managed portfolios run by boutique investment firms are on the higher end of the range.
Keep in mind that you're not directly investing in portfolios managed by these firms. When you choose a portfolio on the Interactive Advisors platform, the firm buys all securities in that portfolio and places them in a brokerage account in your name. When the third-party portfolio manager makes a trade, Interactive Advisors automatically makes the same trade for you. The firm's technology reviews each trade to determine whether it's suitable to you. But you have the freedom to reverse the transaction if you feel it's too risky.
All transaction-based commissions are charged by affiliate Interactive Brokers. According to Barron's Best Online Brokers review published in 2018, Interactive Brokers offers the lowest costs of any brokerage for occasional and frequent traders. You can use a calculator on the Interactive Advisors website to estimate your annual costs based on the size of your investment.
This estimate would apply to an automated portfolio that Interactive Advisors designs for you based on a risk-tolerance questionnaire. It draws from estimated turnover and average price per share and estimated trading commissions to rebalance portfolios. These portfolios are rebalanced every quarter.
But if you want access to an actively managed portfolio based on another firm's strategy, you can expect to see more frequent trading and thus higher commissions costs. So estimating the annual cost for an actively managed option may take some of your own number crunching. This is one of the reasons why interactive Advisors may better suit the experienced investor.
Actively managed portfolios through Interactive Advisors have investment minimums that range from $10,000 to $120,000. If that's more than you can afford, the investment minimum for its automated portfolios is $1,000. That is comparatively low, though similar
robo-advisor services have little-to-no investment minimums.
Additionally, you should note that investments like mutual funds and exchange-traded funds (ETFs) have their own operational costs charged by the firms that run them. Often these fees are embedded in share prices, so you may not see them as itemized costs on your account statement.
Interactive Advisors Investing Strategy
Interactive Advisors offers virtually any investment strategy you're looking for. As noted earlier, you can mirror active managers' portfolios – you search for them on the platform by filtering for parameters such as portfolio managers, risk profile or industry sectors.
Alternately, you could design an environment, social and governance (ESG) portfolio with securities from companies that are in line with your social values. Through the Interactive Advisors online investing platform, you can even filter by ticker symbol to exclude portfolios with stocks from companies you don't want to invest in.
Or if you're on top of the latest investing trends, you could invest in one of the company's smart beta portfolios with a minimum investment of $1,000. Generally, Smart beta is a rules-based strategy that combines elements of active and passive investing.
Key Features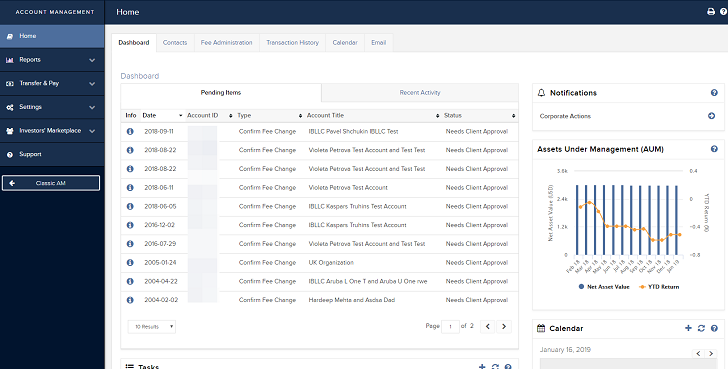 Many robo-advisor providers offer passively managed portfolios primarily built with ETFs. Interactive Advisors goes a few steps farther. You can choose from passively and actively managed portfolios built with ETFs, mutual funds, individual stocks and more.
In fact, customization is where Interactive Advisors really shines. The firm manages a user-friendly website where you can look up portfolios based on your preferences. Your filter options include the following:
Risk factor:
Cautious Growth
Growth Plus
Aggressive
Speculative
Management fees:
0.25% or less
0.26% – 0.99%
1.00% or more
Minimum investments
Commissions
Investment managers
You can also click on each portfolio option for a detailed profile. It provides you with performance data, benchmark comparisons, holdings and even recent transactions. You'll need to log in to get access to the complete profile.
If you're looking to trade on your own, you can upgrade to a self-directed Interactive Brokers LLC (IBKR) Universal Account. This option allows eligible clients to trade stocks, options, futures, bonds and ETFs.
Who Is Interactive Advisors For?
Interactive Advisors is best for the active investor who wants access to several investment strategies and powerful customization tools. Through Interactive Advisors, this type of investor can find access to portfolios that mirror the makeup of actively managed portfolios run by some of the most reputable firms in the industry. Interactive Advisors evaluates these portfolios using industry research and the expertise of its own investment team. It also has a curated selection of investment managers with mandates to pursue enhanced returns.
That's not to say the laid-back investor can't find a suitable option at Interactive Advisors. But this person may find a similar option for lower costs elsewhere.
How Interactive Advisors Works
Thanks to a user-friendly website, opening an account with Interactive Advisors is fairly straightforward. From the home page, you can open an asset allocation portfolio managed by Interactive Advisors. You just have to sign up and answer nine questions to get a portfolio recommendation. From there, you can fund it with a minimum investment of $1,000.
You can also access a link on the home page that takes you to a page where you can look up portfolios managed by boutique investment firms. Interactive Advisors can build a portfolio that reflects the one you choose.
What's the Catch?
When robo-advisor platforms first began to emerge, providers often promoted these as investment options for the person who wants to jump into the markets but leave the heavy lifting to the professionals. Most used algorithms based on Modern Portfolio Theory to build a portfolio tailored to the client's risk tolerance and financial profile. From there, the system would automatically manage and rebalance the portfolio when needed. While you can find this at Interactive Advisors, it's not really the firm's main selling point.
Instead, the firm's big draw is its mirroring of active managers' portfolios. As a result, it's probably best suited for investors who like the idea of active management but also want some control over trades in their accounts. So the catch here is that this a robo-advisor that may be a better fit for the sophisticated investor.
And because Interactive Advisors offers access to actively managed investment strategies, fees and investment minimums can be drastically higher than they are at other robo-advisors.
Competition: How Does Interactive Advisors Stack Up?
Another robo-advisor provider that offers access to actively managed portfolios is SoFi. The SoFi Automated Investing platform outshines Interactive Advisors when it comes to investment management fees. In fact, the firm charges no management fees. And you can open an account with as little as $1. These combined perks are rare to find in the world of automated investing.
However, SoFicomes up short when it comes to customization. It gives you access to only five actively managed portfolios designed for specific risk levels. Each is primarily built with ETFs that offer exposure to about 16 different asset classes. With Interactive Advisors, you can choose portfolios that reflect those run by dozens of the biggest investment management firms. These can offer exposure to virtually the entire securities universe.
Another robo-advisor that you may want to compare to Interactive Advisors is ActivePlus Portfolios by T. Rowe Price. Like SoFi, it doesn't charge investment management fees. It doesn't charge commissions either. So your account bears only the operational costs of the underlying funds your portfolio invests in. However, T. Rowe Price ActivePlus Portfolios also lack customization features.
You can invest only in 10 model portfolios built with T. Rowe Price's actively managed funds. T. Rowe Price also imposes a much higher minimum investment requirement of $50,000. On the other hand, Sofi and T. Rowe Price allow you to open different types of accounts. Both firms allow you to open individual retirement accounts (IRAs) and Roth IRAs. Interactive Advisors just lets you open a standard brokerage account.
Overall, Interactive Advisors is for the active investor who values technology, customization and access to a wide variety of investment strategies with varying degrees of risk. If you're a more laid-back investor who wants low-cost access to actively managed portfolios but open to fewer portfolio options, you may want to consider SoFi. If you want the same but can shell out a large minimum investment, T. Rowe Price and similar firms may better meet your needs.
Bottom Line: Should You Use Interactive Advisors?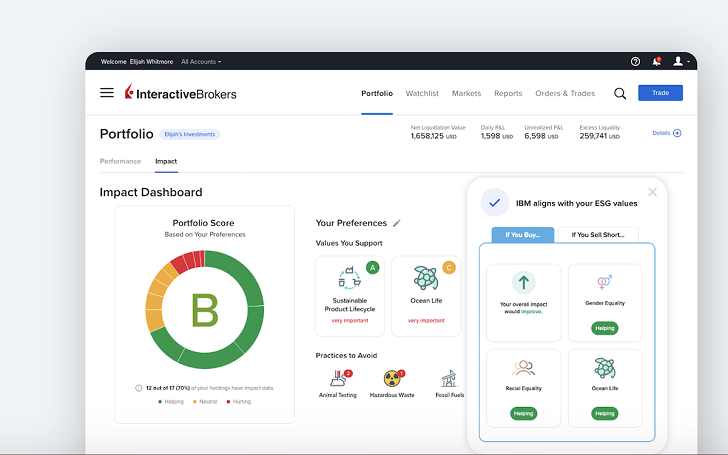 If you want to invest in actively managed and highly customizable portfolios that are automatically rebalanced, you should definitely consider Interactive Advisors. It may also appeal to investors who want exposure to relatively novel investment strategies like smart beta and ESG investing. Because of its depth of investment options, virtually any investor can find a suitable portfolio at Interactive Advisors. But because investing in some of these portfolios can come with high costs and risk, it may be best suited for the experienced investor. If you're just testing the robo-advisor waters or want to take a completely hands-off approach to investing, you'll find less costly options elsewhere. Check out our report on the best robo-advisors for some more pointers.
Tips for Finding an Advisor
If you want to understand the reasoning behind investment choices, a robo-advisor is probably not the right fit for you. Instead, you may be happier with a financial advisor who is a person. To find one, use SmartAsset's matching tool. After you answer a handful of questions, we'll recommend up to three advisors based on your location, goals and other factors.
The rise of robo-advisors has coincided with a bull market. But what will the algorithm-driven program do when there's a major downturn? The general wisdom is not to panic and sell when prices head south, but an automated system of rebalancing may just do that. Before you sign up with any advisor – robo or human – make sure you know what they will do should stock prices fall.
Photo credit: Interactive Advisors, Investopedia, Interactive Brokers, FX News Group