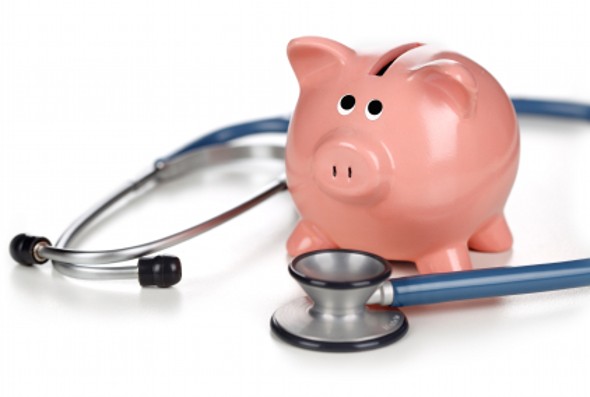 It's no secret that the Healthcare.gov website has been plagued with issues since its inception. Personally, I didn't think I would have to deal with them. My husband worked for a large international company and we received our benefits from them. I didn't worry too much about the drama or backlash surrounding it. What I didn't know at the time is my husband would be offered an amazing job in the beginning of this year and he would be leaving his old company and healthcare behind.
5 Insurance Policies to Buy If You're Self-Employed
Although he was excited about the career move, we weren't excited about the $1,400 bill we would have to pay each month for COBRA coverage until his new benefits kicked in. We contemplated just risking it because paying an extra $1,400 a month wasn't in the realm of possibility. But I knew with my husband's diabetes, my autoimmune disease and an accident prone toddler, it was too risky to go without. We decided to give Healthcare.gov a try.
Signing Up at Healthcare.gov
We signed up mid-February to be eligible for insurance starting March 1st. Right now, the open enrollment is closed, but there are certain circumstances that can allow you to still purchase an insurance plan. If you have had a qualifying life event or started an application prior to the deadline, you still may be able to apply.
How did it work? First we signed up for an account. After filling out all of the information for myself and our family, I was able to shop for plans here in North Carolina.
I noticed that there was a few times where security questions were asked, so I felt a little better about putting my information out there. Some of the verification questions they asked would have never been able to be answered by someone other than me, even if they had my social security number, address and name.
Next you will be asked if you want to see if you qualify for a subsidy. I was certain that we wouldn't be eligible, but we took the time to fill it out anyways. I'll never turn down free money. To our surprise, we qualified for a few dollars per month.
Tip: Be prepared to get information from your company if you are currently working. Even though our benefits were ending in a week's time, we still had to have my husband's old company fill out some information in order to take advantage of the subsidy because he started his next job.
Finding the Right Plan for Our Family
There were so many plans to choose from. We had wanted to stick with a plan similar to what we already had so we carefully looked through deductibles, co-insurances and out of pocket maximums.
To be honest, in all the years of working and signing up for health insurance, I still was unfamiliar with the terms. I could see how someone can get easily confused when signing up through the site.
It clearly shows you the dollar amounts, but going with the cheapest plan isn't the only thing you should take into consideration. Do you have prescriptions? Look into that too. We found that the cheaper plan (with a high prescription deductible and copay) would actually cost us more once we factored in my husband's medicine.
The Final Result
We chose one of the lower cost plans because we only needed it short term. We ended up with a similar deductible and out of pocket expense that our COBRA plan would have offered. If we would have needed the insurance indefinitely I would have invested in a better plan with lower deductible and co-pays and paid a little more. The end result was our family signed up to pay $636 a month (compared to $1,400). For us, it was worth the time.
My Opinion and Advice for You
The signup itself was fairly straight forward and the site walked you step by step through the whole process. It took us about an hour from start to finish, which included filling out the subsidy section (and getting confused at the subsidy section questions). There were some redundancies in the process and I did have to fill out some information twice. Although we didn't experience the delays that others did, we also weren't signing up near the deadline, so the volume on the site wasn't what it would have normally been.
We had contacted Blue Cross to find out more information on the plans ahead of time, so that saved us a decent amount of time in researching plans when we signed up. I recommend doing the same. Also, having a benefits statement from your current insurance (if you have insurance now) in front of you to compare apples to apples would be helpful. There are a lot of choices, so it can get confusing.
Another tip I have is try to complete in one session, that way you won't have to reenter information. Have all of your information in front of you like your last tax return (for income information to fill out the subsidy) and social security numbers for everyone that will be covered.
Don't just assume that if your doctor takes insurance XYZ that they will automatically take your new Healthcare.gov insurance. Our particular plan was actually created for the marketplace and many doctors haven't gotten on board yet. When I called my family doctor, they said they accepted the insurance, but when going on the physician finder for my plan, they actually didn't.
How Health Care Bills Can Hurt Your Credit
Did you sign up for your insurance with Healthcare.gov? What was your experience? Share with us below!
Photo Credit: Flickr