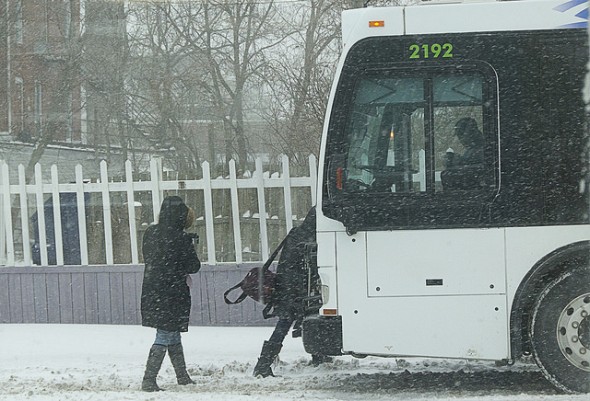 It's been a long, hard, snowy winter for much of America. Many people are relieved and excited to welcome the warmer weather of spring. But there are some people, and some businesses, who will miss the winter weather.
Check out our mortgage calculator.
This winter's spate of extreme winter weather across the United States has hurt the bottom lines of many companies, with perilous commutes and offices closed due to being snowed in. But businesses are like animals–there are ones specifically adapted to every situation. Most obvious among the proverbial polar bears, arctic foxes, and yetis are the heating fuel and cleanup (i.e. snowplowing) sectors, but plenty of other industries benefit from a blizzard as well.
Electric companies are assumed to make more money in the summer due to air conditioning, for example, but a representative from New York area supplier ConEdison says the company's profit margin is about as high in the winter as it is in the summer partly because of electric heating and partly because of lights going on earlier for longer nights. Here are another nine industries that pray for snow. Here's a list of the businesses wishing for more of the frigid temperatures and frozen precipitation of this past winter.
Related Article: 7 Inexpensive Ways to Beat the Winter Blues
Aftermarket automotive parts
Winter weather can play havoc with cars. Windshield wipers break under the weight of snow, and car batteries die much more quickly because the acid in them holds much less of a charge in the cold. As bitter weather reached places that are unused to it this year, car parts retailers around the country reaped the benefits of increased demand. Bill McDowell, of an Advance Auto Parts in Durham, NC, described the weather as colder than it's been in his lifetime and reports that batteries are the best-selling item on his shelves (winter driving habits also give batteries less of a chance to warm up, and high-beams and heating deplete them, further shortening their lifespans), but he also found himself selling snow tires for the first time to North Carolinians who are not used to powdery roads.
Outerwear
The equation is simple: Record low temperatures equal more layers to be worn to stay warm equal more clothing sold. And specialty outerwear stores, whose hats, boots, and jackets promise to keep you toasty with the latest technology, see not only athletic and fashion-conscious customers during deep freezes but those who just want to escape the cold as well. Under Armour, the athletic-wear maker, charted a 23 percent stock price increase at the end of 2013, just as much of the US began to be really affected by winter weather. Amanda Anderson, manager at the Columbia Sportswear store in the Mall of America in Bloomington, MN, says that this year her store was selling out of snow boots, OmniHeat super-insulated jackets, and "anything waterproof," and that people were even willing to try snowshoes to get around in the deep drifts.
Hardware stores
When something in your home breaks–an appliance, a piece of plumbing, lightbulbs–it requires fixing even more urgently if the weather is apocalyptic. The many depredations of winter storms can mean a busy season for home maintenance. Heavy snows also naturally drive up sales of shovels, snow blowers, and bags of sand and rock salt.
The largest national chains like Home Depot see the biggest benefits; Home Depot's stock rose this past winter and its stores sold out of the essentials. But local mom-and-pop home improvement stores saw the same kind of increased patronage. The manager of one Ace Hardware in Central New Jersey–who was "very pleased" with the area's snowy weather–said all of the expected commodities sell very well during harsh winters, along with flashlights and batteries to hedge against the possibility of a power outage, and, surprisingly, door hinges, since they're easy to break if they freeze shut and are forced open.
Private weather forecasters
The local, state, and federal governments obviously keep an eye on the weather, since they must do the majority of the cleanup after a bad storm, and noaa.gov makes the National Weather Service's data freely available. But according to a Wharton study, the private weather industry in the US now encompasses 350 companies that total $3 billion a year in revenue.
Companies like the Weather Channel are able to offer more specific and up-to-date local forecasts, as well as, recently, only tangentially weather-related reality programming like Freaks of Nature. As soon as there might be a storm on the horizon, everyone tunes in for the latest reports, massively boosting ratings and hence advertising revenue, and stunts like giving winter storms hurricane-like names allow the Weather Channel and its ilk to ride the social media wave that a blizzard causes. In other words, they're the only people who look forward to Facebook and Twitter newsfeeds filled with endless complaints about the weather!
On a more technical note, weather risk management companies, which protect individuals' and businesses' physical assets against damage, see a lot of just-in-case contracts when bad weather is forecasted. In the past, notes David Brentino of Kansas-based MSI Guaranteed Weather, people have been "under-protected financially from snow," but that might change with the media coverage of this year's impressive winter weather.
Movie rental services
If you're snowed in, the roads have yet to be cleared, and going out for the evening isn't an option, what is there to do? The immediate answer that comes to mind is often "get under the blankets and watch a movie."
Netflix's roughly 39 million US subscribers are more than happy to take advantage of the service's streaming option when the weather outside is frightful, and the company's stock price has steadily climbed from around $250 at the end of summer to around $400 in the winter.
As for non-subscribers, there's always the option of picking up a couple of DVDs from a Redbox machine while you're stocking up on pre-storm groceries (more on that later). Redbox owner Outerwall's stock rose from $45 in September to a high of nearly $70 earlier this year, and there are always lines of cabin-fever-averse people at the machines prior to a snowstorm.
Warm-weather tourism
Another way to beat the winter-weather blues is to simply get away from the cold for a week, or even longer. Florida tourism, for example, gets a boost when Midwesterners, Northeasterners, and even Canadians are feeling the chill–the Sunshine State was notoriously the only contiguous US state spared from the recent encroachment of the polar vortex.
Steve Milo, of St. Augustine, FL-based Vacation Rental Pros, says the phones "ring like crazy" and he is deluged with emails when a major blizzard is forecasted up north. In addition to new bookings, he says, his existing clients tend to extend their stays and rent property for the following year during harsh winters.
Taxis and car services
As many forms of transport become difficult, risky, or impossible to use in snowbound conditions, local cab and shuttle companies are able to step into the void and reap the benefits. Rochester, MN's Go Rochester Direct shuttle service reported a 25 percent increase in passengers in early January due to winter storms, and near this author's hometown in Central New Jersey, New York-bound commuters from around the area have taken cabs to the Metuchen train station more often this season in order to avoid parking at the station in a tempest. Delayed and cancelled airline flights also result in greater numbers of cars hired by travelers who have to change their plans last-minute.
Grocery stores
The quickest way a grocery store can empty out its shelves–day-old bread and all–is for a blizzard to be forecasted. Since food is a constant necessity, it's the commodity most affected by panic buying. It almost goes without saying that the grocery store is the first place people head when there's news of a severe storm. The sight may be more familiar in coastal areas that are threatened by hurricanes during the summer and fall, but snow accumulation generally means that more people are kept indoors and they still have to eat.
Pharmacies
Medication can, in some cases, be as critical a need as food. Pharmacies are packed with customers requiring their vital prescriptions to be filled before a blizzard. Robert Jenco, pharmacy manager of a Central New Jersey Walgreens, says patrons all rush in for their scripts as soon as the severe forecast hits the news.
Not only are many prescriptions prepared in the lead-up to a winter storm, he says, over-the-counter analgesics fly off the shelves in anticipation of injured backs and achy muscles from snow shoveling. Pharmacies that carry grocery staples also quickly run out of bread, milk, and eggs as storms approach.
Related Article: Best Things to Buy in Spring
Photo Credit: rumimume