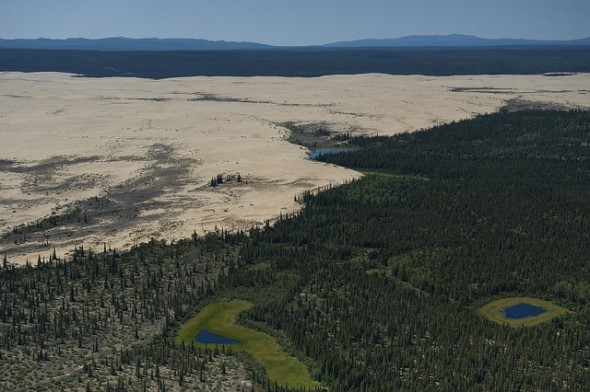 Planning a summer road trip or vacation? National parks can be a big draw. But some are gaining in popularity while others are seeing fewer visitors. SmartAsset wanted to find out the current most and least popular parks.
6 Easy Ways to Save for Your Summer Vacation
Since the United States spans from the eastern to the western edges of an entire continent – "Sea to Shining Sea," or "Mare Usque Ad Mari" as our Canadian neighbors would put it – it's blessed with biological and environmental diversity like few, if any, other countries in the world can boast.
In the middle of the 19th century, the conflicting interests of industrialization and conservationism led to concerns that much of the unique natural beauty of the country might be lost – paved over and mined out. So in 1872, Yellowstone was set aside as the first American National Park.
In 1916, the National Park Service was established, and since then it's grown to manage about 400 sites of natural, cultural, and historic importance, 59 of which are notable enough to be National Parks. The assumption, and the ideal, is that these 59 sites will always be unspoiled, eternally available for the admiration of visitors, all of them equally important in the grand scheme of nature.
But, human preferences being what they are, some of the parks are more popular than others, and the fortunes of parks rise and fall according to fickle public tastes. To demonstrate how quickly national parks can come into and out of vogue, SmartAsset compared the 2009 and 2013 attendance figures for all of the places managed by the National Park Service – in other words, the numbers of attendees in the midst of a recession and in its aftermath – then ranked the National Parks by percent change in attendance.
The Rising National Parks
These were the five national parks with the biggest visitor gains.
Kobuk Valley
Location: Alaska
2009 visitors: 1,879
2013 visitors: 16,875
Percent change: 798%
The most-improved park started out as the lowest-attended park by far in 2009 and shot up to a staggering eight times its 2009 attendance four years later, beating out the 2013 numbers of three other parks that massively outperformed it in 2009. The Kobuk Valley is the remotest national park from a city or town, being a 2-hour plane ride from the nearest village, Kotzebue. The park's strangest, most notable and most beautiful feature are golden-brown sand dunes, hundreds of feet high, and forty miles north of the Arctic Circle boundary, an area which gets to be up to 100 degrees Fahrenheit in summer.
Denali
Location: Alaska
2009 visitors: 358,041
2013 visitors: 530,922
Percent change: 48%
The highest point above sea level in North America, the peak of Mount McKinley, marks the centerpiece of Denali National Park and Preserve. The Denali area was the first National Park specifically created to preserve wildlife – in this case, mainly wolves, which roam freely just off the path beaten by human visitors in huge packs. Denali's untouched nature is evident in the pristine fossil finds that have turned up there. The park's entrance is about 240 miles north of Anchorage and 120 miles south of Fairbanks.
Pinnacles
Location: California
2009 visitors: 171,112
2013 visitors: 237,677
Percent change: 39%
Pinnacles National Park is considered a chaparral ecosystem, or one of a declining type of scrublands that's largely unique to California that plays host to plants like oaks, sagebrushes and manzanitas. The name "Pinnacles" comes from the steep rock spires sticking out of this otherwise flat landscape where rare California condors nest. The park is about 40 miles southeast of Salinas.
5 Secrets to a Successful Road Trip
Lake Clark
Location: Alaska
2009 visitors: 9,711
2013 visitors: 13,000
Percent change: 34%
Lake Clark is an ancient, pre-Ice Age waterway that geological samples suggest was once filled with saltwater before the advance and subsequent retreat of glaciers and their freshwater melt runoff. This park is a diverse landscape thanks to the presence of dormant volcanoes, meandering cuts of rivers, and uneven and rocky mountainous terrain. It can be reached with a 1-2 hour flight from Anchorage.
Kenai Fjords
Location: Alaska
2009 visitors: 218,358
2013 visitors: 283,502
Percent change: 30%
The Kenai Fjords are a system of more than 40 glaciers, ringed by hardwood forests and icy inland lakes. The rugged terrain means only one of the glaciers, fittingly named Exit, can be accessed by road, and the entire Kenai Fjords park is a preserve for ice-age era geology. It is just outside Seward, in the south central portion of Alaska.
The Falling National Parks
Conversely, these five parks saw the biggest visitor losses between 2009 and 2013.
North Cascades
Location: Washington
2009 visitors: 26,972
2013 visitors: 21,623
Percent change: -20%
In a geological sense, the features of North Cascades National Park might be some of the newest of anywhere in the US – the mountains here are a "mere" few million years old, and they're still in a state of upheaval. The park lies on a gradual 9,000-foot gradient from its lowest to highest point and hence supports the kind of biodiversity that few other places can. It is accessible by car and less than 3 hours northeast of Seattle.
Guadalupe Mountains
Location: Texas
2009 visitors: 198,882
2013 visitors: 145,670
Percent change: -27%
The Guadalupe Mountains are a wall commemorating the life-forms of an incomprehensibly old era. They are the biggest and best-preserved Permian fossil reef in the world, capturing the calcareous remains of ammonites and deep-sea sponges near-perfectly for our modern study. The park is in far west Texas, 110 miles east of El Paso and 56 miles southwest of Carlsbad, New Mexico.
Haleakala
Location: Hawaii
2009 visitors: 1,109,104
2013 visitors: 785,300
Percent change: -29%
The only park on this list that posted a million-plus visitors in either year, Haleakala is a slumbering shield volcano of colossal scope, forming more than three-quarters of the mass of the entire island of Maui. The summit is 10,000 feet above sea level, and the National Park Service warns people with respiratory ailments away from the thin-aired peak. Unusual and sometimes even unique plant and animal species, like tropical birds and bamboo grasses, thrive around Haleakala.
4 Ways to Save on Last Minute Vacations
Katmai
Location: Alaska
2009 visitors: 43,035
2013 visitors: 28,996
Percent change: -33%
The Inuits long called Katmai the "Valley of Ten Thousand Smokes," because to an eye looking from above or even ground level there seem to be that many volcanic vents belching particles and vapor. The National Park Service euphemistically calls this volatile place a "dynamic landscape" because marvelous examples of volcanic rock of all types are still being formed here. The park is on the northern Alaska Peninsula, northwest of Kodiak Island.
Channel Islands
Location: California
2009 visitors: 348,745
2013 visitors: 212,029
Percent change: -39%
The park that suffered the most over the period we surveyed, the Channel Islands are an archipelago situated miles off the California mainland that span 2,500 miles from north to south. Close to 150 native species on the Channel Islands can't be found anywhere else on Earth, and blue whales, the largest animals that ever existed, are known to roam the surrounding waters. Still, that wasn't enough to stop the drastic drop in tourists – in 2013 the number of visitors were 39% lower than they were in 2009.
Best (and Worst) College Towns to Live In
Photo Credit: Flickr