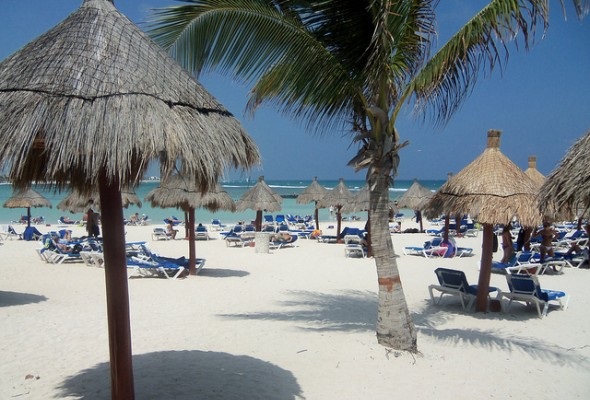 Since February 1, 2014 the U.S. Department of State has issued ten travel alerts or warnings due to civil unrest. Among the countries are Thailand, Ukraine, and Afghanistan. Such countries are not common spring break travel destinations. However, one country has remained under a warning that is one of the most popular spring break spots: Mexico.
Check out our refinance calculator
Why a Warning
Before you head off to soak up the sun after this winter of our discontent, you should know what these alerts and warnings mean. A Travel Alert means there are short-term events that could impact your travel to the country. Events could include health alerts like an H1N1 scare or an upcoming election season which could mean strikes, demonstrations or other disturbances. Once the event is over the Travel Alert is canceled.
Now Travel Warning, that is a whole different kind of danger. When a Travel Warning is issued it can mean dangers that run the gamut from an unstable government to frequent terror attacks or out-of-control crime and violence.
Many spring breakers will be boarding Mexico-bound cruise ships. They may spend only a few hours at various ports and will remain in the more secure tourist districts. The same generally holds true for those traveling to resort areas. However, if you are planning on exploring the less touristy spots, you should be aware of the sobering facts.
Related Article: Spring Break Deals for Singles on a Budget
The Stats
The recent arrest of crime lord Joaquin Guzman who is considered the most notorious criminal in Mexico's history, is all part of the Mexican government efforts to counter so-called Transnational Criminal Organizations (TCO) that engage in drug trafficking and other crimes.
The state department reports 71 Americans were killed in 2012 and 81 in 2013. It reports that while most of those killed were U.S. members of a criminal syndicate, some were innocent tourists caught in the crossfire. In other cases, American have been kidnapped, carjacked or robbed along the highways. In fact, according to the state department nearly 90 kidnappings of U.S. citizens were reported to the U.S. Embassy and consulates in Mexico between April and November of 2013.
No one is asking you not to go on a planned trip. Mexico is a beautiful country filled with wonderful people. However, there are some things you should do to play it safe while traveling.
Passport
Make sure you leave several photo copies of your passport, and identification with a trusted family member or friend. Should you lose it or something happen to you, it will help facilitate things.
Profile
The state department is encouraging U.S. citizens traveling to Mexico to lower their personal profiles and "bling-down," meaning avoid wearing conspicuous jewelry. It addition, it suggests you not wear clothing bearing logos of U.S. sports teams or military themed apparel.
People Person
Be a people person, which means avoiding situations where you isolate yourself, making you an easy target. This is especially true when you are at a market in which there are twists and turns that can make it easy for you to slip away from the group.
Click on this state department link to find out about travel alerts and warnings for wherever you may be traveling.
Related Article: 5 Budget-Friendly Spring Break Getaways for Families
Photo Credit: webanize