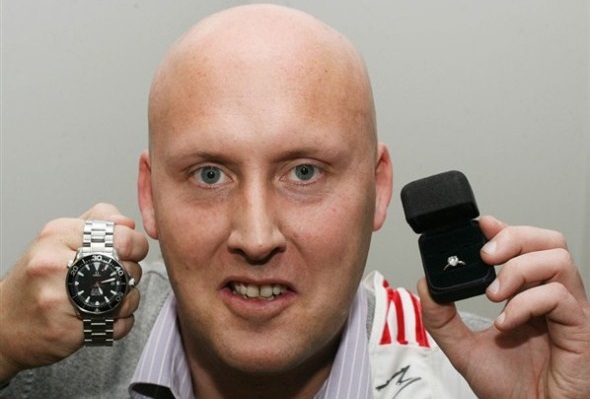 Believe it or not the rich have financial problems too, and Paul Aitken is a man who understands that. He knows that even the wealthiest often find themselves strapped for cash. He has the money they need, but only if he can hold on to something of theirs until they can pay him back. With interest, of course.
Find out now: How much house can I afford?
In some circles Aitken's business, Borro.com, is known as a pawn shop. In an interview with Fox Business, he elequently describes Borro as a business specializing in "private asset management" which is accurate: the New York- based company takes high value assets as collateral for low interest loans to individuals and small businesses that need quick liquidity.
Since the 2008 recession, the pawn shop industry has been booming because community banks have been failing and a growing number of consumers no longer represent attractive credit risks for traditional banks. Although it is difficult to measure the industry's exact growth, a recent article in the New York Times states that the number of pawnshops in the U.S. increased from 6,400 to over 10,000 between 2006 and 2012. Marketplace.org also reports that the average pawn loan has doubled to $150. This correlates with a growing number of people who are under-banked and in need of loans.
This growth doesn't mean that the low-end pawn industry is necessarily good for its consumers. The New York Times goes on to report that financially desperate customers can face interest rates of up to 25%, and pawn transactions do little or nothing to rebuild credit ratings. Pawning goods may provide short term relief for those who are struggling, but can ultimately perpetuate financial problems.
In spite of this, the convenience of pawning seems to be winning out. No longer consigned to the seedy venues portrayed by popular media, the industry is expanding beyond lower income neighborhoods and into the digital world. Websites like ePawnmarket and Pawngo are fast growing and operate without the stigma surrounding traditional pawn shops. This allows them to broaden their customer base and provide loans secured by higher end products. "Luxury" pawn shops such as Beverly Loan Company specialize in huge loans for fine art and expensive jewelry.
In the high-end space, pawning has become a viable alternative for small businesses and self-employed business owners. Borro is less a place for big-wigs to ditch their Bentleys after their companies implode, and more of a place for small businesses to swap assets for much-needed capital. Most of Borro's clients are looking for loans to spend on materials or investments to grow and run their businesses. These are high-risk, short-term loans that banks would generally turn down.
The list of items they accept includes everything from luxury watches to luxury cars, fine art, antiques, and even fine wine. While Aitken refers to high profile items like cars as "newsworthy," he says the majority of their customers are borrowing against things like jewelry and watches in the $5-20k range. They accept items up to a million dollars in value, and they've funded over 85 million dollars worth of loans to date.
"People like to have liquidity quickly… if they see an opportunity they want to seize it now. We give them that opportunity," says Aitken. "It's often down to speed."
Aitken says owners can see a 30% loss when selling assets through traditional venues, such as art dealers who incur broker fees and additional taxes. Borro lets businesses save money on intermediaries and quickly receive the loans they need. It's more of a private bank than a pawn shop, and there are certainly fewer shady characters. In fact, Aitken reports that they only keep about 8-10% of the assets they acquire.
So, while it's fun to imagine CEO's pawning their mansions (presumably for money to buy another yacht), Borro is really just a solid business solution.
You can find the full interview with owner Paul Aitken on Fox Business.
Photo Credit: MSN Money UK