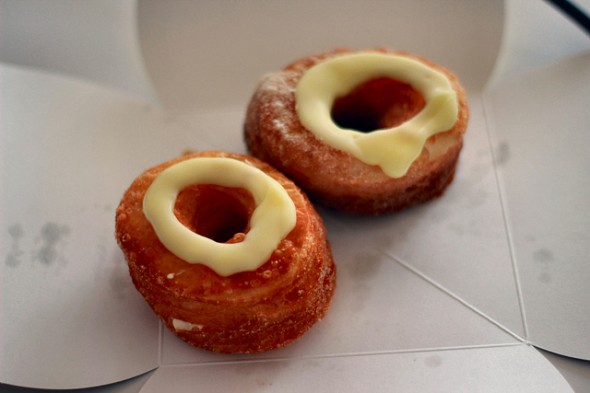 The ramen burger tried to do it. The Japadog tried to do it. Even Dominique Ansel tried to repeat his own success with the frozen s'more. But nothing can surpass the food fad glory that is the Cronut. And Shake Shack proved this week it's not just a summer fling. New Yorkers and tourists alike are in a serious love affair with this croissant-donut concoction. The desire seems to know no bounds: cutting class, skimping on the sights, even missing work to get a bite of the illustrious pastry. But why are we so willing to give all this- and a lot of our time – for the tasty treat? What does the Cronut have that other bakeries don't? I had to find out for myself.
Find out now: Is it better to buy or rent?
The Time Investment
I made my first attempt on a Tuesday in early August. Despite arriving at 6:45 a.m., the cronuts were sold out 2 and a half hours later when I arrived at the counter. I was not yet dissuaded. So the following week I showed up a solid 20 minutes earlier (waking up early on a summer day off is hard for a college student!).
During this 3-hour wait I made friends with the woman in front of me in line. She was a big fan of the bakery and had sampled the Cronut many times before. And she would get to try another Cronut… the very last one of the day! I was too late again! Luckily for me, she felt badly for this Cronut virgin and handed me a bite. Three hours of standing on a dirty sidewalk in the heat of summer and I finally had my taste of the hyped hybrid.
The 'Mutual' Fund
This wasn't my first glimpse of kindness among the Cronut craziness. On my first attempt, I made friends with a baker from Maryland who left for NY that morning at 3a.m. to taste the Cronut so he could mimic the idea back home. At this point, I felt a bit guilty for complaining about waking up early, but this was technically a business trip for him. He and a few others chatted with me and tried to predict if we were early enough to receive the coveted Cronut and how it would taste. The baker later offered bites of his treat to several of our new friends, but I couldn't take any since I lived much closer than he and knew I could easily return.
So, there were the generous and the heartwarming in line, but there were also several jerks. I saw at least five people cutting the line or joining groups just before the shop opened each trip I made. Those cheaters, by the way, were the reason I never got my chance to purchase my own Cronut. But I'm not bitter.
The Opportunity Cost
What is truly fascinating about the line for Cronuts is how many people are willing to spend one of their most valuable resources, time, on waiting. In the nearly 6 hours over 2 days that I waited in line for the Cronut, I could have made up to $90 in my job as a waitress or $80 babysitting. Instead, I spent the time waiting in line just hoping to get the chance to pay $5 for the delectable treat. It seems like a lot for one small breakfast, but it comes with bragging rights (and, of course, a picture guaranteed to get more than ten likes on social media).
I saw some customers leaving the treats securely wrapped in the golden case and I even heard about people re-selling their purchase to the highest bidder. A fellow NYU student was actually paid to wait in line – she made over $100 by bringing the Cronut to her boss fresh out of the oven. That's a pretty penny for one Cronut.
The Payoff
How does one breakfast dessert get this notoriety? It was innovative at first – but now restaurants around the country have come up with variations. Here's the difference – there's no story in driving up and easily getting a knock-off. The waiting may not make the Cronut look any different, but I can tell you, all the sacrifice made it taste that much better…
Photo Credit: klwatts