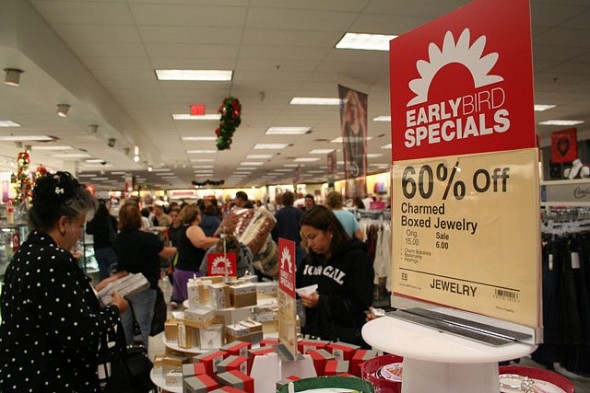 Turkey dinner, family time, pumpkin pie… and work? That's right – the latest in Black Friday sales involves stores opening on Thanksgiving Day. While this shopping event has been starting earlier and earlier, this year several stores are letting customers in early on Thursday, November 28th. Thanksgiving Day.
The Economics of Thanksgiving
Major retailers like Macy's, Kmart, Kohl's, Lord & Taylor, Walmart and J.C. Penney are choosing to open more stores earlier than ever this year. This comes after disappointing Black Friday numbers in 2012.
Some of these stores have been open all day in the past. But now more will open Thanksgiving morning and others have announced that 8p.m. is when they will start their sales. Even with the latter start time, these stores are allowing for a shop-a-thon like no other with 29 straight hours of continuous specials and promotions.
It is important to consider here that with only 26 shopping days between Thanksgiving and Christmas, 2013 is the shortest holiday shopping season on record. These stores are opening earlier as a way to increase profits, combat rough economic times, get a leg up on the competition and allow consumers to get a jump start on shopping.
The Death of Thanksgiving
Critics complain that consumerism is cutting into the holiday and family time. Shopping has become increasingly important and inextricably linked to days that were once set aside to focus on relationships and family.
While some may find the benefit of stopping for goodies on the way to a relative's home or shopping while the turkey cooks, others find that commerce has no place in the holiday sphere. They argue that these days should be set aside exclusively as holidays. It has an especially large impact on the store employees. These workers won't get much of a Thanksgiving at all with these new hours.
While those hooked on holiday sales look forward to the event, many that value the traditions of Thanksgiving are disappointed. There was even a petition on Facebook gathering electronic signatures as a way of pressuring stores to allow employees to spend the holiday at home with their families. As for me, I will do my shopping from the comfort of my crumb-filled couch – online. Internet retailers are increasingly extending their own sales from Black Friday straight through Cyber Monday.
Photo Credit: nenojr