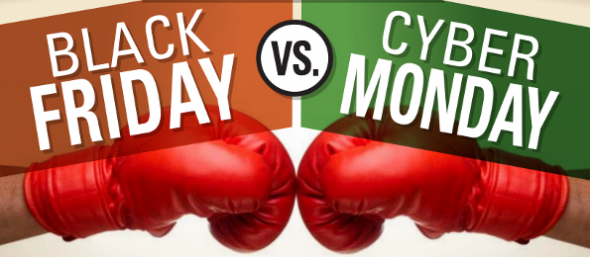 Black Friday has traditionally marked the start of the holiday shopping season. In order to get the biggest and best deals, shoppers must trudge out early in the morning to battle the crowds and cold in order to get a jump start on their Christmas shopping. This might seem like an archaic ritual of decades past to some, but there is still a devoted percentage of the population who like sport of shopping early every Friday after Thanksgiving. Lately though, there's been a shift in the way we do our shopping. More and more people are staying home on that infamous Friday and doing their shopping online on another day instead.
Find out now: How does my 401(k) work?
Cyber Monday is a marketing term for the Monday following Thanksgiving in which online retailers tend to offer some of the best deals of the season. Like it's counterpart Black Friday, Cyber Monday is used to jumpstart the holiday shopping season online and gauge potential revenue. Retailers will use the shopping data from Cyber Monday to predict what prices and sales will be like for the rest of the season and plan accordingly.
From Winter Coats to PJ's
There's been an evolution over the past 20 years where many brick and mortar businesses have closed (think Circuity City) and online retailers have begun to flourish (take Amazon.com for example). The number of people shopping online is steadily increasing because of this.
Even though online transactions incur shipping costs, digital retailers have found their lack of a physical presence to be a huge asset. They don't have to pay sales people or expensive rent in the heart of cities. Instead, they can set up shop in a giant warehouse out in the middle of nowhere. They use those savings to offer lower prices.
Brick and mortar retailers like Walmart and Best Buy are still stronger than ever, but there's definitely been a shift in the way we do our shopping. And the numbers support that: Cyber Monday sales increased by 30% from 2011 to 2012. More and more buyers are realizing that they'd rather shop from home than battle the crowds on Black Friday. Frankly, I don't blame them.
Mobile Shopping
If shopping online wasn't enough for you, the latest data also shows that more and more buyers are using their mobile phones for Cyber Monday shopping. In 2012, 18% of shoppers accessed store's websites using a mobile device (an increase of 70% over the year prior). The iPad was the most popular device for Cyber Monday shopping (7%), while the iPhone was a close second (6.9%), followed by Android (4.5%).
These numbers are only going to go up with the influx of price comparison apps and websites. Retailers like Amazon and eBay will even let you scan a barcode in-store and compare the in-store price with the lowest prices online. If there's a better price for an in-store item, you'll be able to find it with your smart phone.
Ultimately, all of these technological advances in mobile apps, e-mail marketing and online advertising will benefit consumers. You can expect to see more and more sales shift online and there will be more competition for your business. Black Friday is still going strong but the future most definitely lies in Cyber Monday.
Photo Credit: flickr