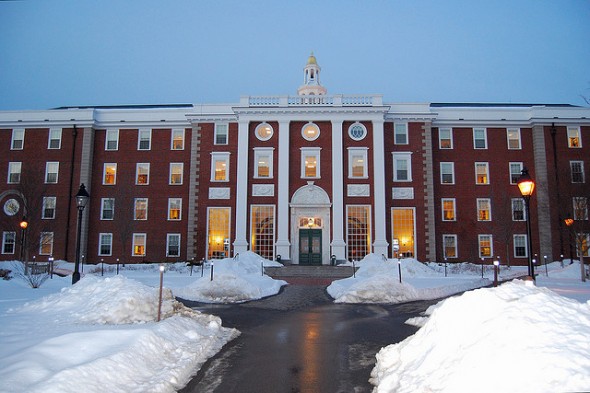 30.7 billion dollars. $30,700,000,000. That's the richest endowment of any U.S. university and it belongs to Harvard. It's no big surprise that Harvard sits at the top of the list for university endowments but $30 billion is pretty astounding. That's $10 billion more than the next highest endowment which belongs to Yale University(again, big surprise).
Find out now: Is it better to buy or rent?
Billion dollar endowments might seem unnecessary but they do allow for expansion and upgrades to campuses across the country. Most schools also use income from their endowments along with tuition and other sources of funding to run the day to day operations of the university. That's why endowments are such a big part of fundraising efforts every year. And with the decreased government funding for public schools, endowments have begun to play an even larger role for those schools.
$6.5 Billion More? Please?
If you thought $30.7 billion wasn't enough, Harvard recently began a campaign to increase it's endowment by $6.5 billion by 2018. That might seem like a lofty goal but in reality, they're probably going to easily achieve that. They've already received $2.8 billion in donations and pledges towards this goal. That took only two years.
Most schools might not strive for $6.5 billion but they are probably in the billion dollar range. Even my public school alma mater raised $1 billion for research in just one year right after I graduated.
Public Schools Just as Bad?
Even though private schools make up 7 of the top 10 highest endowments in the country, many public schools are better off than you might think. The University of Texas system comes in third on the list with an $18.3 billion endowment. The University of Michigan comes in 7th with a $7.7 billion endowment.
If you've had the pleasure to graduate from one of these top public universities or any school for that matter, you're probably accustomed to the donation requests that seem to come more and more frequently ever year. My university is getting more creative, reaching out through phone, e-mail and even social media now to get me to donate money.
Trust Only Goes So Far
I think most of us are willing to support the universities we graduated from. Of course, it doesn't hurt that charitable contributions are tax deductible and many employers offer a 100% company match. But are universities being completely transparent when they get on the phone and beg you for money in order to fund this or fund that?
Most private universities like Harvard and Yale probably don't need the money but a lot of smaller public and private schools might actually need your yearly donations.
You can't always measure the wealth of a school through it's endowment fund. A lot of these funds are set up like trust funds, and schools only like to use the returns in order to fund campus projects. That's why they're constantly on the phone every year asking for more money.
Ultimately, it's up to you to decide how much, if anything, you'd like to donate to your alma mater. If you feel they played a big part in getting you where you are today, then who cares how much their endowment is? It might behoove you to donate money so that they can help future generations follow in your success.
Photo Credit: Patricia Drury