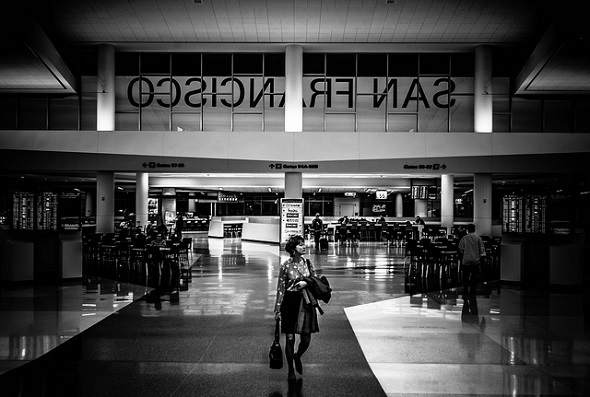 Every year it's the same story: the holidays arrive, the weather gets ugly and thousands of Americans find themselves stuck in airport terminals across the country, waiting for flights that are delayed or canceled. At some airports, over ten percent of all flights suffer significant delays during the holiday season, and in 2013, over a third of flights departing from major airports in November and December were delayed to some degree.
Try SmartAsset's free retirement calculator.
The costs of these delays are immense. Millions of people take to the skies this time of year, and even minor disruptions to their holiday plans can have real economic consequences. With Thanksgiving right around the corner, SmartAsset wanted to determine just how much passengers have been paying for holiday delays.
Data & Methodology
To calculate the costs of flight delays, we looked at data on over three million individual flights covering November and December for each of the past three years.1 We calculated the total of passenger-delay minutes in November and December of each year for the largest airports in the country, based on the total delay of domestic flights departing from that airport, and on the average number of passengers on planes leaving that airport over that period. So, for example, if an airplane carrying 100 passengers was delayed 10 minutes, that's 1000 passenger-delay minutes.
In order to put a price tag on all those passenger-delay minutes (2.3 billion in total for the period we analyzed), we needed to determine the value of time for passengers on each flight. To do so, we used data from the Bureau of Labor Statistics to find average hourly wages for the metro area in which each airport is located, a method commonly used by economists to calculate the costs of traffic congestion. We did not consider any spill-over effects from flight delays, such as the costs of missed connecting flights, so these numbers are likely lower than the actual costs faced by airline passengers.
Making the big move? Compare mortgage rates here.
Key Findings
$964 million. That's how much holiday-season delays have cost travelers at major airports over the past three years, according to our analysis. The ten airports with the highest delay costs were responsible for nearly half of that total.
Weather not so important? Many of the airports with the highest delay costs are located in areas with relatively temperate climates. In all, seven mild weather airports ranked in the top ten for delay costs. Other factors, like overcrowded runways and mechanical issues, may contribute more to delays than snow and ice.

1. San Francisco International (SFO)
While the total of flight delay minutes at San Francisco International was sixth highest out of major airports over the period we analyzed, the high regional income pushed the costs of those delays to over $65 million dollars. Workers in San Francisco earned an average of $31.78 per hour over the past three years, second highest in the country.
Find out now: Is it better to buy or rent?
2. Hartsfield-Jackson Atlanta International (ATL)
Atlanta International is the largest airport by passenger volume in the world, which means that even if a small percentage of its flights are delayed, the cost is going to be significant. Unfortunately, the proportion of flights leaving late out of ATL during the holidays is not small. We found that over the past three holiday seasons, more than 30% of planes leaving Atlanta were delayed to some degree.
3. Denver International (DEN)
Like many of the airports on this list, Denver had a rough 2013. While delay costs in 2011 and 2012 were $14.1 and $18.4 million respectively, last year they rose to $27.1 million, thanks in large part to bad weather. Here's to hoping this year's ride is a little smoother.
4. Chicago O'Hare (ORD)
By the number of airplane takeoffs and landings, O'Hare is the second busiest airport in North America. That, combined with the Windy City's notably bad winter weather, contributed to ORD's massive total of delay minutes: airplanes leaving ORD were delayed nearly two million minutes in total over the past three holiday seasons. That's 33,000 hours' worth of delays, or 1,388 days.
5. Los Angeles International (LAX)
Like the other West Coast airports in our study, airplanes leaving from LAX tend to have more passengers than at most Midwest, Southern or East Coast airports. There were about 112 passengers on the average flight out of LAX over the past three holiday seasons (as compared with 98 out of ATL and 89 out of Newark). This means that when there are delays, the cost adds up quickly.
6. Dallas-Fort Worth International (DFW)
Thanks to an unusual ice storm in the Dallas area just before Thanksgiving of last year, a large number of flights out of DFW were delayed or canceled during the 2013 holiday season, leading to higher than normal delay costs. In November and December of 2013, delays cost travelers out of DFW $19.9 million, significantly more than the $15.3 million cost in 2012, and $10.3 million in 2011.
7. Houston George Bush Intercontinental (IAH)
The largest airport in the Houston area, George W. Bush has five runways serving over 40 million annual passengers. According to our analysis, flights leaving Houston in November or December were delayed an average of 11 minutes over the past three years.
8. Newark International (EWR)
The busiest airport for domestic flights in the greater New York City metropolitan area, Newark has the highest rate of significant delays of any major airport in the country. 10.4% of flights out of Newark were delayed by at least 45 minutes over the past three holiday seasons.
9. Las Vegas International (LAS)
With an average of 121 passengers per flight, LAS had the second largest average flight size of any major airport in the country, behind only Honolulu. That means that when a flight is delayed, more people are kept waiting, which leads to higher delay costs. Of course, the $33.4 million price tag for delays probably pales in comparison to the amount of money burned in Vegas's many casinos this time of year.
10. Phoenix Sky Harbor International (PHX)
While Phoenix's Sky Harbor International is one of the nation's more efficient major airports, with a relatively low percentage of flights suffering cancellations and delays, it is also one of the busier airports in the country. Over the past three years, on average, nearly 60,000 planes have departed from PHX during the months of November and December. That's about 1,000 per day, which means that even if a relatively small number of planes are delayed, the impact can be large.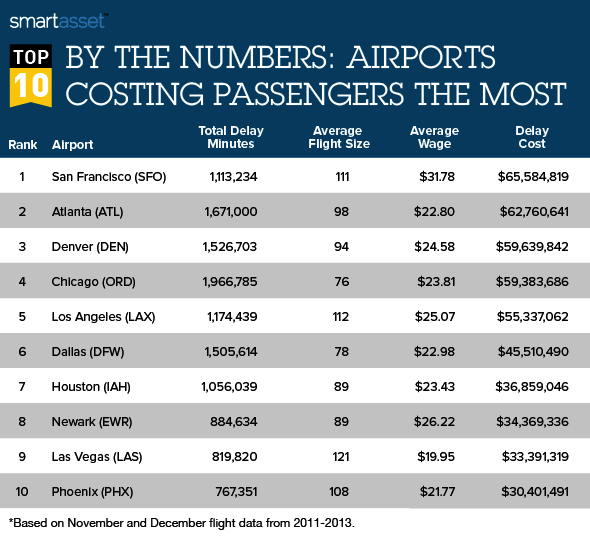 Photo credit: flickr
---
1. All flight data came from the Bureau of Transportation Statistics TranStats portal, available at transtats.bts.gov.