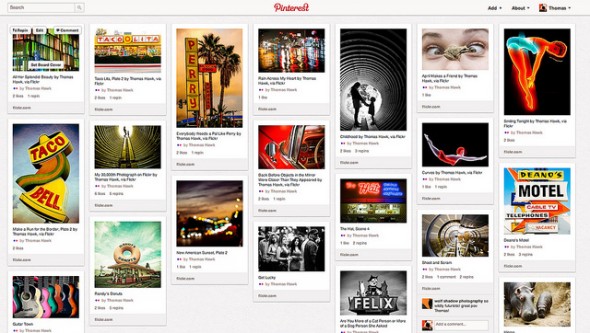 When Pinterest launched in 2010, it seemed like the perfect site for home cooks and craft junkies like myself. Pinterest started out as invitation only. I carefully watched my inbox for the coveted invitation to arrive, while I watched my blogger friends luckily enough to score the first invites buzz about how much they loved it.
Find out now: How much do I need to save for retirement?
After joining I could see what all the hype was about. Now 70 million people do too. For the first time, I was able to organize ideas, plan projects I wanted to try, keep recipes in one spot and bookmark things I found around the web visually.
Changing the Game
Before Pinterest, most people used a bookmarking site or saved these items on their computer. Pinterest took the idea of social bookmarking to a whole new level by giving it a visual component. Not only can you quickly tag an item from a webpage, you can also find other sites through the people you follow and repin their content. Content posted on Pinterest can easily become viral in the same way that Pinterest became viral within the creative community.
Bloggers realized the benefit of Pinterest almost immediately. It became a platform to gain more readers and get their content seen by a wider audience, especially for those who post recipes, crafts and other DIY projects. I was one of those bloggers. Pinterest has brought thousands of extra visitors to my site per month. It is my second highest referrer (second only to Google) for my site.
It was just a matter of time before brands and other businesses saw the potential in Pinterest and started using it as a marketing tool. Pinterest contests and other promotions started showing up in our feeds. As of July 2013, there were over 500,000 business accounts on Pinterest and that number is only growing.
Here is an infographic that explains it courtesy of visual.ly.
Pinterest for Brands
Businesses from department stores to crafters have been seeing the potential in Pinterest. With millions of users, it becomes a cost effective way to get your product in front of the people who are your target market. 69% of Pinterest users have bought something or found something they wanted to buy from the site.
So who is the average Pinterest user? 80% of the users of Pinterest are women. 50% of those women have children. 20% of women who use the internet in the United States are using Pinterest. Of the people who buy items that they viewed on Pinterest, the average sale was $140-$180 per order (almost double what people spend on Facebook). You can see why retailers are using this platform to reach women buyers, a powerful demographic here in the US.
Pinterest for Bloggers
Not all bloggers are recreational. To some blogging is a business. Those bloggers have turned to Pinterest to gain more readers, get attention to a product or service they are selling on their blog and even affiliate marketing. Affiliate marketing allows a blogger or site owner to promote a product. Then they get a commission if someone they refer buys an item from that site.
It's not all about selling products for bloggers, getting more traffic coming into the blog can translate to increased revenue from Google Adsense. It also gives a blogger more leverage when they are offering advertising or making them marketable to working with specific brands.
Want to go viral? You have a better chance with a recipe post. 57% of Pinterest users interact with food related content. In fact the #1 pin on all of Pinterest (as of 7/2013) is this recipe for Garlic Cheesy Bread.
Whether you view Pinterest as a way to organize ideas or a powerful marketing tool for your business, you can't ignore the success it has found. As a business owner you also can't ignore the potential to reach a wide audience and convert them into customers. Has Pinterest helped your business? Do you have any Pinterest marketing tips? Share them in the comment below!
Sources: Expanded Ramblings , Wishpond, Econsultancy
Photo Credit: flickr