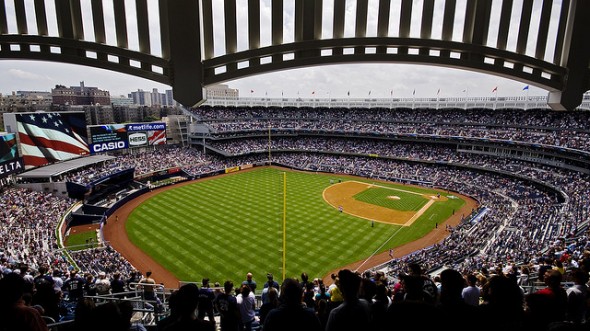 The long and difficult winter that much of the United States faced is gone, and with its departure comes warmer weather, the promise of renewal, and, of course, baseball season. Both idealistic views on America's pastime and cynical notions of performance-enhancing drug scandal aside, the fact is that millions across the country will be taking themselves and their families, friends, and coworkers out to the ball park this year. Last season, 74 million pro baseball tickets were sold in the United States, which means one for every 4.3 people in the entire country.
Packed Parks
Though the Major League Baseball season attendance numbers may fluctuate and it's still early to determine how this year will compare to last season's totals, one thing's certain: It's getting more expensive to see a game in person.
According to the Team Marketing Report, the overall average MLB ticket price is up 2 percent from last season, with World Series defenders the Boston Red Sox beating out their ancient rivals the New York Yankees for highest standard ticket price, or the median of prices for tickets that aren't box seats or those with other premium perks, at $52.32 to the Bronx Bombers' $51.55.
Of course, this particular rivalry can pack stadiums like few others, and it comes with a premium – according to Quartz, Yankees vs. Red Sox games in particular have the highest standard ticket prices, period, with a game between these two clubs commemorating the hundredth anniversary of Fenway Park having had average seat prices of over $200.
This means that there are now very few venues in the league – only Atlanta, Tampa Bay, Pittsburgh, Cincinnati, Cleveland, and Arizona's stadiums – where a family of four can attend a game for under $100 in ticket prices. This recent price hike, however, is small compared to the increase in 2009, a 5 percent rise.
The Price of the Extras
Now, if we went to a baseball game to contemplate it with quiet, undistracted focus, like the opera, the ticket price would be all we'd need to pay to get to the ballpark. But, of course, that's not the case for most of us.
Fans will eat, drink, and often buy souvenirs at the ballpark – and the longstanding stereotype that provisions at MLB games, as in other professional sporting events, concerts, and Broadway shows, are overpriced seems to hold true. It's not even a matter of cost-of-living by city.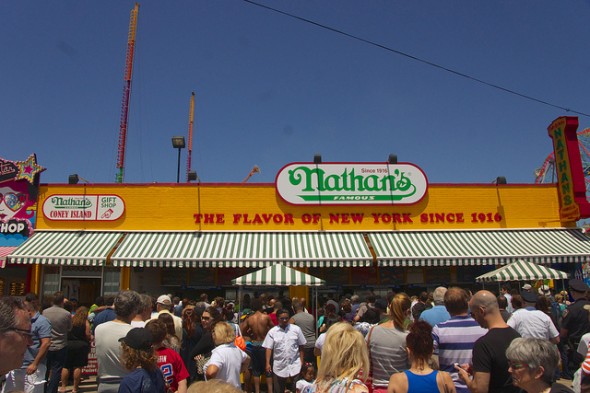 The most expensive hot dog in the league, for example, comes from the New York Mets' Citi Field, at $6.50 a frank. Meanwhile, three miles away in the nearby neighborhood of Forest Hills, venerable New York-original chain Nathan's has them for less than half that, at $3.
And the limits imposed on alcohol purchases per fan to reduce the risk of rowdy drunkenness balanced against the need to make a profit on each type of item sold can result in beer prices inflated even further than that of food. The Miami Marlins charge the most for a beer, at $8, which means that buying three brews is the equivalent of buying another ticket to the game.
There are, in fact, so many other variables involved in calculating the price of a baseball outing, none of which directly correlate to average ticket price per team, that another measure is needed to determine just how much it really costs to see a live game.
Inside Baseball
The Team Marketing Report calls its measure the Fan Cost Index, which is simply the sum of the prices for four standard tickets, two beers, two soft drinks, parking for a single car, two programs, and two team caps. Not everyone buys all these things every time they attend a game, but it appears to be a pretty comprehensive list of potential expenses, and thus a workable benchmark for actual game cost.
Based partly on their nearly 5 percent ticket price hike from last season, the Boston Red Sox also lead the league in this index, with those total costs coming to $350.78, or 7.3 percent greater than what it was last season.
But that's to be expected, if you like to pay for results – the BoSox are, after all, the current title holders and have performed from decently to well this season, currently only 1 and a half games out of first place in the American League Eastern Division. They're also running at the fourth-highest payroll in the league, behind only moneyed goliaths like the Dodgers, Yankees, and Phillies.
Scoring Losers, Stadium Winners?
By this mark, the franchise whose fans are getting the best deal is the Milwaukee Brewers: Though the Wisconsin team's Fan Cost Index as calculated by the Team Marketing Report is $176.84, about half that of Boston and considerably lower than the league average of $212.46, the Brewers are tied for the best win percentage in their league currently, with .667, and are decisively ahead of their nearest division competitors, the St. Louis Cardinals, by five games.
The Brewers' payroll, while only close to the middle of the league, is still nothing to sneeze at, breaking the nine-digit mark at $106 million. On average, a seat to watch this decisively strong team is only $24.96, which too is lower than the $27.83 per-ticket league mean.
The same cannot be said for the Chicago Cubs. The supposedly billy goat-cursed Chi-Town club are certainly goats this year – the guys from Wrigley were .407 in wins and losses last year and are only running .367 this year, solidly last in their division.
They have not won a World Series since Teddy Roosevelt was president. The team's salary total is also in the last quartile of the league at $89 million. Despite all this, the Cubs are actually the third most expensive team to see in the MLB, with $304.64 in the Team Marketing Report's Fan Cost Index.
But all these tribulations aside, the Cubs still pack in 31,000 fans per game at Wrigley Field this season, solidly beating out their more successful and less expensive crosstown rivals the White Sox, who have the second-lowest average attendance this season at 16,873. So, there's something to be said about the stubborn team pride of a fanbase that hasn't had a championship in 105 years and can still hope that this might be their year.
For the Love of the Game
But raw scores and numbers only count for part of the experience of America's game. It's hard to put a price tag on the smell of the fresh-cut grass, or your favorite pitcher's most devious throws, or catching a home run in the stands.
If, win or lose, you still love your team, seeing your diamond heroes play is probably still well worth any ticket price. Just be aware that when you snap up a good deal from a ticket resale website, you'll still have to pay full price for the other accoutrements.
According to Quartz, baseball tickets are one thing you shouldn't buy in advance – prices drop dramatically even for the good seats in the last 48 hours before the game, as the ticket office tries to leave as few empty seats as possible and re-sellers try to offload their unsold wares before they're useless.
This means that a spontaneous trip to the ballpark can be both a great time and a great deal – so if baseball's your bag, don't stifle your enthusiasm by planning too far ahead, and get out there and enjoy the weather and the game.
Photo Credit: anadelmann; Ed Yourdon; maura johnston