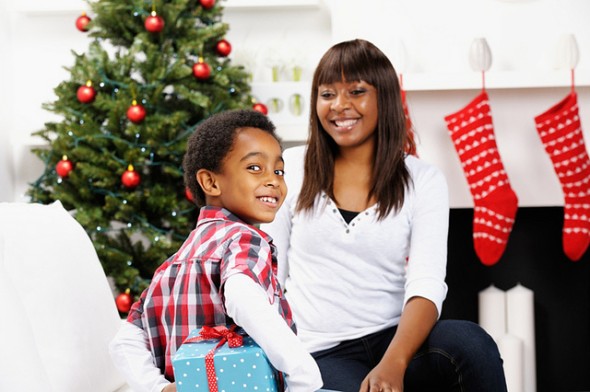 We have all been there… That panic you feel on Christmas Eve when you realize that you forgot just one gift. Even worse, when you get a gift from someone that you barely know and certainly didn't expect something from. I have experienced both of these situations on more than one occasion.
Check out our refinance calculator.
It could come from an old friend who for twenty years you never exchanged gifts with and then out of the blue, they decide it's time to start (without telling you). Or it could be from your brother's well-meaning girlfriend of a month – what's her name again? Anyway the attack presents itself, it requires quick thinking to avoid the awkward moment where you have to explain to someone that you didn't get them a gift even though they took the time to get you something.
With the hustle and bustle of the holidays, it's not uncommon to get caught without a gift. Trying to run to the store last minute isn't always an option. Don't panic. Here are a few of our suggestions for last minute holiday gifts.
Gift Cards & E-Gift Cards
The best preparation is to have a spare gift card or two wrapped and ready to go. I have them in my purse in case of an emergency. I get a few extra gift cards to Target and Starbucks each year. Worst case scenario – I don't need to give them to anyone, I can just use them to treat myself. It's a win-win.
So what do you do if you get a package in the mail December 24th or you suddenly forget one of your family members and you will be seeing them at family dinner? It's not too late to get them a gift. Thanks to the wonders of the internet, you can send a gift card through email (or print them quickly and wrap them up). Businesses like Target, Sears, Starbucks and Amazon all have options to buy e-gift cards on their site. Just purchase the gift card and have it emailed to your recipient. Even Facebook allows you to send gifts to your friends. No more fighting over the last pair of slippers on Christmas Eve at the department store because you forgot Aunt June. Just get on the internet and send an e-gift card to her favorite store.
Make It Yourself
There are so many quick and beautiful gifts you can make yourself in a pinch. I'm sure I'm not the only one whose friend added a plus-one to your holiday party or the family you thought wasn't coming for Christmas Eve calls suddenly and says they will be visiting after all?
Sure, you can use your emergency gift cards in this situation, but you do have enough time to throw together a basket filled with snacks or pop a tray of homemade cookies in the oven. If you put those cookies on a decorative plate from your stash, add a bow and you have an instant gift. Who doesn't love homemade cookies? If you have a little more time and energy, you can make some handmade gifts from items you have in your pantry and a mason jar.
Tastefully Re-gift
I realize this may be a little controversial, but re-gifting is OK in certain situations. I have amassed quite a collection of Yankee candles and Bath and Body Works gift baskets over the last couple years. Unfortunately, I am sensitive to smelly stuff so they sit idly in my closet, waiting for the perfect moment when I can give them to someone who will love them. Keep gift items like these that you know would be a great hostess gift or acquaintance gift wrapped in your closet to give in a pinch.
Donate in Their Honor
Just like retailers who sell e-gift cards, charities usually take donations 24/7. You can always donate online to a charity like the American Cancer Society or The American Red Cross in their honor for the holidays. Even better – choose a charity that is near and dear to the heart of the gift recipient.
Of course it's always better to plan ahead, but if a situation comes up where you can't, you have a lot of options available. What are your suggestions for some great last minute holiday gifts? Share them in the comments below!
Photo Credit: newsusacontent