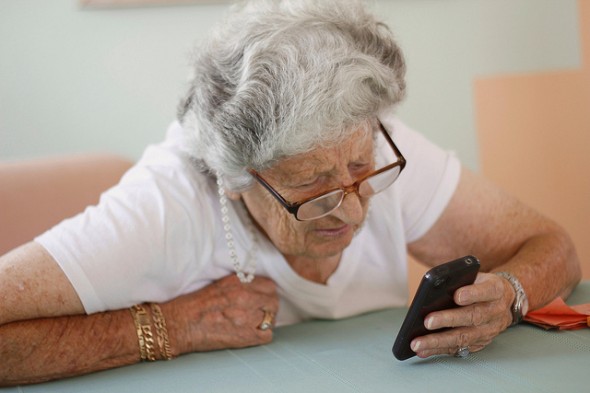 What do you do if you are one of the largest governmental agencies, responsible for the millions of records of employee across the country, in addition to sending out millions of payments per month? Well, if you're Social Security, you create an app for smartphones. It is estimated that Social Security is accountable for the financial records of 160 million workers, and sends more than 55 million payments out each month (Landis, 2013).
Find out now: How much will I get for Social Security?
While that may already seem like an unbearable workload, don't forget the number of Baby Boomers retiring each year keeps growing. Andy Landis, founder of Thinking Retirement, writes that the number of Social Security benefits grows by 5.5 million with each passing year. And, to top it all off Social Security has gone through a number of budget cuts over the years making it unable to hire more staff, thus placing even more strain on an already stressed organization. Leveraging technology is the smartest thing Social Security administrators can do.
The new Social Security app is said to work on just about every type of smartphone, including the iPhone, Blackberry, Android, and Windows smartphones. If you visit the Social Security Administration website (SocialSecurity.gov) using your smartphone you will be redirected to the mobile-friendly site.
This new website allows the user to log-in to your Social Security account or create an account, which affords you the ability to check your payment history, sign up for direct deposit, obtain a new Social Security card, locate officers in your area, access and read publications such as press releases in English and Spanish, and more. Social Security's new app allows users to get up-to-date information on their accounts and any recent changes, however not everyone in the general public is anxious to try this new app.
One of the major concerns over the Social Security mobile site is security. The University of California—Berkley conducted a study of 60 smartphone users and found close to two-third of the participants would not use the site because they were not comfortable with entering their social security number on their smartphone (Brandon, 2013). The study, not surprisingly, found that older users were more likely to be hesitant to use the app, while younger users, although still hesitant, were less steadfast in their hesitancy.
A co-author of the research study, David Wagner, states that using your smartphone to check your social security information, is likely just as safe as using your home computer. He advises to make sure you are typing your information into the Social Security website and not some website you received through an e-mail, which is likely to be a scam.
There also seem to be some glitches with the app, as Andy Landis noted that using his Windows smartphone he was not redirected to the mobile site. If the app is not working on your smartphone, you can give Social Security a call (1-800-SSA-1213) to help figure out what the issue is.
As a result of the increasing demand coupled with numerous budget cuts that have left the Social Security Administration more squeezed than ever, the agency has begun to rely more and more on technology to fulfill its needs. Creating a mobile application is just the latest form of leveraging technology to help those relying on Social Security, get the help they need right at their fingertips. More likely than not, we will see more and more technology being integrated into the way we interact with the Social Security Administration.
Photo Credit: Haley Lind