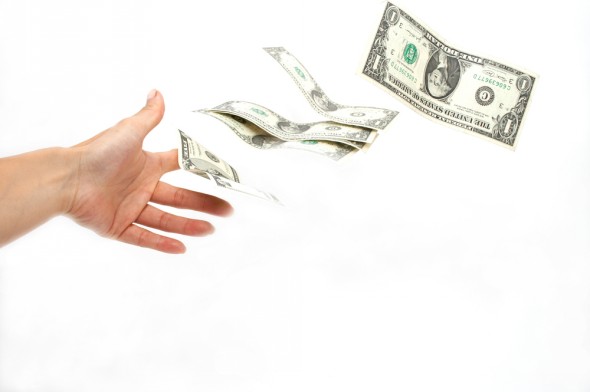 Let's face it you work hard and put in a lot of time to earn your money. With all that effort going into generating income, you might want to know where it all goes. Hidden charges, erroneous errors, misleading solicitations and flat out fraud are just some of the activities that companies use to unjustifiably deplete our bank accounts. SmartAsset has rounded up six of the most widely used deceptive bill charges swindling money from consumers.
Find out now: Which checking account is best for me?
1. Cramming
You've seen it before, especially on your mobile phone bill: extra charges, authorized and unauthorized, tacked on at the bottom. While these amounts may be legitimate, the way in which they are conveyed is deceptive. Typically, crammed charges are identified by their general, nondescript wording, leaving the customer to scratch his or her head over the meaning. Some examples include "service fee," "service charge," "other fees," "voicemail," "mail server," "calling plan," and "membership."
It's important to note that the Federal Communication Commission (FCC) requires that bill item descriptions be as plain, specific and non-misleading as possible. The best thing you can do is carefully review your bills each month and be on the lookout for confusing, vague line items. Assess whether peculiar charges are consistent with all the others on the bill. If not, call your product or service provider and ask for a detailed explanation.
2. Auto-Renew Billing
Many companies employ auto-renewal billing practices, particularly those offering subscriptions. Since subscriptions terminate over time, the business will typically request to keep your billing information on file. Once the term is up, they will automatically charge to your account — regardless of whether or not you authorize it. In most cases, the company will continually bill you until you make a proactive effort to cancel the transaction.
Further abusing the auto-renewal option, some companies make it difficult to cancel the transaction, requiring that you speak to a customer service representative. Consumers beware: since you will have agreed to their terms of agreement, you are subject to their opt out conditions, including any additional charges. To avoid auto-renew hassles, don't save your billing info with the company at the time of transaction. If at all possible, use the data for a one-time transaction only. Monitor your account regularly to make sure you are not being charged repeatedly.
3. Free-to-Paid Conversions
Sometimes it really can be too-good-to-be-true. Many "free" trials you find online and on TV. Their may be a low, "one-time" activation fee, but the hidden costs come after they start billing you, interminably. Adding to the trickery, if someone does not realize he or she will be billed further, they might not look for any related monthly bill charges. Free trial-to-paid charges can go unnoticed for months, even years, unless you go over your billing statements with a fine tooth and comb.
One snag on which deceptive billers rely is the 30-day trial period. During this time, a person has the opportunity to cancel but after the 30 days, firms can make it difficult and expensive to cancel, pinning on a transaction fee. Avoid free trial offers like the plague. Typically these plans have terms and conditions that are very difficult to interpret unless you read the fine print, line-by-line.
4. Unwanted Subscriptions
It is vital to pay close attention whenever you go through an online checkout. There is usually a set of boxes to check, verifying certain order details. This gives a swindler the chance to offer additional products, services or subscriptions, for a price. In some instances, these boxes are checked already, requiring you to uncheck them manually. Companies view checkout as the opportunity to add on last minute purchases, much like merchandisers place knickknacks near the checkout line of a store. Keep your eyes peeled before finalizing that sale and make sure to scroll down to the bottom of the screen, where some obscure offers may hide.
5. Unpredictable Cost Increases
We all know that the rising cost of living is burden we all must bear. But there are certain companies that have no reservations when it comes to increasing their rates uncontrollably. Also known as cost creeping, this unsavory practice leaves buyers with little or no choice but to cough up more money for something on which they rely. When a business has a monopoly over the provision of a particular good or service, cost creeping can happen to an utmost degree.
By locking a customer in at a certain price for a period of time, after the duration they can spike prices without notice. Alternately, they can make a subtle increase over a longer period of time. Ultimately, these costs total a substantial amount in the long run. Another danger is that, over time, people become accustomed to these price hikes, which can be much higher than regular inflation dictates.
6. Fraudulent Invoicing
In order to prompt a patron to renew a subscription, or reorder a product or service, a hoaxer will deliver a solicitation that looks exactly like an invoice. The lookalike may be for a product or service that you utilize regularly, such as a magazine subscription or office supplies. The invoice amount will be one that is low enough as to fall beneath the casual browser's radar. Said statement may even include an account or reference number, making it appear more legitimate. In order to further provoke the consumer, the swindler will stamp the letter with words of urgency, such as "important" or "prompt reply required." To avoid this trap, be mindful of the invoices you are paying. Make sure your accounting department inspects each bill and researches the company they are potentially paying before issuing an authorization.
In sum, it is best to regularly monitor not only your bank accounts, but also each and every billing statement you receive. Don't be afraid to contact the company to question any charge that looks suspicious. Before you agree to the terms of that agreement, make sure you read the fine print! Free trial offers are usually ploys to charge you for additional services, or extended use of a product.