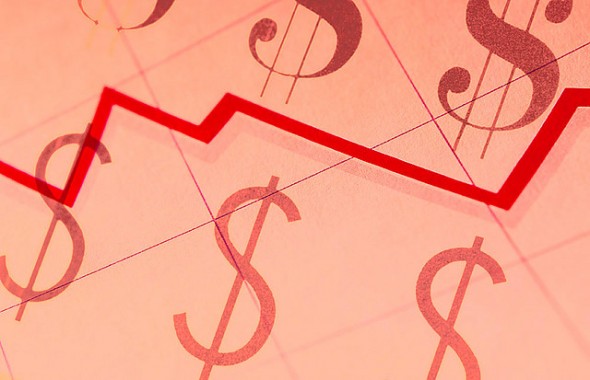 The Dow Jones recently reached a record high, topping out 16,000 for the first time in its 117-year history and the surging stock market is paying off big, not only for investors but for CEOs as well. The total payout for the top 10 earners was a record $4.7 billion in 2012 and there's speculation that even bigger paydays are yet to come.
Check out our refinance calculator
CEO Pay Day
According to the GMI Ratings report that was released in October, CEOs saw a median increase of 8.5% in their "realized" pay last year. The pay increase was largely attributed to a widespread sell-off of options that were acquired in previous years when stock prices had dropped significantly, although the CEOs' base salary was also considered.
Related Article: Why the Rich Are Getting Richer?
The report examined pay data for 2,259 CEOs who held their position for at least the last two years. According to the report, 2012 was the third straight year that CEO pay increased, with double-digit percentage gains reported for both 2010 and 2011. It's expected that 2013 will continue the trend as stock options continue to rise, despite attempts by regulators to keep CEO payouts in check.
Biggest Paychecks
For the first time, the ten highest payouts were valued at $100 million or more, a factor that contributed to the record-breaking total. The largest pay increases occurred at bigger companies in the S&P 500, with CEOs seeing a median pay increase of nearly 20%. CEO pay at companies in the S&P Smallcap index increased by just 7.8%.
In terms of individual payouts, Facebook CEO Mark Zuckerberg topped the list, earning nearly $2.3 billion in 2012. That's more than double the $1.1 billion Kinder Morgan CEO Richard Kinder raked in. The majority of Zuckerberg's compensation came from a sell-off of company shares in conjunction with Facebook's IPO last year.
Rounding out the top five were Sirius XM Radio CEO Mel Karmarzin, with $255 million; Liberty Media CEO Gregory Maffei, with $254 million; and Apple CEO Timothy Cook, with $143 million. Interestingly enough, Apple was the most valuable company included on the list.
Senior research analyst and author of the report Greg Ruel issued a press release, stating "In the more than 10 years that GMI has been publishing this report, I've never seen a top-10 Highest-Paid list that loomed this large." Ruel went on to say while the companies making this year's list have performed well overall, the size and volume of equity awards paid to CEOs pushed their compensation to astronomical levels.
Recovering Economy
The fact that CEOs are seeing record payouts in a period when the economy is still struggling to recover is a harsh contradiction to a September report from the U.S. Census Bureau, which found that the average American saw no significant increase in their median income from 2011 to 2012. The report also put the national poverty rate at 15%, which is 2.5 percentage points higher than it was in 2007 before the recession hit.
The widening gap between CEO compensation and non-CEO pay is also highlighted in a report issued last year by the Economic Policy Institute. The EPI noted that between 1978 and 2011, CEO annual compensation increased by 726.7%. Over the same period, median wages for the average worker increased by just 5.7%. With CEO payouts expected to skyrocket even higher next year, it seems inevitable that the gap will continue to grow.
Related Article: Should CEO Compensation Be Made Public?
Photo Credit: DebtFree Daniloff