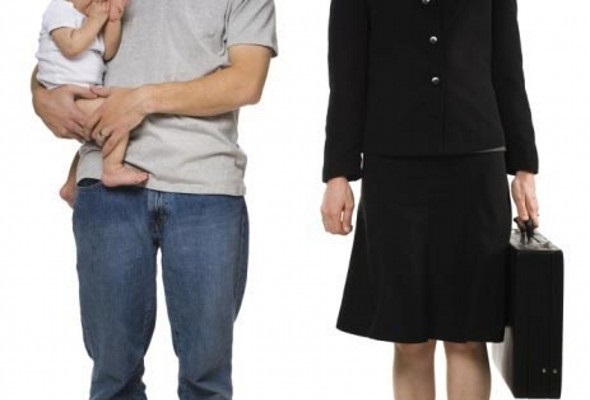 There's a scene in Mr. Mom where Michael Keaton's character Jack Butler is having a heated discussion with his wife about the fact that he's gained a few pounds and his brain is like oatmeal. The conversation ends with Jack heading downstairs to sleep on the "fat" couch, "if he can get through the door". While the movie is meant to be a comical take on what happens when running the house and raising the kids falls to Dad, it's become a reality for more fathers than ever.
Find out now: How much life insurance do I need?
A new study from the Pew Research Center finds that the number of stay-at-home dads has nearly doubled over the last two decades, jumping from 1.1 million in 1989 to 2 million as of 2012. Men now account for 16% of the stay-at-home parent population, compared to 10% in the pre-90s era. Although the recession and its subsequent economic fallout had a lot to do with the surge in the number of men who've assumed primary childcare duties, it's not the only factor.
5 Tax Breaks Parents Can't Afford to Overlook
Men's and Women's Reasons
According to the Pew researchers, approximately 35% of the fathers chalked up their absence in the workforce to illness or disability. This is a marked difference from the number of women who stay home for these reasons. Just 11% of stay-at-home moms surveyed say that illness or disability motivated their decision.
Another 23% of dads said that they chose to stay home with the kids because the nature of today's job market made it difficult to find work. That's a sharp jump from the 15% of stay-at-home fathers who made the same claim in 1989. Nearly a quarter of men included in the study only held a high school diploma and another 36% had earned their diploma but didn't have any college experience
Perhaps the most surprising finding from the study is that 21% of dads surveyed said they stayed home by choice. That figure represents a four-fold increase since 1989, challenging the notion of traditional parenting and gender roles. Even though mothers still represent the majority of stay-at-home parents, the number of men who want to be home with their kids is rapidly increasing.
What the Trends Represent
While staying at home provides many fathers the opportunity to form deeper bonds with their children and take a more active role in performing day-to-day household tasks, it comes at a cost. According to the study, nearly half of all stay-at-home dads live in poverty compared to 8% of working fathers.
For some, it's because their spouse simply doesn't earn enough but for many others, there's no working spouse in the picture at all. Among stay-at-home mothers, the poverty rate is closer to 34%. From a financial perspective, at-home dads tend to feel a tighter pinch.
Despite the fact that staying home seems to be a growing trend among fathers, it's not a concept that seems to be garnering much support. According to a 2013 Pew report, over half of people surveyed said that they believed children are better off when the mother stays home. Just 8% said kids benefit from being raised by a stay-at-home dad. Conversely, 34% said that children are just as well off when mom works, compared to 76% who said the same of fathers.
The survey, which includes both married and unmarried fathers with children under the age of 18, puts the number of stay-at-home dads much higher than the Census Bureau estimate of 214,000. That figure is based primarily on married men who stay home solely to care for their families. By broadening the definition of a stay-at-home father, the Pew study provides in-depth insight into the challenges faced by today's generation of Mr. Moms.
Flying Solo: Financial Tips for Single Parents
Photo Credit: flickr