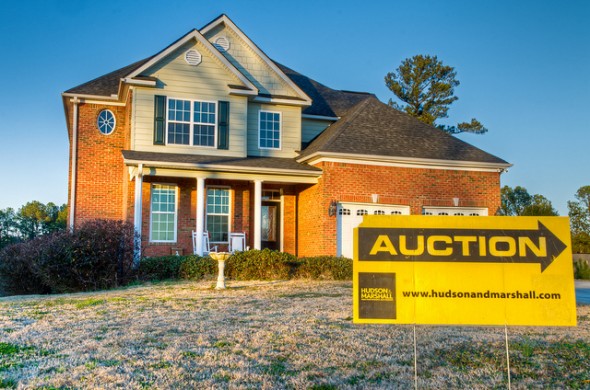 A recent article in the NY Times pointed out the effect of large Wall Street investors, such as The Blackstone Group and Colony Capital, on the housing recovery. In depressed regions such as parts of Florida and Southern California, institutional investors saw an opportunity as prices bottomed, and have been buying foreclosed homes in large numbers. In some cases, they bought up entire neighborhoods. They are mostly retaining these homes as rentals, with the intention of selling when prices increase.
The NY Times article focused specifically on investor activity in the hardest hit housing markets, but there is also high investor activity in strong markets, such as New York & New Jersey. In this and other real estate markets that are heavily weighted toward condominiums, buyers find mortgage financing more difficult. Fannie Mae & Freddie Mac have placed numerous restrictions on condo financing. That creates an opportunity for investors who do not need mortgages (Wall Street Investors) to buy up excess inventory.
Spurring a Shaky Recovery
While there has been some worry that this activity will re-inflate the housing bubble, which burst so devastatingly a few years back, it is impossible to deny that it was investors (both institutional and private) who established a floor for housing's free-fall. There is always a danger of prices declining in the future if large investors all want to sell simultaneously, but it seems most have made the investment in order to bring in rental income, not merely to flip homes.
This investment activity has also proved incredibly beneficial to communities across America. One of the effects of the foreclosure crisis was that entire blocks were sometimes abandoned, the houses and yards left to deteriorate by banks with too much REO to properly manage. This situation was seen as a financial opportunity by large institutional investors, but it is also helping to revitalize a number of struggling communities.
The difficulty now is for new buyers trying to enter markets dominated by large investors with all cash offers. A seller, especially if it is a bank, will always accept a cash offer from an investor over one that will require mortgage financing, particularly one with a low down payment.
Another difficulty, returning to condominium markets, is that when a building is more than 50 percent investor owned, Fannie & Freddie will no longer lend in it. These become classified as "non-warrantable condos." Buyers have to seek portfolio financing, usually from local banks with increased down payment requirements. All cash offers from institutional investors become even more attractive to sellers, and further squeeze out the individual buyers.
While the activity of large investors has certainly made things difficult for individual buyers in some markets, it has also been an important factor in spurring a housing recovery still in its early stages.
What is actually driving the market
There is some reasonable doubt, however, as to how much impact Wall Street investment really does have on the real estate market.
One way to measure that is to look at interest rate volatility and mortgage application numbers compared to the overall market. Now is the perfect time to assess this, as interest rates have risen dramatically since around the 20th of May. As expected, new mortgage applications declined 11.5 percent in the final week of May.
Since the large institutional investors do not obtain mortgage financing when they buy homes, this rise in rates would not affect their plans. If they were the ones truly driving the housing recovery, then this rate volatility would only have a nominal impact.
The chart below indicates otherwise. Sometimes a picture says a thousand words!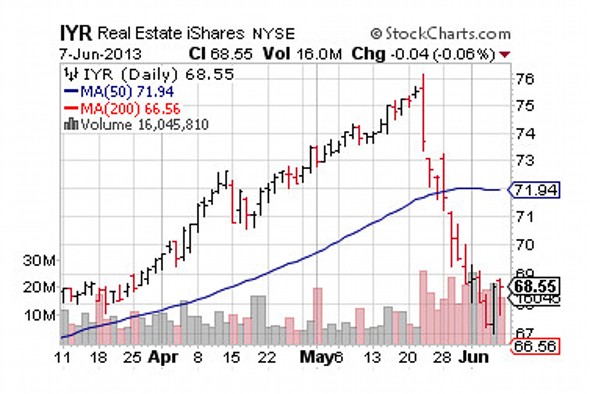 IYR tracks the US real estate market. The precipitous drop coincides precisely with the recent sharp rise in interest rates. It is obvious that rate volatility and mortgage applications are the major factors in the short-term cycles in housing.
This leads to the conclusion that while institutional Wall Street investors are playing a key role in the housing recovery, individual buyers—the ones who need mortgage financing—are the ones actually driving demand.
Photo Credit: zane.hollingsworth