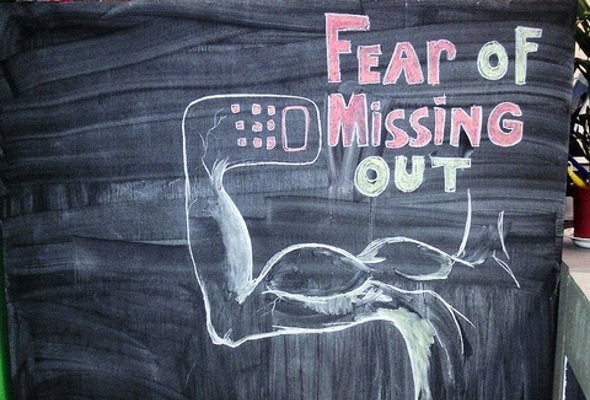 FOMO stands for "fear of missing out." Even if we don't want to admit it, we've all felt it at times. The inter-connectivity of social media is adding a new dimension to how we share our personal lives. When we are sitting at home on a Friday night while others post pictures of fabulous parties and vacation, it often feels like we aren't doing enough. The "fear of missing out" on a fun night with friends or family can quickly become the "fear of missing out" on a better life. So we say yes to the dinner out we can't afford, take the expensive vacation and generally spend more than we should leading to one big problem: FOMO can get expensive.
Find out now: How does my 401(k) work?
Costume Calamity
I'll confess: I've let FOMO get the best of me. While studying abroad in Europe last fall, I decided to stop in at Oktoberfest. A cheap train ticket, a hostel and a diet of mostly beer should have kept the costs down. But when my German friends told me everyone at Oktoberfest wears the traditional outfits, that all changed. I couldn't be the only girl there not in the dirndl! So there I was ringing up a bill of 120 Euros (close to $200). I did get some cute pictures (and you better believe I posted them to social media) but I also was stuck with an outfit I haven't worn since.
The Facebook Fallacy
What we must realize when looking at social media is that these profiles are not an accurate view of a person. Like a resume, this is the chance for people to show their best selves in a calculated and purposeful way. Think about it – when you pose for a picture, you always smile and try to look your best, even if it isn't natural. The picture isn't revealing the whole story behind a moment or even an event. A good picture can come from an awful experience – just think back to family Christmas Card photo sessions (that usually include tears, fights and at least one sour family member).
Now, people try to look like they are having a good time on purpose because they know it is going on social media. They are taking more pictures of views, foods, and moments for the purpose of making their life look better and making you jealous. It doesn't need to be done in a malicious way. People are just trying to display themselves in the most positive light and make their life look awesome. Even if an experience is as great as a picture shows, this is just a highlight out of a million other seconds in their life that weren't as fabulous. You would never post a picture of a boring night in, or doing work at your computer. So just remember that as you scroll through your newsfeed.
The Cost of FOMO
It just takes one look at my credit card statement from last October to demonstrate how expensive "the fear of missing out" can be. To get that fabulous social media plug, you have to experience a fabulous thing that can often be expensive. Sometimes staying home and doing school work or finishing your proposal for work the next day means you won't miss out on future fun things. The financial cost of being everywhere/doing everything to avoid FOMO means that you miss the balance between doing what makes you happy and staying on top of your responsibilities.
Overcoming FOMO
The real key to avoid FOMO is not to look at social media when you are at home alone or upset about the way your day/week panned out. You know FOMO is coming. Instead, try to look at the photos in a different light – as an inspiration for you to have your own great experiences in the future. Try to make the best of every situation you are in and share your life highlights as well. Always focus on your own life first. If you see someone doing something you wish you were doing, make a plan to do it soon. Or ask them about it and see how it really went.
Sometimes it can be hard to handle, but don't let FOMO take over your life. And don't let it swallow your bank account. I'm going to have to be a beer maiden for the next 3 Halloweens to make up for my Oktoberfest purchase…
Photo Credit: saskiaburggraaf2