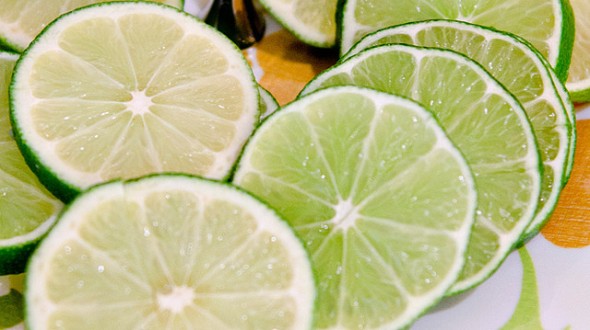 Cinco de Mayo, celebrated on May 5 (as the name suggests), commemorates the Battle of Puebla, Mexico when 2,000 poorly equipped Mexican soldiers crushed 6,000 of the well-armed invading French army. However, Cinco de Mayo is not a major national holiday in Mexico, which reserves its big celebrations for Independence Day on September 16, but is extremely popular in the US. Americans toast that ragtag Mexican army using margaritas and Corona beers with a wedge of lime. This year, however, Cinco de Mayo drinks may lose some of their zest due to a shortage of limes.
Price of Limes Skyrockets
Severe winter weather not only plagued the US but our neighbor to the south. Mexico produces about 95 percent of the limes consumed by Americans in their margaritas and in the neck of their celebratory Coronas.
Severe drought and huanglongbing bacteria (also called citrus greening disease) have damaged trees, and cold, rainy weather has killed tree blossoms. Trees are producing less and much smaller fruit.
Drug cartels have begun hijacking trucks carrying limes and charging farmers "protection" money to ensure delivery of limes to market. The price of limes has jumped from $25 for a 40 pound carton in February to upwards of more than $100 today, much to the dismay of bar owners around the country.
For now, most establishments have been eating the cost and have not raised the price of drinks that use lime; others have been substituting lemons whenever possible. Some fruit importers and purveyors see this as temporary, and as crops of limes mature, prices should be back to normal by summer just in time for frozen margaritas poolside.
The Margarita
The margarita is the quintessential drink for Cinco de Mayo celebrations and several mixologists lay claim to having invented the tangy cocktail. But a 1992 Los Angeles Times obituary for Carlos "Danny" Herrera honors him as the creator of the margarita.
The story goes that in 1940, while working in a Tijuana roadside restaurant, Herrera concocted the drink for the famous showgirl, Marjorie King, who suffered allergies to all spirits except – you guessed it – tequila. Marjorie loved this tasty, non-allergenic drink and Herrera named it "Margarita," her name in Spanish.
Dallas socialite Margaret "Margarita" Sames claims she mixed the famous drink during a party for friends at her Acapulco home. The hotel mogul Tommy Hilton happened to be in attendance and started serving the drink at his hotels.
And yet another tale is that bartender Don Carlos Oronzco mixed the drink for Margarita, the daughter of a German ambassador.
Whoever mixed that first Margarita remains unclear; however the classic margarita recipe requires 2 oz. tequila, 2 oz. lime juice, 1 oz. of triple sec, Grand Marnier or Cointreau, salt and a lime wedge.
According to The Daily Meal 47 percent of all cocktails sold on Cinco de Mayo are margaritas, and the US consumes twice as much tequila as Mexico.
Tequila is made from blue agave cactus, and it's a protected designation in Mexico, so Mexican law states that tequila must be made from the agave grown in the Tequila region of Jalisco.
The top selling tequila in the US is Jose Cuervo, which controls 33.66 percent of the US tequila market to the tune of roughly 3.5 million cases (or 84 million bottles) last year.
The Lime in My Beer
There are several theories as to why Corona is drunk with a lime wedge shoved into the neck of the bottle. Is it a time-honored Mexican tradition to enhance the beer's flavor, or an ancient Mesoamerican practice to kill bacteria with citric acid?
According to Parade Magazine, it is neither, and the tradition resulted as a result of a bet between a Californian bartender and his friend over whether he was persuasive enough to start a fad.
Yet another tale recounted is that a Mexican bartender came up with a clever marketing technique to appeal to the gringos crossing the border and began putting a lime in every bottle of beer he served.
Corona is the leading US imported beer by dollars spent, with Stastista.com reporting that Corona Extra was #1 with total sales of $555.4 million and Corona Light ranked #4 with sales of $163 million in 2012.
Corona is neither confirming nor denying any of the theories of how the lime ended up in their beer, but their advertisements directed at US consumers display the trademark lime in the neck of their clear glass bottled beer.
Can I Substitute?
In December 1953, Esquire magazine featured the Margarita Cocktail as "Drink of the Month". The recipe calls for 1 ounce tequila, a dash of Triple Sec, and the juice of half a lime or lemon, poured over crushed ice in a salt-rimmed glass rubbed with a lemon or lime.
Notice the recipe indicates lemon OR lime. Margarita purists are aghast over the mere mention of a margarita made without lime. And the thought of bottled lime juice makes mixologists wince because they feel the taste of the margarita is compromised this way – bottled lime juice is pasteurized and hence tastes flatter than its fresh counterpart.
According to a few bartenders, when dire necessity strikes, the only bottled lime juice remotely possible as a substitute is organic lime juice. Walmart.com advertises a 12 pack of 16.9 oz. Italian Volcano 100% Organic Lime Juice for $49.90 with free shipping; Amazon.com offers a 12 pack of 12.5 oz. Lakewood Organic Pure Lime Juice at $49.90 with free shipping. So if fresh limes are hard to come by, there are viable alternatives for amateur bartenders.
Do you enjoy a Cinco de Mayo margarita at a particular watering hole? Let us know in the comments, and remember – celebrate responsibly.
Related Article: The Economics of Flowers: A Mother's Day Must?
Related Article: The Economics of Craft Beer
Related Article: Who Will Miss Winter Weather?
Photo Credit: TrimLab252