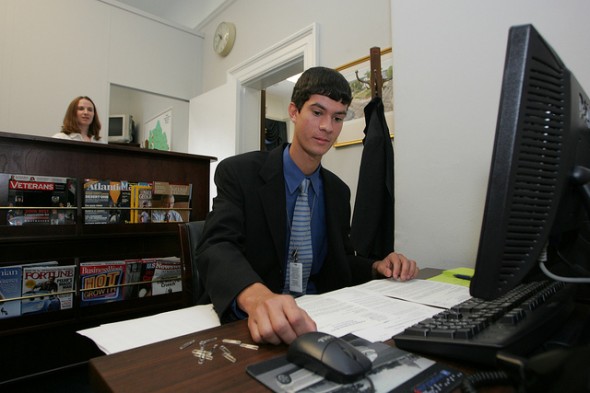 Landing an internship can be excited an important part of moving forward on your career path. If you get lucky, you might even be able to get a paid internship. Yes, it may sound too good to be true, but those coveted spots are out there. Getting experience in the field is important, but so is eating and paying your bills.
Check out our student loan calculator
Here are tips to finding an internship that allows you to pay the bills:
Know the Law
Unpaid internships may become less common than ever before. The Fair Labor Standards Act sets boundaries for what constitutes an unpaid internship versus an actual paid job. A U.S. District Court judge ruled against Fox Searchlight Pictures in June of 2013 stating the company had violated the Labor Act by giving certain responsibilities that should have been designated for a paid employees to an unpaid intern.
Related Article: How Generation Y Works
Undoubtedly, this will have a ripple effect as more and more companies are examining whether they need to pay their interns to follow the law. So before you accept an internship, or if you ever feel that maybe you should be paid for some of the work you're doing, check the Labor Act. You may need to have a talk with your employers. Sometimes they may not even know the law themselves.
Get an Education
As much as an internship is about gaining real-world job experience, it's also about furthering your educational experience. There are just certain things that can't be taught in a classroom. So think of your internship as an extension or additional education course. That being said, this is an educational course that you can also get paid for. If you are attending college, see if the internship will count as a course or at least get you credit. This can reduce the tuition you must pay to graduate.
Related: How Much Does It Cost to Go To School?
Check Online Resources
Many colleges will post paid internship opportunities on their student bulletins. There are also several great online resources that list paid and unpaid internships opportunities in your city. Narrow your search to only internships that you know are paid. You don't want to waste your time applying for things you can't accept. Also, if the online ad isn't clear about whether the internship is paid or unpaid, don't be afraid to call the company to ask. There's no need to be embarrassed -everyone has bills to pay! Plus, you don't have to leave your name if you don't want to.
Turn an Unpaid Job Into a Paid Job
Sometimes an internship may start out unpaid, but if you make the right connections and show dedication, a willingness to learn and ambition you can position yourself to actually get a paid job with the company or organization once you're finished with the internship. Most companies prefer to hire from within. And once you've got your foot in the door with an internship, you've made the first connection toward being a real contender for a paid position.
So while you're out there hitting the pavement looking for your next big break, know the rules and look for a position that values your hard work enough to pay you for it.
Photo Credit: UGA College of Ag