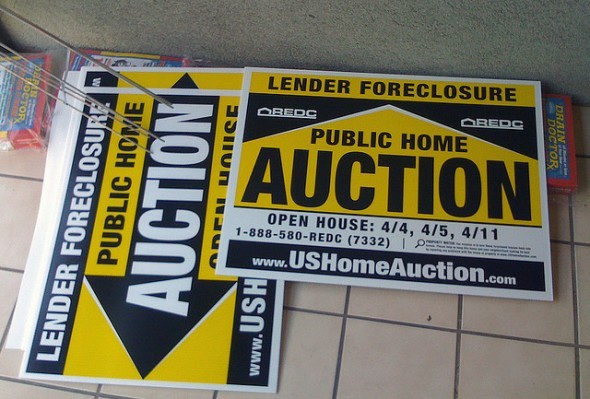 When a mortgage lender or lien holder enlists the court to seize possession of a distressed property that is three or more months in delinquency, a foreclosure happens. These troublesome scenarios create an inventory of "shadow" properties, which are not on the real estate market during court proceedings. A foreclosed home exists in a kind of limbo — vacant, neglected, even subject to vandalism.
Find out now: How much mortgage can I afford?
Foreclosures depress property prices in regional real estate markets. This in turn negatively impacts the cycle of home sales and new building activity. Lenders may be serious about completing foreclosures, but they are at the mercy of state and federal laws. SmartAsset sifted through the numbers to help you to understand why foreclosure rates are fluctuating, and what it means to individual markets.
Foreclosure rates have declined year-over-year, but are on the rise again.
For the first quarter of 2013, the national rate of first-lien mortgage foreclosure starts stood fixed at .7%; 15 states across the country showed a decline in new motions from quarter-to-quarter and, compared to the first quarter of 2012, foreclosure filings were down 23%. More recent activity shows a sharper decrease over a short amount of time, as first quarter 2013 new filings diminished 12% from the previous quarter.
While foreclosure starts is at its lowest since the second quarter of 2007, there was a 2% increase between February and March. From March on, there was an even starker increase in 23 states. New York, Maryland and Washington are leading the pack with the most new foreclosure filings.
We are all hoping for a faster real estate rebound, but several key states are singing a different, discordant tune from one another. Real estate markets in Maryland, Massachusetts, New Jersey, and New York have nothing good to write home about since they are still burdened by a heap of troubled loans. On the other hand, while they were the hardest hit housing markets by foreclosures, Arizona, California and Michigan are recovering more rapidly.
Regional Judicial Processes Drive Foreclosure Rates
One factor that's sped up the recovery process for Arizona, California and Michigan is their non-judicial standing. In these instances, foreclosure proceedings can occur without enlisting a judge. The time it takes to clear pending foreclosure cases coming down the pipeline is much longer for judicial states.
According to the April 2013 LPS Mortgage Monitor issued by Lender Processing Services, the number of cases in judicial states is three times as much as in "non-judicial" states. Unless circumstances change, territories with a large backlog of unresolved foreclosure cases — such as New York and New Jersey — can take years to clear the pipeline.
Foreclosure cases have come under scrutiny by officials who are looking to prevent unlawful situations. Some states have integrated judicial-like processes intending to further safeguard borrowers. For example, traditionally non-judicial regions such as Massachusetts and Nevada are extending their time-to-clear windows. As of June 2012, Massachusetts has jumped from 75 months to 171 months. As of January 2013, Nevada has moved from 27 to 57 months.
Nevada is following California's recent enactment, on January 1, 2013 of the Homeowner Bill of Rights. It is meant to ensure fair lending and borrowing practices are more closely followed. Mortgage providers can no longer advance a foreclosure if a homeowner is working to secure a loan modification. Additionally, persons who purchase foreclosed homes must now wait 90 days to start an eviction proceeding. These judicial-like stipulations are slowing down California's foreclosure process.
Judicial and judicial-like states are trudging through a landfill of foreclosure proceedings. For prospective homebuyers however, this may be a good time to explore your options. Home prices within these states have become depressed so you may be able to obtain a home more cheaply. In order to discern judicial versus non-judicial states and glean their respective process timeframes, take a look at RealtyTrac's summary of Foreclosure Laws and Procedures by State.
Non-judicial states have a higher frequency of underwater loans.
States without a judicial process are experiencing more underwater mortgages, whereby a property is priced at least 25% more than its estimated value. Since the beginning of May 2013, there were approximately 11.3 million underwater properties nationwide. The majority of them are in aptly titled non-judicial "sand-states" such as Nevada, Florida and Arizona.
Underwater mortgages are a burden on the economy. Negative equity mortgages skew market values for other homes in the area, and can negatively impact appreciation. Furthermore, an underwater homeowner is more likely to default on their mortgages. A homeowner in the clear has more flexibility — not only to put his or her property up for sale, but also to sell it at a higher price.
We have seen how judicial states are slowing down the foreclosure process, which is putting downward pressure on their real estate markets. We also noticed how non-judicial states are prone to more underwater mortgages, which drag down the economy. As of the end of the 2013 first quarter, the total amount of foreclosures decreased in 40 states, with Florida, California and Nevada taking the lead. The real estate market is slowly improving and showing more signs of recovery.
As it stands, there are more than 3.1 million delinquent mortgages, which are not in foreclosure. This combined with the estimated 1.5 million foreclosure properties may seem like a high number, but it is still the lowest it has been in the past five years. What we may be experiencing is a correcting of previously turbulent markets. For example, Florida, California, Michigan, Texas and Georgia contained nearly half of all completed foreclosures. This will result in a further stabilization and improvement of real estate market conditions.