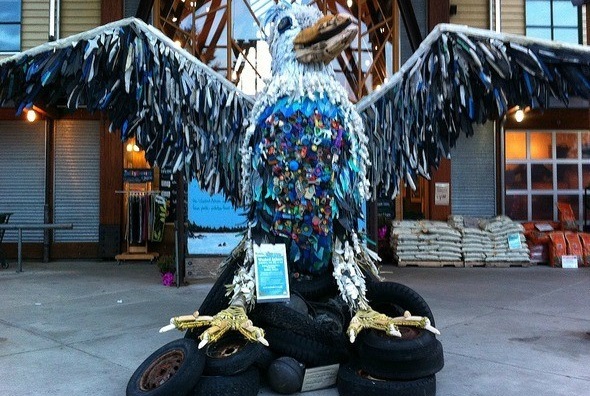 Did you know that most people have over $1000 worth of extra "stuff" in their house? There are treasures hiding in every nook and cranny of your house, you just have to find them. Before you throw anything away, research to see if it has value. Did you know that expired Polaroid film is a hot seller on Ebay? I once sold a pack that I was ready to throw away for $30. Do you have old knickknacks hanging around the house? Check to see if they are selling on ETSY. Vintage is hot right now and those little trinkets your grandparents sent you as a small child may be worth money!
Find out now: Can I afford my student loan payments?
Are you looking to downsize or just need some extra cash? Here are some places that you can sell your stuff:
Craigslist
Craigslist is a great way to sell larger items like furniture, cars, and TV's. These items are expensive to ship, so it makes sense to find a buyer within driving distance that can come pick it up. Craigslist is also great to advertise a yard sale. Craigslist listings are free, so you can place multiple listings at no risk.
Ebay
You can virtually find anything and everything on Ebay. You can also sell pretty much anything there. Recently Ebay has introduced incentives for sellers, like offering 50 free listings a month. Ebay is great for smaller items that you can fit in a box and ship. Designer clothes, collectibles, and electronics would be some examples of what you could find in your house and sell on Ebay. Ebay charges a listing fee (after your first 50 listings) and 10% of the transaction. When someone buys from you, the payment goes through to your Paypal account.
ETSY
For vintage, antique items or extra crafting supplies sitting around the house, you may want to set up an ETSY account. Generally on vintage items, ETSY will get a higher price than Ebay or selling independently. The ETSY marketplace is only for vintage items, handcrafted pieces, or crafting supplies. ETSY charges a $.20 per listing (for 4 months) and a small percentage (3.5%) when the item sells. Your payment will be sent to you via Paypal.
When you are looking to sell your items online, make sure you follow these tips:
Research
Before you throw anything away, do a quick search on Ebay (or ETSY for vintage and antiques) to see what your product is going for. On Ebay, don't just check current listings, check sold listings as well. See what listings sold for top dollar and use their descriptions as an inspiration for yours.
Take Great Pictures
Make sure that you are taking a clear picture and showing the product from different angles. You should also avoid using distracting backgrounds. I use a white piece of foam board as the background for smaller items. For clothing, make sure that you are showing it on someone or on a dress form. Most people will like to see an idea of how something would look on them and not lying flat on the floor.
Write Killer Descriptions
When you are selling on Ebay and ETSY, you want to make sure that you are writing a great description with popular keywords. When buyers come to these marketplaces they are searching for items by entering in search terms. The more descriptive you are, the better your chances of having your item seen.
With these tips, you can start to get rid of items you no longer need and get some cash for things that you do. Do you have any selling tips for these sites? What's the strangest thing you ever bought or sold online? Share with us below!
Photo Credit: Nathan Jongewaard