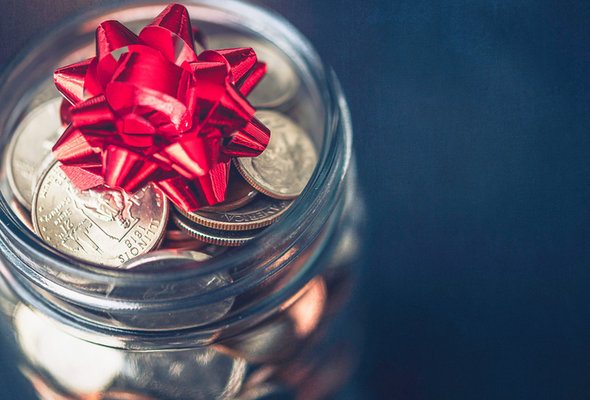 Many of us get caught up in the chaos of planning parties, buying gifts and visiting friends and relatives during the months of November and December. It's easy to forget that the holidays are also about helping others. If you're not sure how you can give back, we've listed some simple ways to volunteer and donate during the holiday season.

See what the average budget looks like for someone in your neighborhood.
If You Have Time to Spare
Put Your Car to Use
If you have a car, you can volunteer to help organizations that need drivers like Meals on Wheels. Not only will you be delivering meals to disabled and elderly individuals, but you may also be providing them with some much-needed company.
If there are programs that provide rides for disabled people, you could also find out whether you can serve as a driver when services like Access-A-Ride aren't available.
Volunteer at a Local School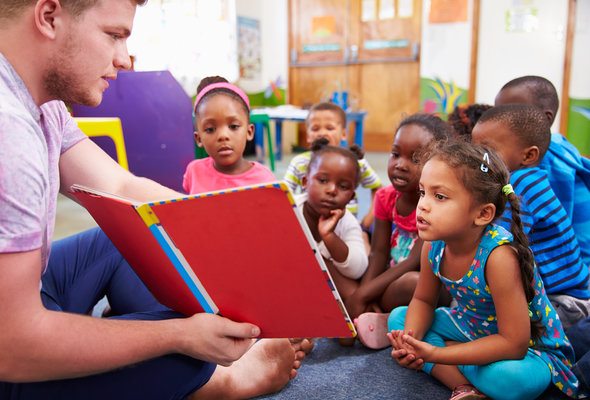 Thousands of schools across the country don't have enough resources for their students and teachers. One way to give back is to spend some time at a local school. You can read to elementary school children, help students with their homework or help high schoolers prepare for their SATs. If you speak another language, you can tutor students learning English.
Spend Time With Sick Patients
Want to make your holiday contribution more personal this year? Consider visiting patients at a hospital, pediatric ward or nonprofit like a local Ronald McDonald House. You could also spend some time at a nursing home. Some people just need someone to talk to during the holidays.
Make Kits for the Homeless
This can be a way to make a big impact on someone's life. Your family members and friends could spend a weekend filling bags with toiletries, nonperishable foods or snacks for a homeless shelter. Before you get started, just be sure to find an organization that will accept your donations.
Related Article: America's Most Charitable States
How to Give Back When You're Busy
Set up a Donation Box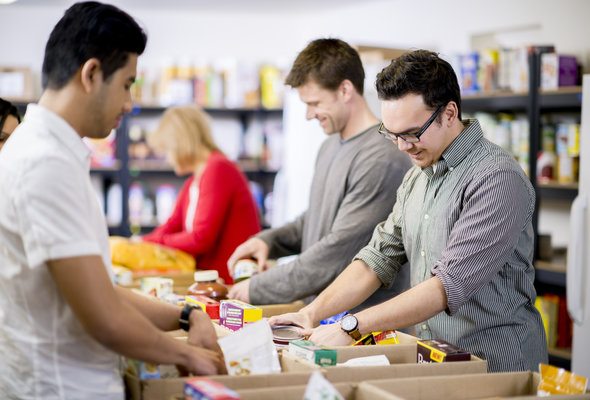 It doesn't take much time to set up a box and encourage your co-workers and friends to donate food, books, gift cards or school supplies. Once the box is full, you can take it to a food bank or shelter. Even if you hold a drive around the holidays, you can save the donations for the spring or summer when organizations might need more money or resources.
Donate Your Clothing
Homeless and disadvantaged people not only need food, but they also need help staying warm during the cold winter months. If you have coats you don't wear anymore, you can donate them to a local homeless shelter or nonprofit. Pajamas are another necessity we often take for granted. Homeless and foster children all over the country would appreciate a new set of warm pajamas.
Make Holiday Cards
You could make holiday cards with your family and deliver them to a hospital, nursing home or veterans service organization. If you're baking cookies or cakes, you could make a larger batch and deliver those as well.
No Time at All? Make Monetary Donations
If you have no time to spare, you can make a monetary contribution. It's easy to go online and make a donation to a charity of your choice. In some cases, you might be able to automatically donate a certain amount of money to an organization every month. To avoid scams, just be sure to do your research before sending anything to a charity.
Unsure of where to donate? Handup.org and donorschoose.org are two websites that let donors browse through causes and choose ones they'd like to participate in. Hand Up gives money directly to organizations trying to help people get back on their feet. Donors Choose is an outlet for teachers who want to request money or resources for their students and classrooms.
You don't have to donate hundreds of dollars. Even $5 can help an organization reach its goals. To maximize your contribution, you could find out if your charity of choice has a matching funds program. If it doesn't, your own company might offer to match your donation.
By making a monetary donation, you could also get a tax deduction that can lower your tax burden. But you could miss out on a tax break by making certain mistakes, like forgetting to save receipts that prove you made a contribution.
Bottom Line
Whether you choose to volunteer at a school, hold a food drive or make a one-time donation, you can make a positive impact on your community. Let's do what we can to make sure everyone enjoys the holidays!
Photo credit: ©iStock.com/CatLane, ©iStock.com/monkeybusinessimages ©iStock.com/FatCamera