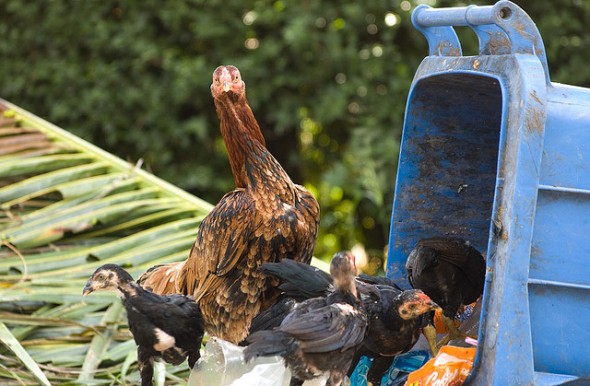 Last week, an unfortunate (and hungry) Seattle Starbucks Employee lost his job for eating an egg sandwich out of the trash. This state of affairs brings up some interesting questions, such as, "does eating marked-out food from the trash constitute theft?" and, "should that really be considered a fire-able offense?" While these important questions are debated in comments sections across the Internet, we at Smartasset will exercise pragmatism by exploring low-cost lunch alternatives that make the waste-bin look less appetizing.
Find out now: How does my 401(k) work?
For most working people, lunch is difficult to get right. The calories are much-needed to get through the afternoon at work, and spreading out your meals over the course of the day allows you to avoid binge-eating at dinner time. According to Fox Business, in 2012 66% of Americans bought lunch at a restaurant or deli instead of bringing it from home. This amounts to a national average of $37 a week and $2,000 a year spent on lunch alone, with costs as high as $15 dollars a day in cities like New York. Tie this in with commuting costs as well as breakfast, groceries, and daily coffee and you are looking at a huge expense every year. Luckily, there are easier ways to mitigate these expenses than sifting through the trash.
Although it is less convenient than eating out, Time Business says brown bagging a lunch can cost as little as $3 a day and can result in life-changing savings. For example, a chicken salad sandwich on wheat bread costs about $3.50 to make. Choose this over a $10 dollar lunch five days a week and you're already saving $2,250 a year. Although we don't recommend you restrict your lunchtime diet solely to chicken salad (please don't do that), there are plenty of great options at a similar cost. Investing these savings early in your career can drastically affect your life years from now. Build an extra 10 minutes into your pre-work schedule to make lunch or prepare the night before and your wallet (and retirement fund) will thank you.
Here are some low-cost, low-effort lunch ideas to get you started. Costs are estimated using current list prices for ingredients. And remember: A loaf of bread ($3), a jar of peanut butter ($4), and some jelly ($4.50) can go a long, long way.
BBQ Chicken Sandwich – GoodEats
Estimated Cost of Ingredients: $16.50 (~$3.30 per sandwich)
Time to make: 10 minutes
Mediterranean Turkey Wrap – Iowa Girl Eats
Estimated Cost of Ingredients: $17.25 (~$3.50 per wrap)
Time to make: 5 Minutes
Pressed Tomato and Mozzarella Sandwich – Martha Stewart Living
Estimated Cost of Ingredients: $17.40 ($4.35 per sandwich)
Time to make: 10 minutes
Chopped Greek Salad – Martha Stewart Living
Estimated Cost of Ingredients: $20.00 ($5.00 per serving)
Time to make: 10 minutes