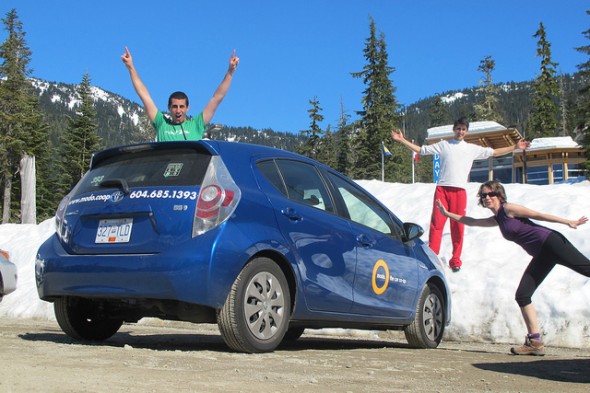 Car sharing services such as Zipcar, RelayRides and Getaround are all the rage around college campuses and among urban dwellers in crowded cities. In 2012, reports show some 800,000 belonged to car-sharing services, in which members pay a small annual fee to join and can rent cars on an hourly basis using a smart phone app or going online.
Find out now: Should you buy or rent a home?
This segment of the car rental business has become so popular that even big established car rental companies are moving in. In January, Avis acquired short-term rental pioneer Zipcar for $491 million. Car sharing fees are far lower than normal rentals and have some wondering whether it still makes economic sense to own a car.
The Economic Case Against Car Ownership
The arguments for not buying a set of wheels in this age of car sharing are persuasive. Getaround's founder and director of marketing Jessica Scorpio recently told Time magazine that most cars sit idle 92% of the time, so why pay the overhead of financing, insuring and powering a car all year round.
Zipcar pulled together some interesting charts showing why car sharing offers big savings and fewer hassles than owning a car. Drawing on AAA data, Zipcar estimates that it costs an average car owner with a four-door coupe some $807 per months to own and maintain a car.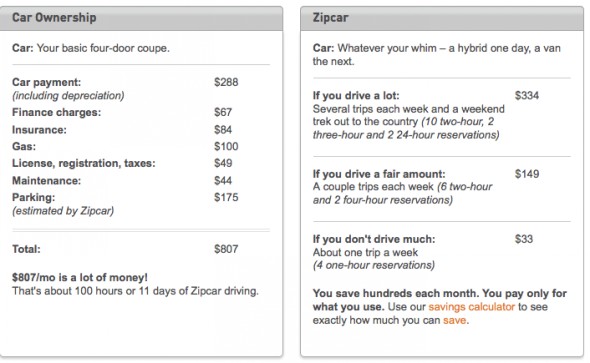 In contrast, heavy Zipcar users, which the rental service defines as someone who takes several trips a week and long drives on the weekend, will pay about $334 a month. Rates will vary by city and the Zipcar's website has a link that lets you calculate costs where you live.
Soccer Practice and Car Sharing Don't Mix
If you are young, single and have a flexible work schedule, car-sharing services may make a lot of sense. For those on a very tight budget, lowering transportation costs certainly helps. It's no surprise that Zipcar and others companies started out serving college students.
However, for many Americans who live outside of cities with world-class public transportation systems, owning a car is a must. The hassle of reserving, retrieving and return a rented car would be a huge inconvenience.
The same goes for families with school age kids who need to be ferried around to soccer practice and dance classes. In everyday life, many car trips are unplanned but necessary– like the quick dash to the pharmacy for a prescription drug. Given the demands on most American lives, it seems owning a car will remain the best option despite the expense.
Photo Credit: flickr
Chart: Zipcar