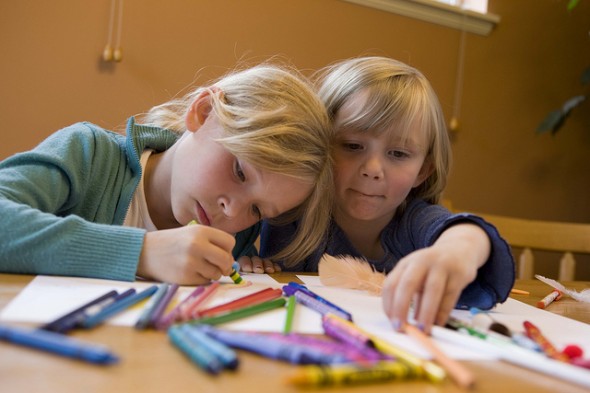 For the average American, landing a job that offers health insurance, vacation pay and a retirement plan would be a huge score. For employees working in the tech and social media sectors, benefits like these are just the tip of the iceberg.
Find out now: How does my 401(k) work?
In order to attract the best and brightest and keep them on the payroll, many tech companies are offering lavish perks like on-site gyms, laundry service and catered lunches to keep employees happy. While tech companies are among the most generous when it comes to employee benefits, there's still one commodity that's in short supply: on-site childcare for working parents.
Care-Less Kids
Facebook made headlines earlier this fall when it announced plans to build a new $120 million housing community for employees at its Menlo Park campus. The housing complex is set to include a sports bar, on-site laundry and dry cleaning facilities, a bicycle repair shop and even a doggy day care but there are no plans to include a childcare facility. While it may seem strange for a company as successful as Facebook to forgo child care benefits for employees, it's actually not that unusual.
According to a 2012 study from the Families and Work Institute, just 7% of companies in the U.S. offer on-site childcare for employees. Nearly one-third of the employers included on Fortune magazine's 2012 list of 100 Best Companies to Work For offered childcare. Just two of the tech companies that made the top ten, Google and SAS Institute, currently offer childcare benefits to employees with young kids.
Despite research which suggests that employer-sponsored childcare creates more productive employees, many companies remain reluctant to extend these benefits. Cost is believed to be one of the biggest hurdles, since it can take millions of dollars to build an on-site daycare. There are also the added challenges of meeting state licensing regulations, insuring the facility and its workers against liability and keeping up with the day-to-day overhead costs.
Other Options
To make up for the lack of childcare, other employers offer other perks that are designed to make the transition to parenthood easier. Facebook gives new parents $4,000 in baby cash plus four months of maternity and paternity leave while Google offers new moms up to five months of paid leave, along with a $500 cash bonus. Some companies attempt to meet employees in the middle by providing access to childcare referral services, offering childcare subsidies as part of the benefits package or outsourcing care to licensed facilities.
Intel, for example, partners with childcare centers nationwide that are located close to its offices. The company provides funding to the daycare centers, which guarantees a certain number of spots for children of Intel employees. The move helps out parents and it's less expensive than funding the construction of a private daycare facility.
While these added perks can help, many tech company employees are still seeing childcare costs take a big bite out of their paycheck. According to the U.S. Census Bureau, families spent an average of $143 a week on childcare in 2011. Over the last twenty-five years, childcare costs have nearly doubled while the median wage of employees has remained relatively the same. With child care costs expected to increase, it could prompt many tech employers to rethink their benefits package.
Photo Credit: BC Gov Photos