If you drove through any small town main street in America a decade ago, you may have been shocked by what you would have seen. Thriving, bustling downtowns were replaced by boarded up buildings and resembled ghost towns. I witnessed the changes first hand in the small town I grew up in.
Find out now: How much do I need to save for retirement?
Although initiatives in some communities have put mom and pop shops back on Main Street, many of these towns are beyond repair. Once we couldn't survive without the hardware store "in town," grocery store or bookstore, now with big box stores popping up in even the smallest of towns, you can get everything from groceries to an oil change and a million things in between, all in one place.
One-Stop Shopping
Many people crave the convenience of these stores because of their busy lives. When you are rushing around and only have a few moments to get a laundry list of errands accomplished, it helps when you can find everything in one place. But what has this done to the small business?
I attended a conference a few years back where they discussed the impact of buying local and how it can change the local economy. The goal was to spend $25 a week on local goods and services. It really wasn't overwhelming for us to do. Since that was generally what I spent on Starbucks at the time.
I just couldn't see how this would even make a dent in helping our town's economy. But economic experts explained that if every household participated in the challenge, it would pump millions of dollars into our local businesses. Look at your town's population. How much would it bring into your local businesses if each of those people spent $25 a week (or even a month)?
Related Article: $50 Food Budget: Eating with the Seasons
How Can I Buy Local?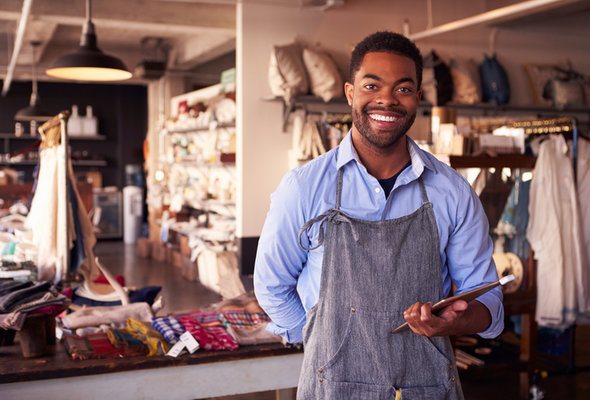 Start small. Instead of buying your produce from a supermarket, enjoy a farmers market with your family on the weekend to stock up on fresh locally produced veggies. When buying gifts during the holidays, start your shopping with local businesses.
If you find a better price at a larger store, ask the mom and pop shop down the street if they can match or discount. You may be surprised. This past year, when a shipment went awry from an online retailer for a gift, I ran to a local shop and in passing mentioned my dilemma. Not only did they have the same item in stock, but they looked up the price at the online retailer and matched it. Now I will go to them exclusively.
The Buy Local Movement in America
From farmers markets to local craft fairs, buy local has become a common phrase. Something that was second nature for the beginning part of the century has now become a conscious movement for millions of Americans trying to surge their local economies and keep dollars in the communities they live in. So has it been working?
The Small Business Administration shows that the year to date loan volume for small businesses had increased by 15% from 2012 to 2013. Delinquency rates are at an all time low for small businesses as well. Although we are all still waiting on the full numbers from last year, Inc. Magazine published an article about how many leaders are hopeful that small business success will continue to improve in 2014. This doesn't mean we can relax in our support of local businesses. In fact we need to be more aware of how we spend our dollars.
Benefits of Buying Local
Aside from the obvious boost to the economy, you can also take advantage of other benefits by buying from someone who lives and breathes their business everyday. You have direct access to someone who is an expert in their field.
When I needed some help with a report for a class I was taking, I headed to my nearest big box bookseller. The people behind the counter, although nice, were clueless as to what I was talking about. When I went to the used book shop in our town, I not only got exactly what I needed but an impromptu verbiage lesson from the proprietor and some interesting facts that I had no idea about (and probably wouldn't have found in any textbook).
Related Article: 4 Sneaky Ways Retailers Trick You Into Spending More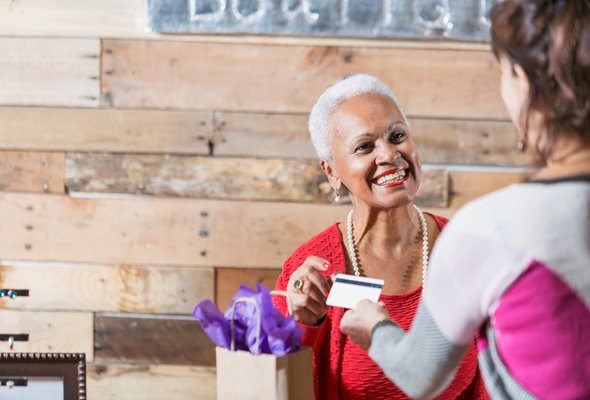 Many times you may get a better experience visiting these small businesses than when left to fend for yourself in a big box store. Did you ever have to run up and down thirty aisles to try to get someone to help you at a mom and pop hardware store? Probably not. They most likely greeted you at the door, showed you what you wanted and maybe even made a little small talk.
Because of these reasons, our family makes a conscious effort to buy local. I think every family in America should as well. Taking $25 out of your budget each week (or month if money is tight) for local spending could help keep the mom and pop shop down the street afloat. Do you shop local? Share with us in the comments below!
Photo Credit: ©iStock.com/SolStock, ©iStock.com/monkeybusinessimages, ©iStock.comkali9