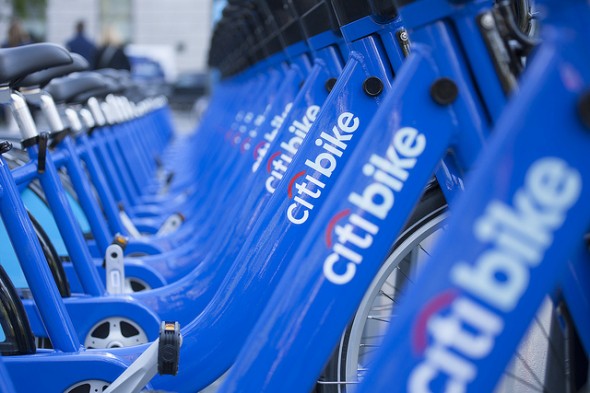 Bike sharing is a new phenomenon in the United States that has its roots in Europe and in a city that is legendary for its canals and its bicycle culture Amsterdam. Modern bike sharing got its start in the Dutch capital in 1965 has since evolved into a world wide trend since.
Find out now: Is it better for you to buy or rent a home?
Bike sharing programs are currently on operation on every continent, including Antarctica where the Australian Antarctic Division provides bicycles for use around their station. As of June 2013 there are more than 30 bike active bike sharing programs in the U.S. with more than 70 in varying stages of development or deployment.
Pedal Pushers
Over the past couple of years, I've become reacquainted with a former love, the bicycle thanks to my wife who is an avid spinner (indoor cycling as a workout). Her need to pump the pedals so to speak is epic and reaches well beyond the confines of the gym to the streets and trails of almost anywhere we are. Her obsession has become a passion we now share.
Traveling with bicycles is not always practical or possible as was the case for us last year when we returned from a cruise to the port of Miami and stayed in SouthBeach for a few days. We settled into our room and of course the first thing my wife did was Google bike rentals and right on the top of the list was something called DecoBike. Their map showed three locations within two blocks of our hotel, so we checked them out.
So What Exactly is DecoBike?
That's the question that is asked on the their website which is quickly and concisely answered as the official city of Miami Beach bike sharing and rental program. It turns out that DecoBike is really a network of bicycle vending machines strategically placed throughout Miami Beach. DecoBike machines dispense and track 1,000 custom bikes. The process of checking out a bike is amazingly simple and quick. Swipe a credit debit card, punch in the number of the bike you want to rent and how long you want it for (30 minute increments) and go.
As far as I am concerned the best way to explore a city is on the ground, on foot or on a bike rather than in a car or bus, the virtues of which are another story. Over the next couple of days we rented from DecoBike several times and at first were surprised at just how popular the bikes were since we sometimes had to go to two or three kiosks to find an available bike.
Not Just for Tourists
Late one afternoon we went to the closest kiosk to check out a couple of bikes to for a ride over to Lincoln Road for shopping and dinner and there was just one bike available. So we took that one and I walked while my wife rode to the next kiosk to find a bike for me. This second kiosk was empty and as we were deciding which one to try next a guy in the hallmark checkered pants someone who works in a restaurant kitchen rode up and returned his bike.
Clearly not a tourist we chatted while he returned his bike. It turns out Matt was in fact a line cook at an upscale restaurant who was able to afford living by the beach by not having a car. He worked a couple of miles away or about a 35 minute walk, a twenty minute bus ride or about 10 minutes away by bike.
For Matt DecoBike was perfect they had a plan that included unlimited 30 minute rides for just $15 a month. Cheaper and faster than the bus not to mention a car DecoBike it turns out is not just a touristy gimmick but a very real transportation resource for residents.
Third Time is the Charm
Most bike sharing programs in the U.S. are third generation programs which means the kiosks are digital and accept credit or debit cards as well as pre-paid monthly passes. Kiosks allow users to report problems such as bike that are in need of repair which is then transmitted to a dispatcher who assigns a technician to repair the bike.
DecoBike is not unique in the approach that hooked Matt in Miami Beach. All of the bike share programs I've looked at for this story operate in much the same way as DecoBike where a subscription or membership entitles the rider to an unlimited number of 30 – 60 minute rentals for a flat monthly or annual fee.
Bargains Galore
DecoBike is perhaps the most expensive of the bike share programs. At $15 a month they lack an annual plan.
| | | |
| --- | --- | --- |
| Denver, CO | Denver Bicycle | $80 per year |
| Twin Cities, MN | Nice Ride Minnesota | $65 per year |
| Washington, DC | Capital Bikeshare | $75 per year |
| Salt Lake City, UT | Green Bike | $75 per year |
| Charlotte, SC | Charlotte Bicycle | $65 per year |
| Honolulu, HI | Hawaii Bicycle | $50 per year |
The chart above is not exhaustive by any means and a more complete map of available bike share programs can be found online.
I am going to single out what as far as I can tell is the largest bike share program in the U.S. with 10,000 bikes spread across 600 locations New York's CitiBike program offers unlimited 45 minute trips for just $95. per year.