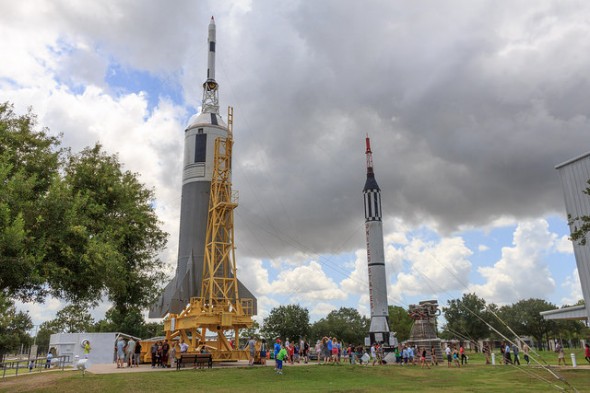 Tourism is a major industry in many cities, sometimes to the chagrin of the locals. But as annoying as tourists can be to deal with in person, they also are usually willing to spend their money. SmartAsset wanted to explore the effects of tourism on the twenty largest cities in the United States, to see which of them might benefit the most from their visitors.
Methodology
We divided the dollars spent on tourism by the population to determine the amount of tourism spending per resident for each city. We also calculated the ratio of tourists to population to find out how many tourists per capita there were. In other words, to what degree a resident might feel their city being "taken over." We ranked the twenty largest US cities by these two figures, weighting the final rank by 60 percent spending per capita and 40 percent tourists per capita. The greater the spending per resident and the fewer tourists per resident, the higher a city ranked (less hassle, more gain).
The Top Five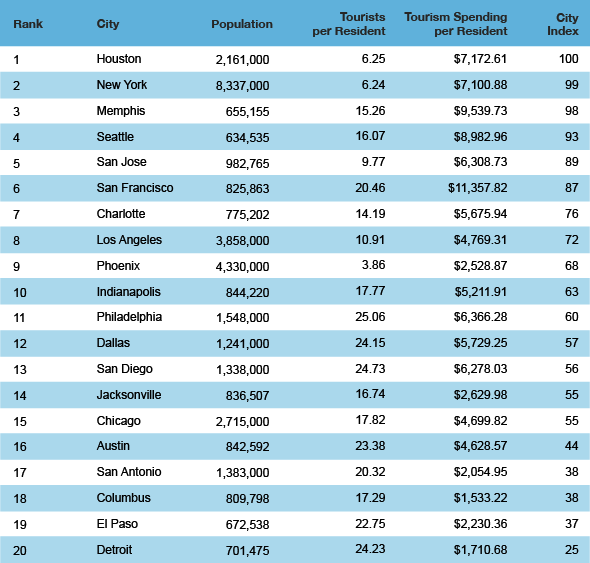 1. Houston
The Space City's NASA presence is not just a major industry unto itself, it's also a large tourist draw. About 13.5 million visitors came to Houston in 2013, a city of some 2.16 million people, bringing with them about $15.5 billion in tourism spending, or $7,172 per resident.
2. New York
Nobody despises tourists more than New Yorkers do (we can say that as it's SmartAsset's hometown). But the Big Apple had the biggest volume of tourism spending of any American city last year by a long shot, with 52 million visitors bringing in $59.2 billion. And any New Yorker would have to admit, through clenched teeth, that Times Square and similar attractions are very good for the economy, with $7,101 in tourism spending per city resident – and they only have to deal with 6.24 tourists per capita, the second-lowest figure among the top twenty cities.
3. Memphis
Tennessee's biggest city, Memphis, still capitalizes on the legacy of Elvis Presley, as well as many other jazz, blues, and rock-and-roll greats. Tourists flock to Memphis for the food and the music, including such events as the Beale Street Music Festival and the World Championship Barbecue Cooking Contest. Memphis's small size means a large amount of tourism spending per resident, at $9,540.
4. Seattle
The smallest of the top twenty cities by population had 10.2 million tourists visit last year, or 16.07 tourists per capita. Seattle saw $8,983 in tourism spending per resident in 2013, for a total of $5.7 billion. This was thanks to attractions such as the Space Needle, Pike Place Market and the Experience Music Project.
5. San Jose
San Jose's major industry is technology. However, it still saw ten times as many tourists as there were residents in 2013. The $6.2 billion in tourism revenue amounted to $6,309 per capita for residents. Besides its NHL team, the Sharks, San Jose also draws tourism with historical and architectural oddities like the Winchester Mansion, built by a gun magnate's widow with staircases to nowhere and other strange features to keep out ghosts.
What Neighborhood is the Best Fit For Me?
The Worst Five
5. Austin
Austin, as home of the SXSW festival and a generally artsy city, attracts tourists who are willing to spend a fair amount of money, resulting in a decent $4,629 in tourism spending per resident. However, those residents may feel themselves crowded out by the 23.38 tourists per capita.
4. San Antonio
Home of the Alamo and the NBA's dominant Spurs, San Antonio saw a healthy 28.1 million visitors in 2013 – but they only spent an average of $101 each, resulting in a somewhat small $2.8 billion in tourism spending. This translates to only $2,055 per resident, and quite dense crowds at 20.32 tourists per resident.
3. Columbus
This central Ohio city, the state capital, has the lowest amount of tourism spending per resident on the list, at $1,533. However, at 17.29 tourists per resident, crowds of visitors are not as big as many of the other listed cities.
2. El Paso
El Paso's $2,230 in tourism spending per resident is low, but not the lowest. However, the Rio Grande city's residents are outnumbered 22.75 to one by tourists, which may make for unpleasantly large crowds during the high season.
1. Detroit
The Motor City's woes aside, it saw 17 million visitors last year, but only pulled in $1.2 billion in tourism revenue. The $1,710 spent on tourism per resident is the second lowest on our list while the 24.23 tourists per resident is the third highest. So Detroit is seeing a relatively large number of tourists by population and not seeing much economic gain from tourism dollars spent.
Sources: Local tourism boards, US Census
Photo Credit: flickr