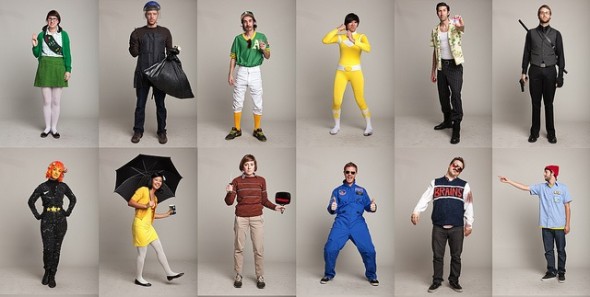 "Okay, but what are you being on Saturday?" my friend asks as I tell her my genius costume for Thursday, October 31st. No worries, I have already thought of that too! Halloween encompasses more than just one night and definitely more than one costume for most of us these days – but why? Here are the reasons I felt the need to have multiple looks ready for this year's All Hallow's Eve.
Find out now: Is it better to buy or rent?
1. Multiple Events
Halloween on a Thursday has been a struggle this year. It is the furthest into a week from a weekend that it could possibly be. Was Halloweekend last weekend or is it yet to happen? I have even seen pictures of costumes and parties as far back as the first weekend of October. The continuation adds up to a lot of time to party – not such a bad result if you have multiple costumes lined up for each day on your social calendar.
College students aren't the only ones taking advantage of this – even full-fledged adults have multiple opportunities to dress up. From a work function to trick or treating with kids to social parties with friends. Costume contests have been in effect for two weeks also, adding another necessity to have at the very least one costume for each you enter that will knock the judge's socks off.
2. Common Knowledge
The ubiquity of social happenings online has added to the pressure of not repeating the same costume. Even if you aren't seeing the same people that were at your last Halloween celebration, they can see what you were on Facebook and across other social media platforms. Repeating costumes is a way of giving up, or showing this new group that it didn't matter as much to be original for their event. Having something new each night shows you take Halloween seriously – and you know how to make an entrance every time.
3. Creativity Points
Dressing as a slutty _____ (insert any profession, animal or person here) is getting old. Everyone wants to have the most clever costume. Thinking of the most original way to embody Miley Cyrus in her"Wrecking Ball" music video or at her VMA performance with Robin Thicke has shown me just how inventive people are willing to get to win the creativity crown. There is a special respect for someone who thinks of a costume on their own and rocks it the best possible way without a store-bought outfit.
Last year, I went with three separate ideas – a zombie maid, a bear, and pirate's booty. While connected to other friends' costumes, these stood individually each night. This year, I have upped my game and I am following one theme throughout Halloweekend. I will be a different character from a Wes Anderson film Thursday, Friday, and Saturday night. It will make a great collaboration post for social media and give my close friends something to compete with each night and overall when we look back on this year.
No matter what day you celebrate it, everyone knows dressing up can be fun. It is the reason colleges host so many themed parties. Halloween gives everyone the opportunity to think of the most clever costume(s) and show them off on the same day, bringing all the usual fun of dressing out of the ordinary. Happy trick or treating to all and to all a good costume!
Photo Credit: Threadless 365