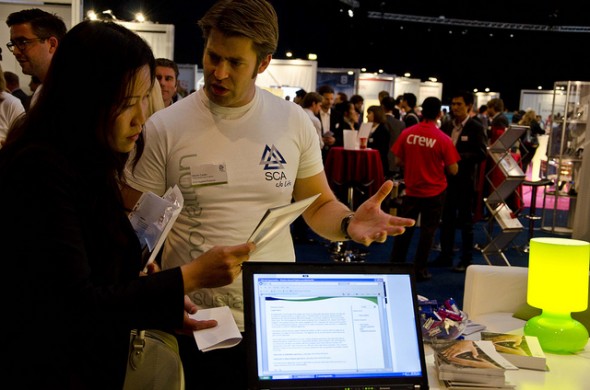 If you're a part of the graduating class of 2013 you can consider yourself among the luckiest batch of recent college grads. Why? The job market for new graduates is considerably brighter than it has been in the past few years. A National Association of Colleges and Employers' (NACE) survey demonstrates businesses plan to add between two and 13 percent additional college graduates in 2013 compared to 2012. NACE also reports salary expectations for 2013 grads should see an increase over five percent from previous years.
Find out now: Which checking account is best for me?
According to the study: "Median starting salaries for bachelor's degree graduates will be $44,928, up from $42,666 for 2012 graduates. Technical degree majors can expect to earn even more per year. Engineering majors are in great demand, according to NACE, and seven of the top 10 salaries for new graduates will be in the engineering fields"
Encouraging News
Marilyn Mackes, executive director of NACE, predicts an increase the number of business and health sciences jobs, as well as an increase in salary expectations for 2013 graduates. A study by the Economic Policy Institute reported recently that unemployment for college graduates under age 25 is down to 8.8 percent for the year ending February 2013. The rate for young graduates was over 10 percent in the previous two years.
Salary prospects for 2013 graduates according to the NACE study:
• Health sciences will increase salaries by 9.4 percent for new graduates.
• Business majors will see gains of 7.1 percent this year.
• Starting salaries for education majors jumped 5.1 percent.
• Average computer science graduate salaries increased by 4.3 percent from 2012.
• Petroleum engineering majors will top the new graduate starting salary charts with an average of over $93,000.
Nearly half the employers surveyed by NACE reported plans to hire a 2013 college graduate this year, thanks to company growth. Graduates in demand will include business administration, management and computer science degree recipients. Other top degrees sought by businesses this year will be finance, economics, marketing, management information systems and accounting.
Industries that are hiring
Industries planning 2013 graduate hiring include government agencies, insurance, real estate, wholesale trade and financial companies. Food and beverage manufacturing companies are seeking computer and IT majors as well as finance majors and engineers. Liberal arts majors can look forward to increased hiring in sales, public relations, communications and marketing.
Employers reported they seek personality traits and characteristics in new graduates that indicate the makings of long term and quality employees. Companies seeking new graduates cite communication skills, interpersonal skills, problem solving, decision-making abilities, and the ability to broaden expertise as "soft skills" in demand. Team players and those who can organize and prioritize work also have better chances for employment after graduation.
Importance of experience and location
Internships, especially paid internships, give new graduates a significant edge during job searches after graduation. Employers value experience in their industry as well as developed job skills when hiring recent graduates. Work-study programs completed in college also demonstrate work skills and technical competence. Companies must replace baby boomers that are beginning retirement.
Location is as important for a 2013 college graduate as the degree received. Texas should add 250,000 jobs in 2013, and Houston will have a promising job market as a result. Dallas will be a draw for engineers and IT majors, thanks to AT&T, Lockheed Martin and Texas Instruments located in the metropolitan area. Phoenix AZ is another hot spot for new graduates, according to Kiplinger's.
Baltimore MD should draw many health care majors after graduation. The city boasts prestigious medical facilities such as Johns Hopkins and the University of Maryland Medical System. Private employers and IT sectors in the area predict healthy hiring according to CareerBuilder.
Regardless of location or degree, 2013 college graduates should still expect fierce competition and exacting hiring managers during their job search.
Photo Credit: SCA Svenska Cellulosa Aktiebolaget