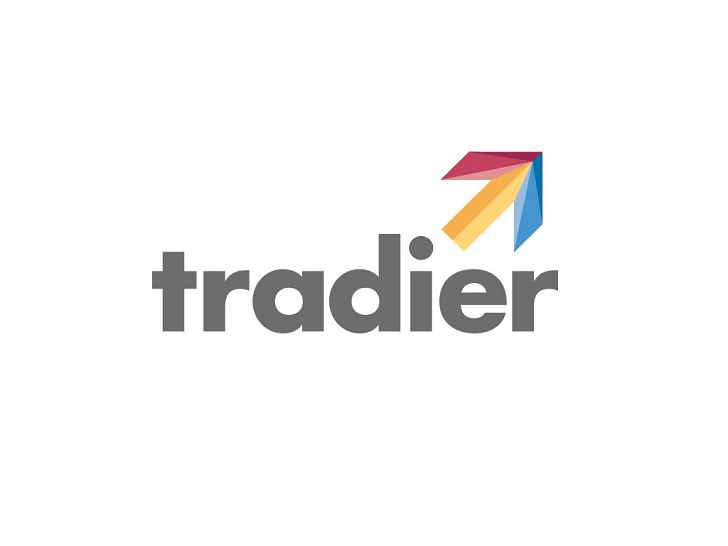 Tradier is an end-to-end, FINRA-registered trading platform that has been around since 2012. However, the 2021 version of its services has advanced considerably since the company's inception. This platform uses APIs to offer investor services from multiple platforms, ranging from stocks to bonds and options. Tradier lets you customize platforms online and via mobile at a reasonable price for different investing purposes. If you are looking for additional investing advice, a financial advisor can walk you through building a portfolio.
Tradier Overview
Pros
– Wide range of available platforms
– Largely customizable based on your trading needs
Cons
– Abundance of options make for a potentially confusing interface
– Must call in to place certain trades
Best For
– Active options traders
– Experienced investors who know what they want
Tradier: Brokerage Fees
Tradier's fees are relatively low when compared to the industry standard. For less active traders, you can sign up for an account that charges $0 in fees for every order and just $0.35 in fees for every contract.
More active traders will likely prefer the subscription package, which costs $30 per month. This provides users access to commission-free equity and option trades. However, Single Listed Index Options are subject to a fee of $0.35 per contract. You'll also be on the hook for exchange charges and OCC and regulatory fees.
Tradehawk, Tradier's proprietary trading platform, has a similar fee schedule. The mobile version is $10 per month and incurs no contract fees. The Pro version includes both desktop and mobile services and also costs $0.35 per contract with no ticket charge or minimums. The Elite version is the best of both worlds, giving users access to the desktop and mobile versions, as well as no contract fees.
Margin trading is also available at Tradier with an interest rate of 5.25%. There are no minimums to open an account on this platform, though those with less than $2,000 and who make less than two trades per year will be charged an inactivity fee of $50. Broker-assisted orders cost $10 per transaction.
The table below is a full overview of Tradier's fee schedule:
Tradier Fee Schedule
Fee Type
Rates
Money Transfers
– Automated Customer Account Transfer (ACAT): $75
– Depository Transfer Check (DTC): $25/position
– Wires: $30
– Returned check/ACH/Wire/Stop payment: $35
– Broker-assisted phone trades: $10 per trade
Reorganization
– Mandatory: $0
– Voluntary: $50
IRA Fees
– Annual: $30
– Termination: $60
Regardless of Tradier's fee schedule, the U.S. Securities and Exchange Commission (SEC) and FINRA charge their own fees for stock transactions. The SEC charges $13 for every $1 million of principal (rounded to the nearest penny) and FINRA charges $0.000119 per share (rounded to the nearest penny), with a maximum of $5.95.
Tradier: Services and Features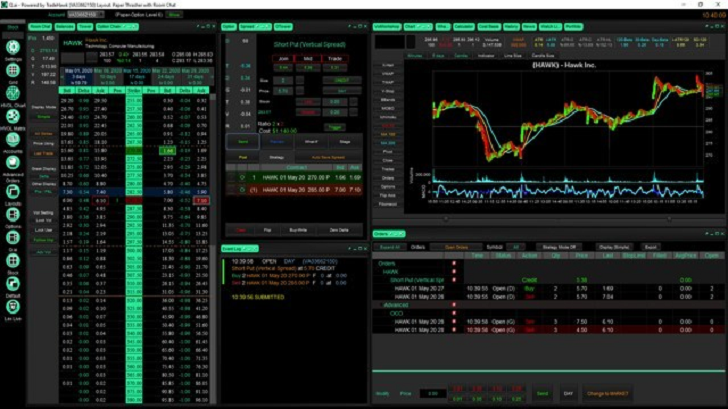 What makes Tradier stand out from other brokerages is the way it incorporates APIs and other investment platforms into its products. Investors get access to Orion Multi Trader, Esignal, 1Option, Stockstotrade, Eva and other platforms, which allow them to trade on multiple platforms at once. All in all, users have access to 22 stock exchanges and 14 options markets. Some trades, like mutual funds, must be made over the phone, though. Investors can also create their own platforms through the Sandbox feature to help them trade and create indicators that prioritize specific strategies or goals.
Tradier's proprietary trading platform is Tradehawk, and it allows investors to work directly with the brokerage platform instead of using APIs on the network. Tradier has also partnered with a network of educators to help investors bolster their financial and investing knowledge. Investors can also take advantage of practice tools to learn how to trade with virtual capital.
For technical help, investors can contact customer support directly through the brokerage platform. Live specialists will access investor screens directly to troubleshoot any issues. Customer support is also available through email or phone daily from 8 am to 5 pm EST.
Tradier: Online and Mobile Experience
Tradier's online experience is relatively straightforward and basic. But some more junior investors might be overwhelmed by the options that are available. When you use Tradier, you'll have access to a wide range of features, including every API that the platform partners with, as well as Tradehawk. You can trade most securities at the touch of a button, but you'll need to call in to trade mutual funds and some other securities.
While features that include APIs and other trading platforms aren't available as a mobile app, there is a Tradehawk mobile app that allows you to use Tradier's proprietary trading software on your smartphone. You'll need to pay to use the mobile app, but it's certainly a benefit to trade on the go.
The app is available via the Android and Apple marketplaces, but both apps have very limited reviews. At the time of this writing, the Android app averages just 3 stars out of 5, and the Apple app averages 4.2 stars out of 5. Overall, however, the app interface is easily navigated and gives users access to the same features that are available on desktop.
What's the Catch?
Tradier incorporates a lot of useful features. This can be useful to investors, but it also has a tendency to become overbearing. As a result, the platform may become confusing to work with at times. This is why Tradier may not be the best option for investors who are new to trading.
Another drawback of the Tradier platform is that you can't trade certain securities on your own. You'll need to phone in those trades, and you currently can't buy futures at all. Tradier's educational resources are also relatively limited, so you may want to supplement them with research from other trusted sources.
How Tradier Compares to Other Companies
Tradier offers a very competitive product when compared with other brokerages, especially given the customizable nature of the trading platform. While others like Robinhood may be simpler or easier to figure out, Tradier generally provides more options for a cheaper price than its direct competitors.
Brokerage Comparison
Brokerage Firm
Fees
Minimum
Best For
Tradier
$10/month to $85/month
$0
– Those looking for a multifaceted investment platform
– Self-sufficient investors
E-Trade
$0 for stocks, ETFs and options
$0
– Frequent traders
– Anyone who prefers strong customer service
Merrill Edge
$0 for stocks, ETFs and options
$0
– Advanced investors
– Bank of America account holders
Bottom Line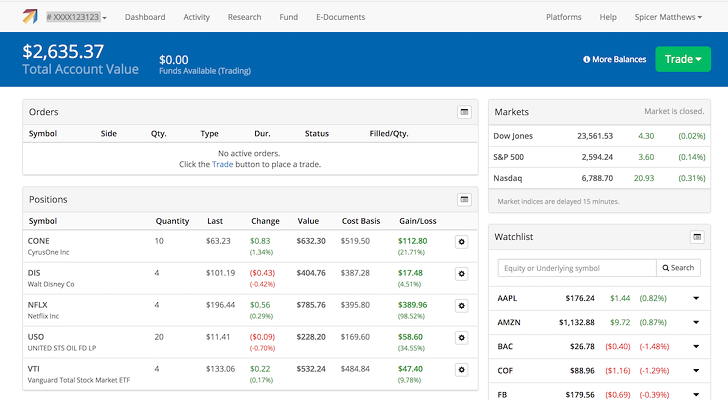 Fortunately for its investors, there isn't much ground that Tradier doesn't cover. You can use its proprietary trading platform Tradehawk and work within the Tradier platform exclusively, or you can take advantage of the multiple APIs that the platform can incorporate. This allows you to trade using outside platforms and even create your own trading platforms to prioritize specific goals.
For a reasonable price, Tradier is a solid brokerage account option for anyone looking to trade on their desktop or on their mobile phones.
Investing Tips
If you have questions about investing, a financial advisor can help you create a portfolio to help you reach your goals. SmartAsset's free tool matches you with up to three financial advisors in your area in five minutes. If you're ready to be matched with local advisors, get started now.
SmartAsset offers a range of free online investing resources to help you strategize your investments. Our free asset allocation calculator will help you tailor your allocations to align with your risk tolerance.
Photo credit: Brokerage.Tradier.com, PR Newswire, Options Cafe