Your money is important. As you strive to reach your financial goals, you may consider turning to a financial advisor. But expertise comes at a cost. Fees and compensation structures differ from advisor to advisor, which can make it challenging for investors to figure out what's best for them. Here's what you need to know to make sure you fully understand financial advisor fees before you hire an expert.
Understanding Financial Advisor Fees
In the financial advisor sphere, there are three main fee structures or ways an advisor makes money. Fee-only advisors charge a percentage of the assets they manage on your behalf, an hourly rate, a flat fee by project, a monthly or quarterly retainer fee or a combination of those fees. Other advisors make their income based off of a commission they earn from selling financial products to you. Fee-based financial planners charge a combination of commission and fees.
Fee-only advisors are often recommended by many experts, as this fee structure allows for more transparency and fewer potential conflicts of interest.
Where To Find Info on Financial Advisor Fee Structures
To figure out what fees a particular financial advisor may charge, look at the firm's Form ADV (SEC-filed paperwork). On this form, a firm must check off each fee type it charges for its investment advisory services. Also check out the brochure that the firm filed with the Securities and Exchange Commission for further information on whether the firm makes commissions off of the sale of financial products. The brochure will also likely list the specifics of how much a firm charges in fees for different account values.
The Average Cost of Financial Advisor Fees
Most firms charge fees based on a percentage of assets under management, also known as AUM. According to a 2017 AdvisoryHQ study, the average financial advisor fee is 1.02% of AUM for a $1,000,000 account, which would shake out to about $10,200.
AUM fees may decrease as the account amount increases, ensuring that high-net-worth individuals are still paying a fair rate. However, this also means that fees will be higher for those with lower account values. The average AUM fee for a $50,000 account is 1.18%.
Instead of charging a percentage of AUM, firms may also charge a fixed annual fee. These predetermined fees increase the higher a client's net worth is. So for accounts from $500,000 – $999,999 the average fixed fee is $11,000, while the average fixed fee for accounts from $1,000,000 – $1,999,999 is $12,500.
Average hourly fees are $120 – $300 an hour, depending on your location. Average annual retainer fees range from $6,000 – $11,000.
These fees generally cover all administration and management costs, including a full financial plan that is updated at least once a year. Keep these averages in mind as you consider your options, as these financial advisor fee averages can be a good indicator of whether or not you're getting a good deal.
Making Sure Your Financial Advisor Fees Are Fair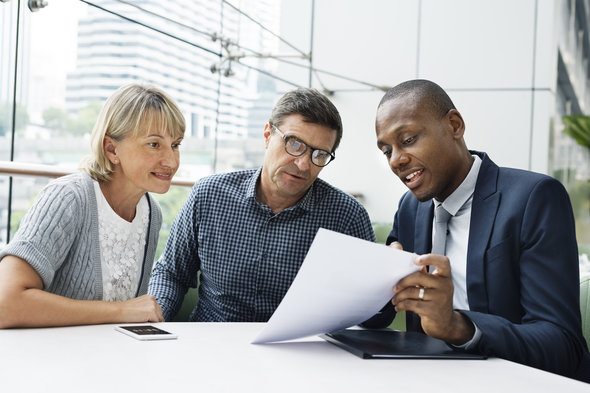 You should always clarify a financial advisor's abilities and services if you're considering working with them. Broadly, a financial advisor provides financial guidance in exchange for compensation. This most commonly includes investment management, tax support and estate planning. You should only be working with educated, credentialed and experienced financial advisors. Don't be afraid to ask about a financial advisor's background or qualifications. This is your money they'll be managing, after all.
Before you sign on with an advisor, be sure you understand their payment structure and what services are included for their fee. Some advisors may charge extra for certain services and programs. It shouldn't be difficult for an advisor to explain how he or she is adding value to your accounts. If any advisors give a roundabout or elusive answer, steer clear. Telling you not to worry about costs or implying that their services are free is a red flag.
If an advisor makes money from commission, be sure to inquire about their fiduciary responsibility to put your interest first. You should know all of their compensation sources, and if there are any other professionals they work with. Some advisors include tax-planning services without an additional cost, but many partner with accounting firms for all tax-related work. That means tax and legal services may incur an additional cost.
The Bottom Line
Most of all, it's important for you to be comfortable with both the amount you're paying and the counsel you're receiving. It's about value more than cost. Do they have education certifications or industry qualifications? Is the advisor asking you the right questions? Are you tracking toward your goals? Make sure they treat you with respect and provide the support you need. Otherwise, they aren't worth whatever fees they charge.
Tips for Researching Financial Advisors
Always look at the advisor's Form ADV (SEC-filed paperwork). This can tell you just about anything you need to know about a firm, including whether it has any disciplinary issues, what fees it charges and what services it offers.
Check out the website. You can often view team bios here, which can give you a better sense of advisors' certification, education and experience. Also take a look at what sort of extra resources the firm offers, like a quarterly newsletter or a mobile app.
Get in touch. Before making an decisions, be sure to ask a lot of questions, especially the ones mentioned in this article.
Consult an expert. If the decision-making process is looking daunting, don't be afraid to turn to an expert to help you sort through the options. A matching tool like SmartAsset's SmartAdvisor can help you find a person to work with to meet your needs. First you answer a series of questions about your situation and your goals. Then the program narrows down thousands of advisors to three fiduciaries who meet your needs. You can then read their profiles to learn more about them, interview them on the phone or in person and choose who to work with in the future. This allows you to find a good fit while doing much of the hard work for you.
Photo credits: ©iStock.com/krisanapong detraphiphat, ©iStock.com/eclipse_images, ©iStock.com/Rawpixel Ltd