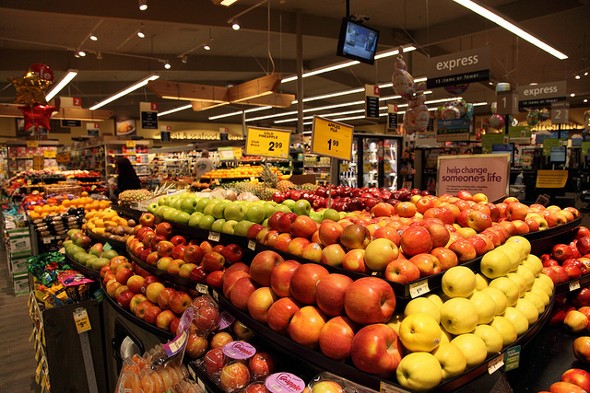 We all know that eating at home is cheaper than eating out, although some might argue that it's less convenient and more of a hassle to buy groceries, cook and clean up. If you know what to look for at the supermarket, though, you can save up to 50 percent off your food bills each month and cut down on the stress. You can eat healthier, save money and make it more convenient by avoiding the ways you overspend at the supermarket. Here's how:
Find out now: How much should I save for retirement?
Shopping Earlier in the Week
Supermarkets typically have the newest items on sale on Wednesdays of every week. Yes, the stores are much busier on Monday and Tuesday, but if you can brave the crowds, you'll save more money. It may not be as pleasant of an experience, but you'll get a better deal.
Not Making a List
If you don't make a list before going to the grocery store, chances are you'll end up buying things you don't need, or not buying things you do. Taking 10 minutes to go through your fridge and pantry before you head to the store can save you a ton of money, as well as repeat trips to the store for all the little things you didn't remember to buy. Even better, try keeping a list on the fridge that you update throughout the week so you keep track of what you need in the moment.
Bringing Your Kids with You
I can personally attest to this one. I know it's not usually an option to leave your kids at home, especially when they're little ones. If you can do the grocery shopping alone, though, you will definitely skip out on all those little spur-of-the-moment buys that kids always con you into.
Buying Overpriced Packaged Goods
While pre-packaged goods are much more convenient, they're also much more expensive. Just check out the difference in price and actual quantity of pre-cooked rice versus a much larger, cheaper bag of uncooked rice. Buying items in bulk will also save you quite a bit of cash.
Not Buying Store Brand
The idea that buying the off-brand or store brand food is lower quality, is usually not true. Just look at the 365 brand from Whole Foods: it's the predominant brand in the store and the quality is just as good as any of the other brands the store carries. It's also at least 30% cheaper.
Buying out-of-Season Fruits
Out-of-season fruits and vegetables are always more expensive, and fruits like berries, oranges and grapes are usually twice as expensive when they aren't in season. If you use those fruits for things like morning smoothies, buying them frozen is the cheaper way to go.
Not Comparing Prices
I'm definitely not suggesting that we all become crazy coupon cutters, but comparing prices in the store can save you money. A great tip to know what's on sale is to pick up the weekly sales insert that is always located at the front of the grocery store.
Impulse Buying at the Register
The register line is designed to get you to buy things you don't need and wouldn't think of at any other time. It's usually just overpriced, unnecessary candy and snack items. Skip to the self-check, or just have a bit more will power and avoid buying things as you're waiting to check out.
Not Bringing a Reusable Bag
If you have a hard time remembering to take your reusable bags to the store, the easier way is to just keep them in the trunk. Although it may not save a ton, each bag you bring saves you ten cents and also helps keep all of those messy plastic bags out of your home.
Buying from the Fresh Baked Goods Section
The baked goods section may smell great, but you'll end up spending a fortune. Buying the ingredients to make your own goods, or buying them pre-packed is also a cheaper option.
Photo credit: flickr