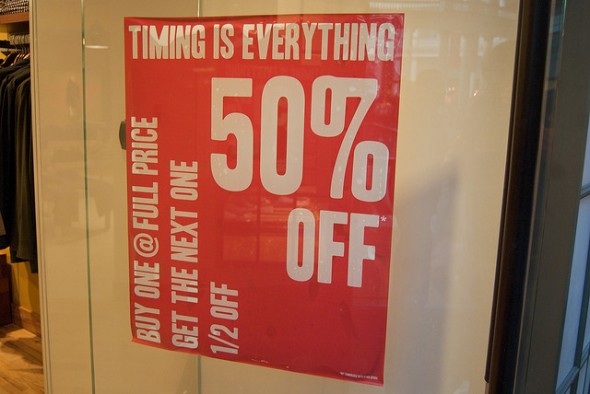 The back-to-school sales have ended and Black Friday is still a few weeks off but that doesn't mean you can't score some great deals during the month of October. As the evenings get cooler, sales on certain items start heating up but there are a few things you might want to hold off on buying for a bit longer. Whether you're busy stocking up on Halloween candy or planning your holiday shopping list, take a look at October's best and worst buys.
Find out now: Is it better to buy or rent?
Things to Buy Now
Outdoor items: Unless you live someplace like Florida, where it stays warm and sunny all year-round, you probably won't be spending much time on the patio or in the garden for the next few months. October is a great time to scoop up outdoor furniture and accessories, gardening tools and grills at a deep discount. The same also holds true for things like lawn mowers, garden tillers and other gardening equipment.
Toys: October is usually when retailers start planning for the holiday shopping season in full force and toys are always a hot buy. As the new "wish list" items start rolling out, you'll see last year's toys headed for the clearance aisle. Of course, if there's a must-have toy on your list that's just come out, you'll be better off waiting for the Black Friday deals to try and grab it on sale.
Jeans: Once the back to school rush subsides, you'll start to see more sales on clothing items that didn't sell, particularly jeans and other denim apparel. Retailers like Target and Old Navy usually start marking last year's styles down around the end of September. Now's also a smart time to shop if you're looking for designer jeans at a budget price.
School Supplies: If you didn't stock up on notebooks and pens last month, you're in luck because you'll see these items marked down drastically as stores start preparing for the October to December holiday season. The discounts are usually best at larger stores like Wal-Mart or Target since they often have more inventory to move but you may also be able to find deals at places like Walgreen's or Office Depot.
Bulbs and Seeds: Even though spring is still months away, fall is the best time to start planning for how your garden will grow. Whether you're thinking of planting a vegetable garden or brightening up your yard with some rose bushes, buying the seeds or bulbs you'll need now can add up to some serious savings.
Buy These 5 Things to Save More Money
What You Should Wait On
Electronics: Electronics, including high definition TVs, e-readers, tablets and Blu-Ray players are always among the hottest sellers for holiday shoppers but you'll want to wait until November or December to pick these up. Black Friday is traditionally the benchmark and it's usually the time when you'll see the deepest price cuts on both high- and low-end model HD TVs.
Appliances: Around this time, certain appliance makers start rolling out their new models but you'll want to hold off a little longer to see prices hit their lowest point. Moving into November and December, retailers will likely be offering up even more savings on big-ticket items like refrigerators and stoves so a little patience can pay off big.
Gift Cards: If you're the kind of person who hates holiday shopping or you never know what to buy, you may just decide to pick up gift cards for all the people on your list. November and December are a good time to save on gift cards, since restaurants and retailers may offer specials, like buy $50 and get $20 free or they may even give the cards away for making purchases over a certain amount.
Smartphones: Unless you've been living under a rock, you know that the iPhone 6 recently debuted but you shouldn't rush out to buy just one yet. In fact, you may want to consider holding off on buying one at all, since prices on the iPhone 5 will likely hit rock-bottom during the holiday shopping season. If you're not an Apple fan, don't fret. There should still be plenty of smartphone deals hitting the stores by Black Friday.
How to Offset the Cost of Your New Smartphone
Photo Credit: flickr