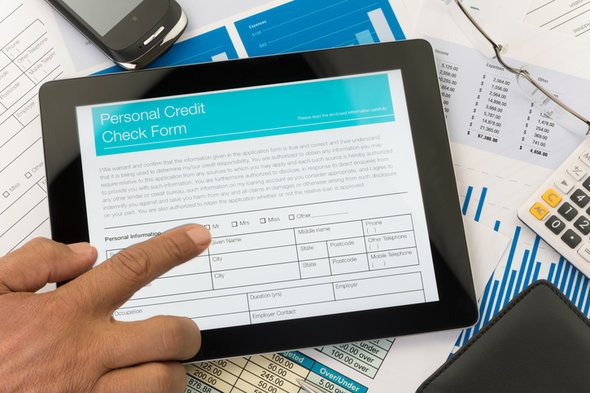 You've probably heard about credit scores and how important they are. But what's a good credit score nowadays? Who calculates your credit score and how do they do it? Your credit report is a document that holds all the information that determines your credit score. On that document, you can see all your past loans, credit accounts and more. Luckily, finding your credit report isn't hard with AnnualCreditReport.com.
Find your next credit card now.
What Is a Credit Report?
If you still need some more information on credit reports, we've got you covered. First of all, it's good to know that you're going to have three credit reports, one for each credit bureau. The credit bureaus are Equifax, Experian and TransUnion. Each report will vary only slightly, depending on how each bureau weighs different accounts, debts, etc. It's important to know how to read your credit report so you can understand the information and make any disputes if necessary.
Your credit report will contain personal information like your date of birth, Social Security number and other points of identification. You will find a history of your lines of credit and credit accounts. This includes current and past credit cards, mortgages and other loans and each account's payment history. Any inquiries into your credit history will also show up on your credit report. Both hard inquiries – when companies look into your credit history with your permission – and soft inquiries – when you or creditors request information – are included in the report. Lastly, if you ever let any debts go into collections, those will be reflected in your credit report as well.
What Is AnnualCreditReport.com?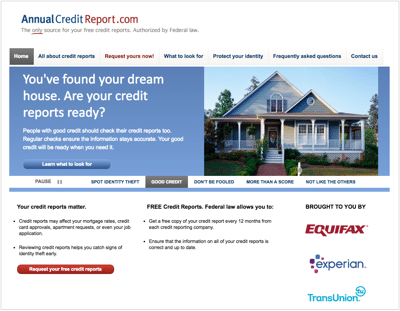 The three credit bureaus created AnnualCreditReport.com to make it easier for consumers to access their credit reports. It was created under the Fair and Accurate Credit Transactions Act of 2003 (FACTA).
Creditors, lenders and banks report consumer account information, like applications, payments, credit utilization and collections to the credit bureaus. The bureaus then compile that data into the report you see on AnnualCreditReport.com. Even cell phone and utility companies can send information in, usually to report any late payments.
You can easily access your credit reports on AnnualCreditReport.com. You can get one free copy each year. Usually, people tend to space out when they order each report throughout the year instead of ordering all three at once. That way, you can better track your credit score throughout the year. Generally, you cannot access your report if you've used up all the free reports. However, you can also get one if you're about to apply for a big loan, like a mortgage.
The site also offers financial education resources. However, don't be tricked into paying for credit scores or extra credit monitoring.
How to Make Your Request on AnnualCreditReport.com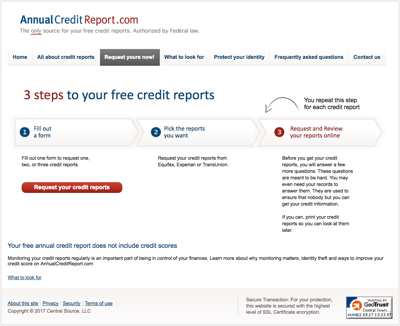 You can get your reports online at AnnualCreditReport.com, call in to (877) 322-8228 or mail in a request form. The address to mail in your form is:
Annual Credit Report Request Service
P.O. Box 105281
Atlanta, GA 30348-5281
Reports are generally sent within 15 days of receiving the request.
When going to the website, you'll want to make sure you're on the correct one. We've provided the link above. While the internet is convenient, it also opens doors for scammers to take your personal information. Once on the correct site, there is a button at the top that reads "Request yours now!" You will then have to fill out a form to confirm your identity. This will include your name, Social Security number, addresses, date of birth and more.
You can then select which credit reports you want a copy of. You can select Equifax, Experian, TransUnion or all three. For each report you request, you will have to answer a few financial questions that only you should know, like your monthly mortgage payment amount or the lender on your student loan. Again, you might want to order one at a time over the course of a year. You can have the report(s) mailed to you or you can view them online and print them.
When You Can Request a Credit Report
Under normal circumstances, you can request a free report once a year. You can also request a free report if you're getting ready to apply for a big loan. If you don't meet these situations though, the Fair Credit Reporting Act provides a few other ways for you to access a free copy.
Once such situation is if you are unemployed and intend to apply for a job within 60 days. You can also request a copy of your credit report if you were turned down for credit, insurance or a job because of your credit within the past 60 days. If you currently receive public welfare, you can have special access to your report, too. Finally, if you believe your report has any inconsistencies that could indicate fraud, you can make a request to a bureau for your credit report. Be sure to then report the fraudulent activity, if any, to avoid any further harm to your finances.
What to Look for on Your Credit Report
It's important to actually look at your credit report thoroughly when you get it. It's not enough to request a copy, scan it and throw it aside. You should look for any activity or reporting that could be dragging your credit score down. This means outstanding debts, delinquent accounts, debt collections, bankruptcies and more. If there are situations you can improve on to clean up your credit report, you should take advantage of that as soon as possible. If you can't fix a bad report, at least most of that negative information will fall off the report after seven years.
In the event you find any errors, you should contact the credit bureau and dispute those errors. The bureaus will have 30 days to investigate the complaint. If they find that a creditor or lender cannot verify the information and you're correct, they must remove that information from your report.
When looking at your credit report, always be on the look out for any suspicious activity. This can be accounts or transactions you didn't approve or on-time payments marked as late, for example. If you think you've been a victim of fraud, immediately contact the bureaus again to report it. They can place a fraud alert on your report which will prevent any future fraud attempts.
The Takeaway
AnnualCreditReport.com isn't a government-run site, but it's the quickest and most legitimate source for a truly free report from all three credit bureaus. You won't have to enroll in any trial offer or credit programs. Plus, getting a free copy of your reports won't affect your credit score. Just make sure to take note of the date you request a copy, so you can request the next copy on time next year.
Tips on Cleaning Up Your Credit Report
Sometimes our credit report just isn't as pristine as we'd like it. In that case, it can help to clean up your credit report a bit to show potential lenders and creditors how responsible you can be! First off, it's important you know how to read your credit report. That way, you can spot any mistakes or red flags.
If you notice anything's amiss, take action! You'll have to submit a dispute to the creditor or lender and the credit bureaus. You can visit each website to find the dispute form. Make sure you are explicit in your description of the mistakes. It can also help your case when you provide proof of the error like credit card statements, receipts, pay stubs etc.
If your credit score is getting dragged down by things like delinquent accounts and credit card debts, it's crucial to take care of those as soon as you can. Whether you pay off the biggest debts first or the smallest, make sure you get started somewhere. That will clean up your report nicely and boost your credit score.
Photo credit: ©iStock.com/courtneyk, ©iStock.com/kupicoo, ©iStock.com/gradyreese