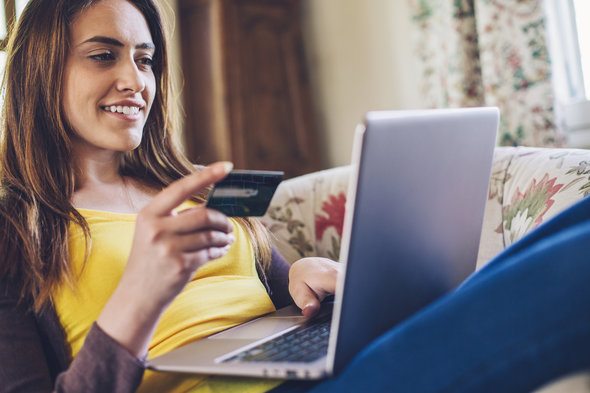 Gallup polls from 2014 show that the average American has 2.6 credit cards and it isn't hard to see why. Credit cards lessen the need for hard cash. They allow you to take advantage of the ever-growing online shopping options. Plus, many credit cards offer a ton of great rewards you can earn. But how do you apply for a credit card? How do you know which credit card is best for your needs and lifestyle? Whether you're new to credit or you've been through the process but are still unsure, let's take a look at finding and applying for your next credit card.
Check out the best rewards credit cards.
Check Your Credit Score
Before you apply for any credit cards, you should start by checking your credit score. Your credit score plays a big role when applying for any line of credit or loan. Credit card issuers can take a look at your score and determine your trustworthiness right then and there. They will want to see you're reliable enough for them to lend to. Generally, the better your credit score is, the better cards you can get.
This is why it's important to know your credit score beforehand. That way you can apply to cards that are within your reach. If you have a poor credit score, it isn't worth applying for a card that requires excellent credit. Plus, you can get to work on improving your score and financial situation before diving into the credit card world.
If you don't have any sort of credit, you're not entirely out of the running. There are a number of credit cards available to you, like secured credit cards. These cards can help you build credit in a safer way. When you've built some credit, you can move up to the better credit cards.
Your credit score is simply a number that banks and other financial institutions use to decide whether you are worth lending to. The most common credit score is your FICO® score which ranges from 300 to 850 with higher scores being better. Paying your bills on time and in full and being debt-free will land you a higher score. There is no one credit score, since there are other scoring methods out there besides FICO®. The score that matters will vary between companies, so it's good to know which one matters and how you can improve if necessary.
Read Your Full Credit Report
When you apply for a credit card, issuers will also read your full credit reports. There are three national credit bureaus, TransUnion, Equifax and Experian. Each has its own report on your credit. The reports essentially show the same things but can vary slightly.
Because of these differences, you will want to read your credit reports regularly. Look for any inaccurate information so you can report it as soon as possible. You'll want those mistakes fixed before credit card issuers get a look.
You can access all three of your credit reports once a year for free. Visit AnnualCreditReport.com to order your reports. Some people prefer to read all three at once while others like to stagger their reports throughout the year.
Decide What Kind of Rewards You Want
Credit card providers usually tend to offer some sort of reward to get customers to apply for a credit card. Rewards often include discounts at specific stores, travel rewards or cash back. Of course, rewards credit cards aren't for everyone and there are cards that don't earn rewards. However, it's good to note that rewards can help you save money.
Rewards programs generally use a point system. You earn points according to the money you spend. Then, when you have enough points, you can redeem them for rewards. Points systems will vary between cards, with some offering a flat rate while others offer rotating special categories. For example, a flat-rate card can earn 1.5% cash back on any purchase you make with the card. On the other hand, a card with rotating categories can earn double points when you make purchases at any restaurant.
It helps to look at your spending habits to get an idea of which rewards would benefit you the most. If you're spending a lot of money on airfare and hotels, a travel rewards credit card would suit you. Or if you spend a lot of your money on groceries and gas stations, there's more than one card with those categories. It's best to tailor the card for your spending, rather than changing your spending to fit the card.
Find a Few Credit Cards
Now that you know your credit worthiness and you have an idea of the rewards you want, it's time to find a card! Credit card issuers are constantly competing to have the best rewards and offers, which means as the customer, you have a ton of options to choose from.
Perhaps you've already received credit card offers in the mail. This is a good way to start, but it also be overwhelming, especially if you're new to credit. If you're not sure exactly what you need or want from a credit card, there are tools to help you find your next credit card.
Compare Costs and Fees
When looking at credit card offers, you always want to look at each card's annual percentage rate (APR). The APR is the annual interest rate that the card issuer will charge on unpaid balances on your card. You will usually see a given APR range that your own card's APR will fall in. Your exact rate will depend on your credit score and credit history. If you have a good credit history, you might receive an APR around 10%. If you have poor credit, you might receive a rate as high as 25%. The APR for an average credit card is about 15%.
Every credit card will also carry some fees that you will want to watch out for. For one, many cards, especially rewards cards, tend to have an annual fee. The amount of the fee will vary from card to card. Sometimes the annual fee can even be waived for the first year. You may also see fees for foreign transactions, late payments, cash advances and balance transfers. So for example, if you're always traveling abroad, you'll want a card that doesn't charge a fee for foreign transactions.
Be sure to check each card's terms and conditions for its interest rates and fees. It's important to consider all the costs associated with a card. That way you can better budget for the card and not end up with any surprise costs.
Fill Out the Application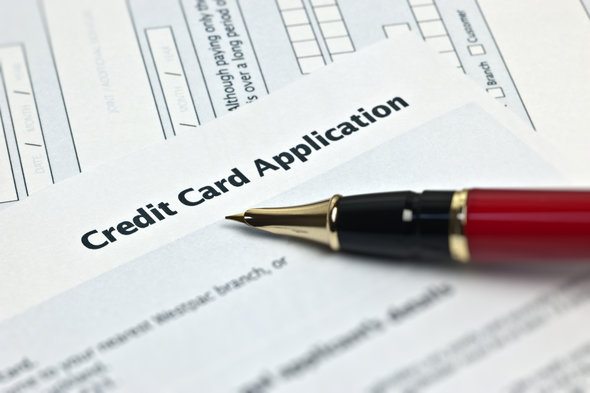 Now that you've done your research, it's time to apply!
The application process is usually pretty simple and often takes only a few minutes to fill out. Most banks and card issuers offer a secure online application form, which you can find by searching for a card credit online. You can also seek out a physical branch if the card issuer has any, to fill out an application in person. You can also apply over the phone.
When filling out a credit card application, you will need to provide some personal information. This includes your employment information, income, Social Security number, debt history and more. They may also ask you to sign up for paperless statements or online newsletters. Some applications allow you to instantly add balances that you want to transfer onto the card, assuming your application is accepted.
Credit card applications usually ask for your "total annual income." This includes your gross salary from a regular job (salary before tax or insurance deductions) and any income you earn outside of a regular job. Thanks to the 2009 CARD Act, stay-at-home partners can also include other household income, such as a spouse's income, assuming they have reasonable access to that income. You should report as much income as you can to give yourself the best chances of being accepted, but avoid over reporting your income. Providing false information counts as fraud and could result in a $1 million fine and/or up to 30 years in prison.
It's important to remember that when you apply for a credit card, you accept the terms and conditions. It could be worthwhile to read the terms and conditions one last time before applying. That way you know exactly what you're agreeing to if your application is approved.
After the Application
Depending on the method you used to apply for the card, you can expect a response as soon as immediately or as long as a few days. So if you applied online, you can often see your approval or denial immediately. But if you applied through the mail, it will take longer.
The wait can also depend on whether the issuer uses a computer system to look through applications. Some issuers manually go through each application. It can take even longer if an issuer wants to double check a piece of information on your application.
If your application has been accepted – congratulations! Your new card should arrive within two weeks of your approval. Once it arrives, you will need to activate your credit card before you can actually use it. Activation instructions will come with the card but you can also call the card issuer with any questions or problems.
On the flip side, maybe your application has been denied. In that case, don't despair. Even people with good credit have credit card applications denied from time to time.
The best thing to do is to find out why you were denied. You can try calling the credit card company to ask for feedback. This can be very useful for future credit card applications. For example, if you were denied due to a history of late payments, you can better focus on making all future payments on time. You will also receive an adverse action letter which will explain what it was about your credit that resulted in a rejected application. You do have the right to a free copy of the credit report that was used in the decision. If you get your report, you'll want to look it over to make sure there are no inaccuracies.
The Takeaway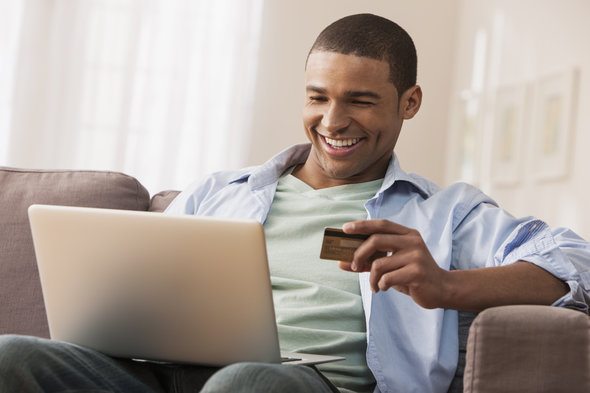 Applying for a credit card is a big decision. You'll want to make sure you apply for the best possible card. Do your research to find out not only which cards are the best, but also which cards are the best for you. After that, the application itself should be pretty simple.
Photo credit: ©iStock.com/Petar Chernaev, ©iStock.com/teekid, ©iStock.com/SelectStock