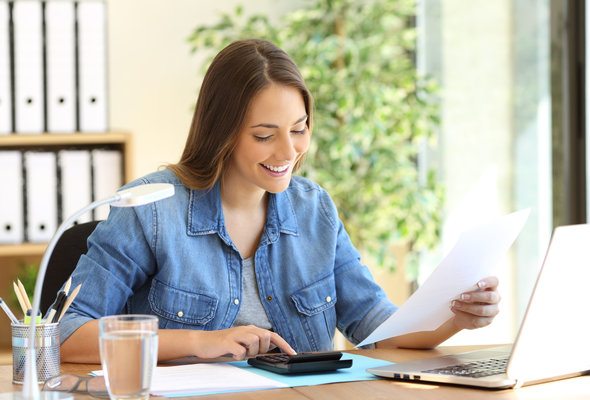 While most people keep the majority of their money in savings and retirement accounts, it's also important to have cash accessible for everyday expenses. That's where checking accounts come in. Checking accounts offer easy access to your cash when you need it, whether through a debit card, cash withdrawal or old-fashioned check. Checking accounts are also safe places to keep your money: They are insured by the Federal Deposit Insurance Corporation, meaning you'll be covered up to $250,000 should a bank get into trouble. In this article we'll discuss what a checking account is, how it differs from a savings account and where you should open one.
What Is a Checking Account?
A checking account is a type of bank account that allows you to easily access your funds for deposits, payments and withdrawals, usually with a debit card, check or bank transfer. They're also known as current accounts, demand accounts or transactional accounts. Checking accounts can be joint accounts with family members or designed especially for students or businesses.
Almost anyone can benefit from a checking account. If you ever need to send payments (online, via check or with debit) or access cash when you aren't near your bank, a checking account is your lifeline. Most checking accounts also come with a debit card, which can be used to buy things like a credit card.
Though you may be able to get by using only cash, checking accounts help you pay bills more easily and manage your money more effectively. They make you more organized and more responsible with your money, helping you develop good financial habits.
Earning rewards through your checking account is an easier venture than you might think. SmartAsset devised a list of the top rewards checking accounts for 2020.
What You Should Know About Checking Accounts
Checking accounts don't usually come with high interest rates, but they allow multiple withdrawals and unlimited deposits. This makes them great for everyday spending. They're your go-to account for paying your bills, getting cash and depositing your paycheck. Whenever you write a check or swipe your debit card, the money you're using is taken directly from your account.
The same holds true when you take cash out of an ATM. If your bank has electronic banking, you can set up routine digital payments with wire transfers. This eliminates the needs for writing, mailing and cashing checks, saving both time and hassle. You can also work with your employer to set up direct deposit into your account. All transactions are automatically tracked on account statements, providing an opportunity to evaluate your spending and saving.
Checking accounts often come with fees. Some banks also require a minimum deposit for customers who want to open an account. Others require you to keep a certain amount in your account each month, known as a minimum balance. If you go below that minimum, you could face additional fees. Maintenance fees can be up to $25 a month, but some banks will waive them if you keep a certain amount in your account or set up regular direct deposits.
Lastly, your financial institution may charge overdraft fees if you spend more than you have in your account. These tend to be expensive, around $35. Of course, fee amounts vary from bank to bank. Since online-only banks don't need any overhead so they tend to charge fewer fees.
How Much Money Should You Keep in Your Checking Account?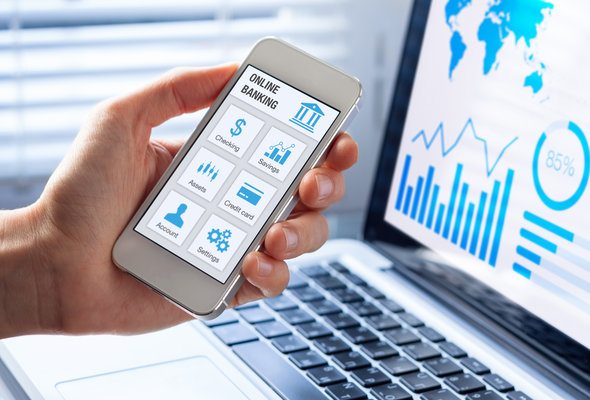 Many financial experts suggest that you store one month's worth of take-home pay in your checking account so you have a 30-day cushion against the unexpected and avoid overdraft fees. It also provides peace of mind. Your checking account experiences a lot of transactions and the deposits, bill payments and withdrawals that don't line up exactly the same way each month. The more variable your expenses, the more you'll need in checking.
Of course, you have to strike a balance. You don't want to withdraw more than you have in your account, but you don't want to keep too much money in checking when it could earn higher yields in a savings account.
Checking Accounts vs. Savings Accounts
Checking and savings accounts are both an agreement with a financial institution. In exchange for keeping your money safe until you need it, banks can use your funds to provide loans to other customers. Part of the interest they make on the loans gets paid back to you in the form of earned interest.
Despite this similarity, checking accounts are very different from savings accounts. For one, checking accounts don't have many restrictions on how or how often you can access your money. Savings accounts, on the other hand, usually limit withdrawals. Federal rules state that savings accounts can only be used for a maximum of six outgoing transactions each month.
Because of this, checking accounts usually accrue lower interest than savings accounts. Think about it: if you need regular access to your money, a bank can't lend it out to other customers. Some banks don't produce any interest on their checking accounts. These limits aren't accidental. Savings accounts are designed to hold your funds for the long term, helping you save and earn money for future expenses. Checking accounts are transactional accounts, meant to make spending easier while eliminating the need to carry cash.
How to Open a Checking Account
To open a bank account, you need to be at least 18 years old unless you're opening a joint account with a parent or legal guardian. Some institutions also require you're a U.S. citizen with a clean banking and criminal history. That means no late payments, overdrafts or financial crimes.
To prove you're eligible and process your application, you'll need to show your chosen bank or financial institution certain identifying information. That means a government-issued ID (like a passport, birth certificate or driver's license), Social Security number, phone number, date of birth and proof of mailing address.
How long does it take to open a checking account? It depends. It should only take 10-15 minutes to sign up online or over the phone and 30 minutes to an hour to open a bank account in-person. If you choose the former, it takes a day or two to process your application and issue your account number. You may have to wait up to 10 business days to receive your debit card and checkbook. If you sign up in face-to-face, you could receive your card on the spot.
Where to Open a Checking Account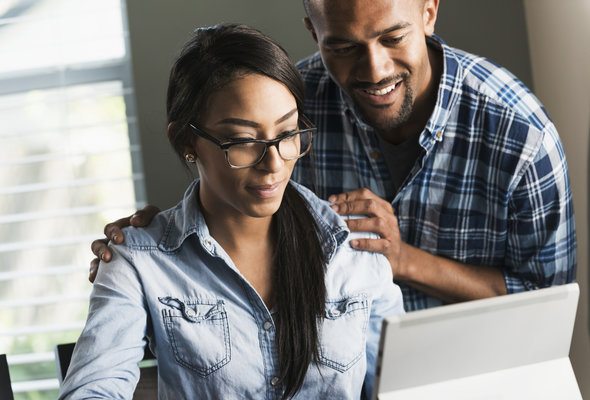 Of course, not all checking accounts are created equally. You'll want to do some comparison shopping to make sure you find the right fit for you. A checking account should provide easy access to your funds without charging too many fees. Ideally, you'd find a checking account that's free to open, has a broad ATM network, requires a low (or no) opening balance, doesn't restrict your monthly check or debit transactions, and has an annual percentage yield (APY) higher than zero. Pay particular attention to the minimum balance and make sure you're comfortable keeping it.
You'll also want to consider your habits. If you travel abroad a lot, look for an account that won't charge foreign ATM or transaction fees. If you tend to manage money without a branch manager's help, make sure you find an account with online or mobile banking services. Prepare to do some extra research if you want your checking and savings account to be linked. It's always smart to open an account with a bank with a range of powerful banking products. You shouldn't have to sacrifice to get a good match for both.
Look below to find some of the most popular checking accounts on the market right now. We compared each account based on fees, rules, yields, perks and customer service.
Capital One 360 Checking Account
The best overall checking account comes from Capital One. Known as the 360, it offers the full package. No monthly fees, no minimum balance, full-service branch access, cash-friendliness and, best of all, competitive APY. All balances earn 0.20%, which is actually higher than some savings accounts.
It's one of the best checking accounts for anyone that values reliability and ease of use. You can open your account with $0 and start earning today. However, while there are over 800 branches where you can deposit and withdraw funds for free, Capital One's branches are located in eight states and D.C. Other national banks have a wider spread presence. Luckily, their mobile app makes checking balances and completing transactions easy.
TIAA Bank Yield Pledge Checking Account
Ready to get back on the APY train? TIAA Bank Yield Pledge Checking Account offers a remarkable 1.01% introductory interest rate, which drops to somewhere between 0.25% and 0.55% depending on your balance for year two and beyond. Even the lower end of that APY is pretty solid, especially for a checking account.
Without transaction limits, TIAA Bank combines the high-yield benefits of a savings account with the freedom of a checking account. Perhaps best of all, TIAA Bank will reimburse you for all ATM fees so long as you keep $5,000 in your account. It's also the amount you'll need to open a checking account.
If you're confident you can meet the minimum and comfortable with online banking, Yield Pledge can be a great option. It really only makes sense for customers with at least $5,000 to deposit and can be especially helpful for that that live in areas with little ATM diversity. To earn more, checking account holders can link their TIAA Bank savings and CD accounts.
Axos Bank Rewards Checking Account
If you hope to make money with your checking account, consider Axos Bank Rewards Checking account. This option offers up to 1.25% APY. You'll need to deposit at least $1,000 every month and make at least 15 transactions a month to qualify for this top-end rate, though. If you fall short of either of these requirements, your APY will drop fall 0.4166% each. If you miss out on both, your APY will be 0.4166%.
This makes it especially powerful for account holders that use a debit card more than cash or credit. Just keep in mind that Axos Bank is a completely digital financial institution, meaning there are no branches to visit. Since this makes depositing cash more of a hassle, this account is best for people who get paid via direct deposits.
The account also reimburses every domestic ATM fee. And if you aren't focused on interest, you don't have to maintain a minimum balance.
Tips to Help You Choose a Bank
Financial advisors are often thought of experts in investing and financial planning. However, these professionals often have ample experience helping clients with banking and other everyday personal finance needs. Luckily, finding the right financial advisor doesn't have to be hard. SmartAsset's free tool matches you with financial advisors in your area in 5 minutes. If you're ready to be matched with local advisors that will help you achieve your financial goals, get started now.
Online banking is hugely popular, thanks to the ease and convenience of transferring funds digitally. Luckily, you have plenty of options if you want to go digital. Ally Bank , for one, offers competitive interest rates and an easy-to-use app.
Not interested in online-only banks? That's perfectly fine. If you want to sign up with a neighborhood bank or credit union, just be sure that you understand all the fine print. This means knowing the minimum daily balance (if your account has one), fees and interest rates.
©iStock.com/AntonioGuillem, ©iStock.com/kali9, ©iStock.com/NicoElNino