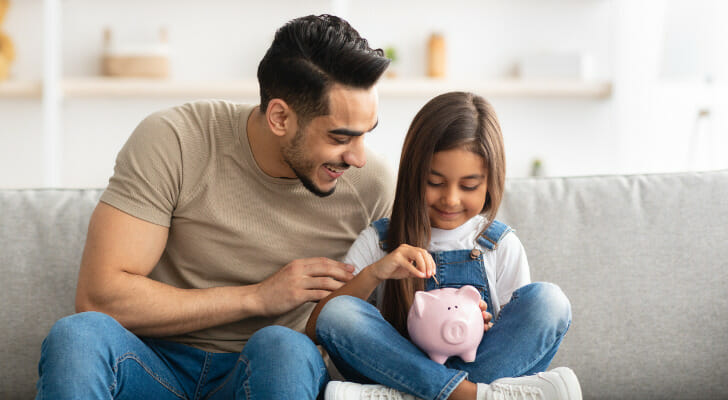 Do you remember when you outgrew your piggy bank? It could have been because of a glut of birthday money or the unwieldy wad of cash after a summer of mowing lawns. No matter the case, children quickly grow to the point of needing a bank account. Besides providing a safe place to store and access money, bank accounts can teach healthy money habits and are straightforward to open. Since children cannot legally open a savings account, parents or guardians will need to open a custodial or joint savings account for them.
For help saving for your children or with any other financial considerations, consider working with a financial advisor.

Types of Savings Accounts for Kids
Parents generally have two options when opening a bank account for their children. You'll pick one of the following depending on your intentions for the account and your tax situation.
Savings Account
Like a conventional joint bank account, a savings account will allow you and your child to deposit money and make withdrawals. Parents have complete control of the account, meaning children can't access the funds without parental permission. Kids' savings accounts often have an interest rate that incentivizes keeping the balance as high as possible. In addition, many savings accounts provide children with a debit card and online banking at a specific age.
Custodial Account
Custodial accounts, also called Uniform Gifts to Minors Act (UGMA) or Uniform Transfers to Minors Act (UTMA) accounts, aren't for daily or weekly usage. Children can't access funds in the account until age 18. This dynamic introduces tax implications that a savings account doesn't. For these reasons, custodial accounts don't have the same regular functionality as savings accounts, and you should only open one if you have specific intentions for the account.
Features to Look for In a Savings Account for Kids
Like other financial accounts, various institutions offer kids' accounts with different pros and cons. Here are the perks to look for when shopping accounts.
Automatized transfers. If you have an account with the same bank, you might be able to set automatic deposits to your child's account. For example, instead of handing your child cash for chores, you might set a deposit at the end of the month as payment.
Financial literacy. As with all kinds of education, it's best to start early. Many banks provide mobile apps and online tools that teach children the basics of finance.
Online banking. A child's bank account doesn't have to mean adding another stop to your list of errands. An increasing number of banks offer online access through their websites and apps. Your child can view his or her account balance, deposit checks and pull up financial education videos through your bank's online platform.
Financial goals. Once your child has resolved to buy a new scooter or video game, many banking apps provide structure and visual aids to help your child make a financial plan and stay motivated.
Bank card. A debit card linked to the account will allow your child to make withdrawals or purchases with your consent.
FDIC coverage. Like your bank account, the Federal Deposit Insurance Corporation (FDIC) insures children's bank accounts up to $250,000.
Benefits of a Savings Account for Kids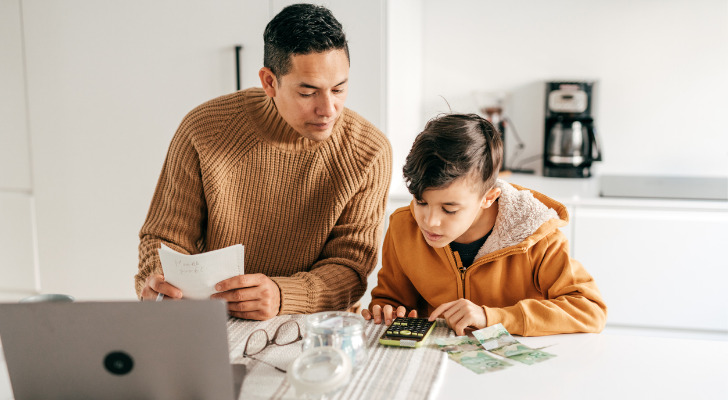 Once you choose an account for your child, it will provide the following benefits:
They teach your child about personal finance. The significance of saving money, earning interest, setting financial goals and using a bank are critical lessons for handling money responsibly.
They build financial management skills. Whether your child earns an allowance or mows lawns for the neighborhood, a bank account will help them understand what it means to weigh income versus expenses and achieve financial goals.
They clarify how banks work. Making deposits, visiting your local branch and banking online are vital learning experiences. By the time your child starts his or her first job, they'll be a financial pro.
They foster an entrepreneurial spirit and independence. When children understand how much they have saved in their account and begins to purchase items on their own, they can create financial goals. Childrens' dreams can range from a new bike to buying a Christmas gift for everyone in the family. They can work and save with their objective in mind, building an essential financial skill for the future.
Requirements for Opening a Savings Account for Your Child
Children's savings accounts aren't as complex as others. As a result, there are only a few conditions you'll need to meet to open one:
Initial deposit. Most accounts aren't stringent with the opening deposit, but you and your child should be prepared to place $25 to $100 into the account to get it started.
Minimum daily balance. For example, the bank might charge a fee if the account ends the day with less than $20.
Monthly account charges. Typically, children's savings accounts have no regular maintenance fees, but ask your lender to make sure.
Aside from the account requirements, you'll also need to provide sufficient identification for your child to open the account. Generally, one of the following should be enough:
Social Security card
School ID
Passport
Birth certificate
Medical records
Driver's license if your child is of driving age
How to Open a Savings Account for a Child
Once you have the necessary funds and identification, you can head to the bank with your child. Bring your ID (your driver's license should suffice) and have both of your Social Security numbers ready, too. At the bank, you'll submit the information and make the qualifying opening deposit.
What Happens When My Child Turns 18?
When your child turns 18, your bank will turn the account into a typical adult savings account. Some banks change the account for free on your child's birthday, while others might charge a fee or require signed documentation from your child. Additionally, you and your child may want to discuss whether they should manage the account independently or keep the joint status.
Upon turning 18, your children become eligible for numerous financial services, such as credit cards and loans. Ideally, your guidance and their experience with their bank account will help them understand the fundamentals of debt, interest and budgeting. However, it's a good idea to have frequent conversations with your child about financial goals to help them stay on track.
Tips for Opening a Savings Account for Your Child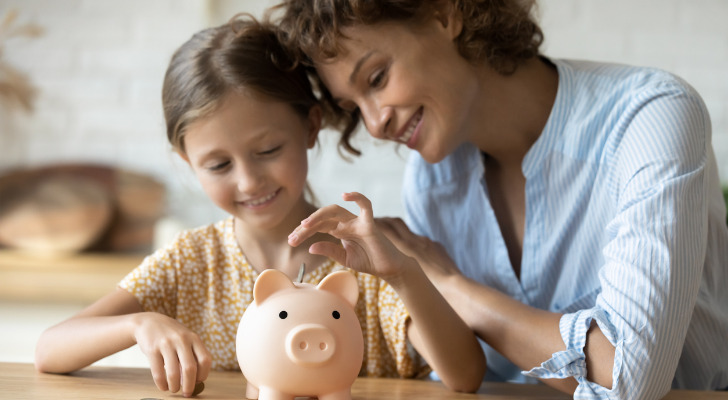 If you're worried or anxious about opening an account for your child, that's completely normal – handling money is one of life's biggest responsibilities. However, creating a bank account is a crucial milestone as your child gets older and learns about money. So, remember these tips as you prepare to open a savings account for your child:
Emphasize Saving Versus Spending
Whether you're buying a new pair of shoes or tickets to an amusement park, these moments are educational opportunities. You can explain that saving money made it possible to afford your current purchase and highlight how financial goals enrich your life.
Turn It Into an Event
You don't open a new bank account every day, so help your child get excited! Match the celebration to your child's personality and proclivities. For example, if they're a budding entrepreneur, let the first day of business commence with a hefty deposit as a reward for all the hard work. Or, help them save up for a celebratory ice cream afterward as a way to accomplish a first-ever financial goal.
Make Bank Interactions Normal
Your children will likely absorb many of your habits, financial ones included. As a result, you might make a show of depositing a check on your phone or talk about how much money you saved last month by using your bank's budgeting app. In addition, if you often visit your bank in person, bring your child along to demystify banking and acclimate them to the experience.
Provide Encouragement and Rewards
Just as employers give benefits, such as a 401(k) match, you might implement a system of your own. For example, you could match your child's monthly deposits or pay your child for extra chores. A reward system can provide an additional reason for them to save. Everyone likes watching one's bank account grow; your child is no different.
Keep Education Suited to Their Age
A first grader might be excited about opening a bank account, but they might not have the interest to hear about interest rates or certificates of deposit – and that's ok. Gradually introducing more sophisticated topics as your child ages can help pace their financial learning.
For example, taxes might seem uninteresting until your children earn their first paycheck from their job. Those deductions are a perfect opportunity to discuss Uncle Sam's cut and give your child a better understanding of how money works.
The Bottom Line

Everyone wants to see their kids succeed financially, and a bank account is an excellent way to lay a foundation upon which your child can build a healthy financial life. Most children's bank accounts are easy to open and maintain. Plus, you can utilize life experiences and online financial education tools to enhance your child's financial literacy. Banking is a part of everyone's life, and starting early can help build your child's confidence and competence with money.
Banking Tips
Creating a child's bank account is the perfect reason to reevaluate your banking situation. A financial advisor can help you pick a bank that makes sense for your financial circumstances. Finding a qualified financial advisor doesn't have to be hard. SmartAsset's free tool matches you with up to three financial advisors who serve your area, and you can interview your advisor matches at no cost to decide which one is right for you. If you're ready to find an advisor who can help you achieve your financial goals, get started now.
A bank account is just one way to help you kids get ahead financially. College funds are popular to help your children further their education debt-free. For details, read this guide of smart ways to set up a college fund for kids.
Photo credit: ©iStock.com/Prostock-Studio, ©iStock.com/kate_sept2004, ©iStock.com/fizkes