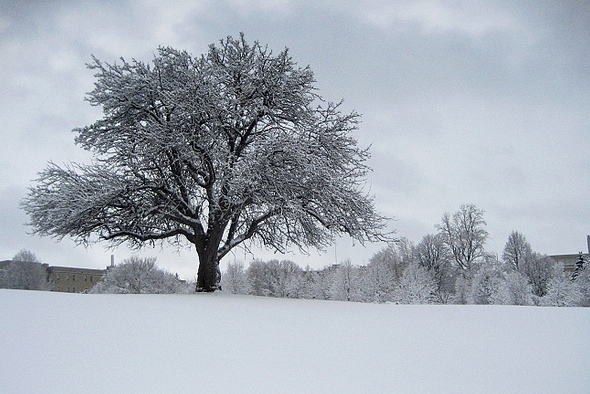 December is a time for parties, visiting family and friends and celebrating the holidays. It's also a time when thousands of college students finish up their degrees. While these graduates are likely excited about completing their programs, some may undoubtedly feel lost, not knowing where to start the job search or how to take the next steps. For winter graduates, though, there are some nice benefits to finishing with a smaller group. Here are some tips for winter graduates.
Check out our paycheck calculator.
Take Advantage of Reduced Competition
One of the main benefits of completing your degree in December, as opposed to May, is that there is far less competition. In the spring, there are significantly more students graduating, which means more competition for those entering the job market. During this time of year, however, employers are less inundated with resumes and new employee prospects.
This is a good time, then, to get your foot in the door and get the attention of employers. That said, it's up to you to take advantage of this opportunity. Make sure to take part in networking opportunities, seek out your career services officer on campus and do your own research.
Aside from reduced competition, another major benefit of graduating in the winter is that business tends to slow down for many companies. Therefore, hiring managers have more time to review resumes and make new hire decisions. A slowdown in work means managers can take advantage of this time to recruit and train new employees so they will be ready after the New Year when regular work hours resume.
Work Your Contacts
Even if you've completed your degree and classes have ended for winter break, many offices on campus are still open. Check in with your career services department and speak with a counselor. You may have an easier time scheduling an appointment for a resume review or get assistance with your cover letter during this time.
Many career services websites also have job postings and contact information for companies in your field that may be hiring. Take advantage of these services and start networking. If you don't live near campus, it might be possible to schedule a Skype appointment with a career counselor to assist you in your job search. You can also email your resume to a counselor and ask for some pointers to help enhance your job search.
Finally, holiday parties are also a good opportunity to network and make contacts. If your parents or relatives are hosting a party, it's not a bad idea to bring a couple business cards with your contact information. Remember to always be prepared and have your five-minute speech about who you are, what your degree is in and what it is you would like to do.
Graduating from college at any time can be a scary but exciting prospect. As a winter graduate, you have some advantages that spring graduates do not. Take advantage of these benefits to help you move to the next phase of your life.
Photo credit: flickr