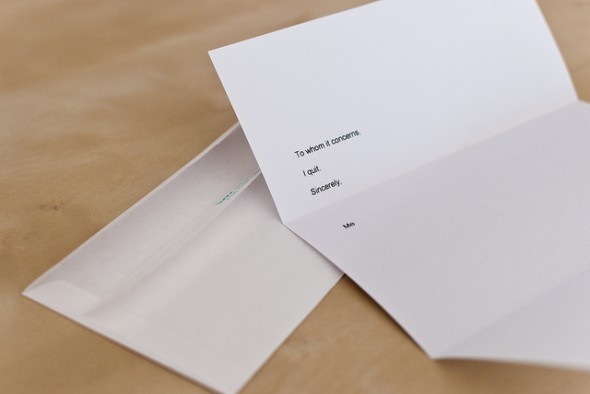 In today's job market, moving up the career ladder is no easy feat. If you're fortunate enough to land a better-paying gig you don't want to burn any bridges on your way out the door. Breaking the news about leaving your job to your current employer may be unpleasant but it's a necessary step when you're planning to move on. How you go about it can impact your prospects in the long-term so it's best to do things by the book. If you're planning a job change in the near future, here's a look at what you should and shouldn't do.
1. Give Appropriate Notice
For some jobs, a two-week notice is enough time to allow your boss to plan ahead for your absence, but if you work in a highly-specialized role, it could take much longer to find a replacement. Giving higher-ups as much lead time as possible means they won't be left in the lurch once it's time for you to move on.
When giving notice about leaving your job, make sure you're notifying the right person. Typically, this means your direct supervisor. Speaking to your boss face-to-face is the most direct way to let them know of your decision and it's also more professional than delivering the message via email or a phone call.
Be prepared for your superiors to raise objections or even question your decision. Politely but firmly explain why you're seeking a new opportunity. Avoid the temptation to pull out a laundry list of reasons why you're not happy in your current position.
2. Wrap Up Any Unfinished Projects
Leaving a stack of incomplete assignments piled up on your desk probably won't score you any glowing reviews if you're looking for a reference from your current employer. It'll take time for your replacement to get up to speed and handing them a load of unfinished work only makes their adjustment that much harder.
After you've given notice, sit down with your boss and work out a plan for transferring your responsibilities. Make a list of things you're able to wrap up before you go and what loose ends the new hire will need to address. If you expect your position to remain open for a while, create an action plan detailing the best way to delegate your current duties to other staff members temporarily.
3. Don't Forget the Fine Print
A number of companies require employees to sign noncompete agreements as part of the hiring process. A noncompete agreement lays out specific guidelines on what you can and can't do if you leave your current employer. This typically includes a restriction on working for competing companies for a certain period of time after you resign.
If you're not sure whether a noncompete agreement was included in the mountain of paperwork you signed when you got hired, a trip to HR should clear it up. Take the time to read over this document carefully to make sure you understand what it is you've agreed to. Inadvertently violating the terms of a noncompete agreement when leaving your job can have serious professional and legal ramifications.
4. Maintain Professionalism
When you're counting down the days until you say goodbye to your current job, you may become susceptible to short-timer's disease. This phenomenon is typically characterized by a significant lack in productivity as your last day of work draws closer. Allowing yourself to fall victim to this "illness" speaks volumes about your work ethic to your superior as well as coworkers.
Whether you've got two days or two weeks left at your current job, always conduct yourself in a professional manner right until the very end. The impression you make as you're leaving your job is just as important as the one you want to make at your new one. Maintaining a positive attitude and doing business as usual lets your current employer know that you valued your experience as an employee.
5. Prepare for the Exit Interview
The exit interview is your former employer's opportunity to suss out your reasons for leaving and ask for feedback on what the company could be doing better. You don't have to agree to an exit interview but it's a good idea to participate if you're worried about it affecting future referrals or references.
When you sit down for the exit interview, resist the temptation to detail your various grievances with the company. If you do have something negative to say, try to reframe it in a positive light. Using the exit interview as a forum for venting your frustration or dissatisfaction could come back to haunt you later on.
Making the move to a new job can be stressful, not only for you but also for the company you're leaving behind. Taking the time to carefully plan your exit strategy can ensure that the transition is as smooth as possible for everyone involved.
Photo Credit: Carey Ciuro