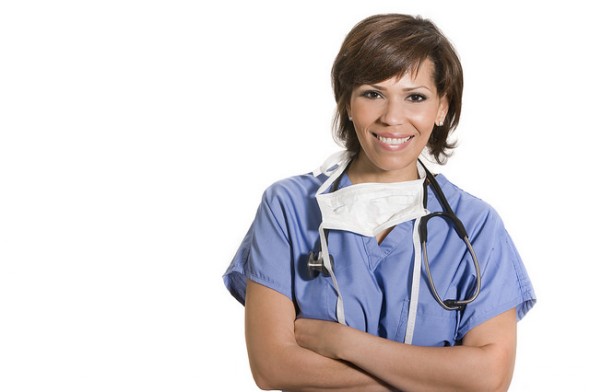 In a time of economic uncertainty, many people are unsure about their career choices. "Is my job worth it?" is a common question people ask themselves. Well, if you're doing better than you were last year (and were doing pretty well then too), you may have more confidence in your job and yourself. SmartAsset wanted to find out the top ten jobs in the country, based on who is making the most money, who has more opportunities and who can expect to see their salaries grow in coming years.
This is the 2014 version of SmartAsset's study. Read the 2015 version here.
Methodology
This study used data from the Bureau of Labor Statistics for more than 1,000 distinct jobs, from 2012 and 2013, on number of people employed in that field and average salary. Our index tracked the current average salary and one-year job growth and salary growth numbers for each profession. We found the number of standard deviations above or below the mean each job scored in each category and totaled them up to find each job's overall ranking.
Find out now: How much do I need to save for retirement?
The Top Ten Jobs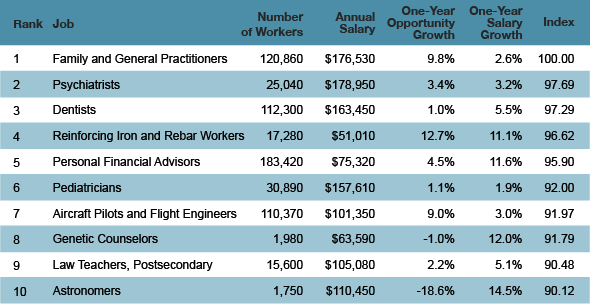 Family and General Practitioners
It's unsurprising that physicians – general practice doctors, the kind most people see first for most health problems, and for checkups – make the top of the list. At an average annual salary of $176,530, they're the third-best paid profession in the country, behind only internists (internal medicine specialists) and psychiatrists, and saw a 9.8 percent job growth rate last year, as well as a 2.6 percent growth in salary.
Psychiatrists
What general physicians are to physical health, psychiatrists are to mental health, which gives them an equally vital role and commensurate pay. Though there are only 25,000 or so psychiatrists in the country, a fifth of the number of general practitioners, they make slightly more, at $178,950 a year on average. They saw 3.4 percent job growth and 3.2 percent wage growth in one year.
Dentists
Open up wide and say "Ahh!" Yes, the top three jobs are all in medical fields. The country's 112,300 dentists made an average of $163,450 last year, and while job growth for them was only about 1 percent, they enjoyed an average 5.5 percent salary increase – the only drawback is being seen as a sadist ("Little Shop of Horrors" lied)!
Reinforcing Iron and Rebar Workers
Who says American construction is dead? More than 17,000 people work in this blue-collar field, representing a one-year increase of close to 2,000 workers or 12.7 percent, and their wages also increased by 11.1 percent in one year.
Personal Financial Advisors
Especially after the recession, lots of people want the peace of mind of knowing a trained professional is helping them manage their hard-earned money. Opportunities for personal financial advisors rose quite healthily, with 4.5 percent more jobs in one year, but the $75,350 annual salary and 11.6 percent salary increase are just as exciting.
5 Questions to Ask When Choosing a Financial Advisor
Pediatricians
Taking care of the health of a family's little ones can be a rewarding experience in more ways than one. Pediatricians saw about 1 percent job growth and 2 percent salary growth in one year, and made an annual salary of $157,610 on average, the fifth-highest among all professions.
Aircraft Pilots and Flight Engineers
Piloting a plane is a difficult, exhausting and complicated job, but it is also quite glamorous and pays very well, so adventure seekers may be drawn to it. Job opportunities for pilots increased a full 9 percent in one year, and their $101,350 average annual salary grew 3 percent from the previous year.
Genetic Counselors
The second-smallest field on this list, genetic counselors – people who perform DNA tests for illnesses and mutations and advise patients of their health risks – saw a 1 percent jobs drop in one year… going from 2,000 to 1,980 people. However, this important medical science field saw an impressive 12 percent increase in average salary.
Law Teachers, Postsecondary
They say those who can't do, teach – and in the case of lawyers the ones who instruct fresh-faced law students fare better than those in court. The roughly 15,600 law professors in the country made $105,080 last year on average and saw a 5.1 percent increase in their salaries in one year.
Astronomers
Oscar Wilde said "We are all in the gutter, but some of us are looking at the stars." He was speaking metaphorically, of course, but there are strong opportunities for those who want to devote their careers to studying the stars, planets, black holes and other celestial objects. The prestige of astronomy has been enhanced in recent years by TV presenter and all around famous smart guy Neil DeGrasse Tyson, and although there was an 18.6 percent one-year drop in astronomy jobs, the number of astronomers in the country was small in the first place (it was 2,150 and now is around 1,750). Those astronomers now make $110,450 a year, a 14.5 percent one year rise.
The Bottom Ten Jobs
The bottom ten jobs for salary and growth include high school home economics teachers, forest fire inspectors and prevention specialists, broadcast technicians, aircraft cargo handling supervisors, gaming change persons and booth cashiers, public address system and other announcers, tailors, door-to-door sales workers and correspondence clerks. According to our study, the worst job for salary and projected growth is theatrical and performance makeup artist.
Check out the 2015 version of SmartAsset's study of the top jobs for salary and growth.
Photo Credit: flickr