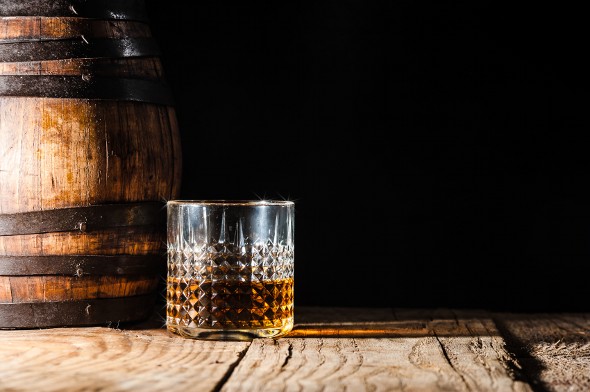 Maybe you've noticed the recent boom in craft distilleries turning out whiskies right and left. Like craft beer, craft whiskey is thriving. But if you're not one of the big names in whiskey, is there money to be made? Here's what you need to know about the economics of whiskey and its impact on the U.S. economy as a whole.
The Whiskey Business
According to the Distilled Spirits Council, revenue from the U.S. sales of bourbon, rye whiskey and Tennessee whiskey totaled $2.9 billion in 2015, up 7.8% from the previous year. Between 2013 and 2014, revenue grew by 4%.
The popularity of American whiskey brands abroad has led to a boom in exports. For the growing middle classes of Brazil, India, China and beyond, a bottle of expensive whiskey is a potent symbol.
Like Scotch, bourbon and Tennessee whiskey have become part of the national brand of their country of origin. But not all iconic American brands are in U.S. hands. Japanese liquor giant Suntory Holdings owns Jim Beam, for example.
According to the Distilled Spirits Council, the economics of whiskey is robust. The Council's most recent estimate puts the number of jobs directly related to whiskey at 745,026.
Whiskey jobs aren't just the jobs in the distilleries among the barrels. In Kentucky, production accounts for 70% of the whiskey-related jobs. There are also hundreds of office jobs, including managers, executives, tour guides and more.
The prosperity of the whiskey business has ripple effects, too. According to a University of Louisville report, the Brown-Forman whiskey company, with its associated corporate and family foundations, accounts for the bulk of donations to Kentucky's arts and cultural institutions.
Between 2008 and 2013, distilling industry employment rose 10% in Jefferson County, Kentucky, the epicenter of the country's bourbon production. That helped offset a 10% decline in manufacturing employment over the same period.
In addition to providing employment, distilleries provide valuable property tax revenue for local, county and state government coffers. According to researchers at the University of Louisville, "Jefferson County distillers paid about $473,000 in real property taxes, $828,000 in tangible property taxes and $2.4 million in distilled spirits inventory taxes in 2012."
Jefferson County also contributed to revenues from income taxes and sales taxes. In 2012, this added up to "$9.3 million in Kentucky individual income tax receipts and $11.4 million in Kentucky sales tax receipts, for a total of $20.7 million to state government annually."
Distilled spirits contribute to $16.2 billion in wages, $59.3 billion in economic activity (the output of distilled spirits industry) and $10.2 billion in state and local taxes. These are just the numbers for the direct impact of the whiskey industry. The indirect economic contributions of the distilled spirits industry are even greater.
Related Article: The Best Cities for Beer Drinkers
Whiskey Trends
Between 2009 and 2014, U.S. bourbon and Tennessee whiskey supplier revenues grew by 46.7%. The biggest growth was in the "super premium" sector of the whiskey market, which grew by 137% between 2009 and 2014.
This points to what the beverage industry calls the "premiumization" of the beverage industry across the board. Tastes are evolving toward the higher end of the market, which makes it easier for super-premium whiskey brands to emerge and succeed. According to a Diageo report, super-premium brands make up around 50% of the market value in U.S. whiskey, but account for 90% of the growth in value.
"North American Whiskey" (NAW), the industry term for bourbon, Tennessee whiskey and rye whiskey, still lags behind vodka when it comes to the share of total U.S. spirits sales. Yet although NAW makes up 23% of the value of spirits sales, it accounts for 50% of growth in spirit sales.
Flavored whiskey is a fast-growing sector in itself. It currently accounts for 11% of NAW value but 53% of value growth. The growth in flavorings and infusions is opening new avenues and enabling distillers to reach consumers who may be put off by classic whiskey flavors.
Not everyone is sold on flavorization as a trend, however. Some worry that making whiskey sweeter and altering its flavor, while useful for attracting some new consumers (particularly women), could erode the classic appeal of brown liquor. That's why you haven't seen flavored single malt scotches, for example. Some brands feel their value lies in maintaining their exclusivity rather than trying new flavors to attract new consumers.
But attracting new customers certainly seems to be working for the U.S. bourbon and whiskey industry. In the 90s, women made up only 15% of U.S. whiskey drinkers. Now, women are 37% of U.S. whiskey drinkers. That shouldn't come as a surprise, considering that women and whiskey have a long history in the U.S. Women were predominantly the ones running the whiskey stills in colonial America.
Bourbon, whether naturally sweet or flavored, isn't the only big player in the whiskey game. Though bourbon and rye are both growing, rye is outpacing bourbon. 51% of the value growth in retail sales of NAW is in rye, 12% in bourbon.
While craft distilleries are on the rise, the larger NAW market is dominated by a few large companies. Diageo (with brands including Crown Royal and Bulleit) accounts for 23% of market share, Brown Furman another 23%, Beam 21% and Sazerac 12%. From there, the sector is divided into several players, each with single-digit market share.
Related Article: The Lowest Taxes in America
Regulation Nation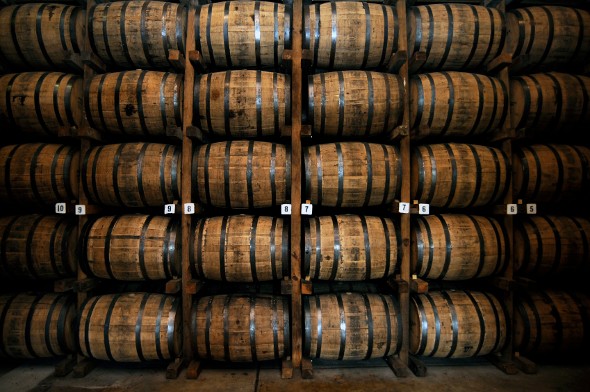 The history of whiskey in America is a contentious one. Remember the Whiskey Rebellion of 1794, when small whiskey producers rioted against an excise tax on whiskey? You don't remember that? OK, well, it happened. And then there's Prohibition, which drove whiskey producing underground from 1920 to 1933.
In the early 1800's there were an estimated 14,000 distilleries in the U.S. That number plummeted during prohibition, and the businesses that bounced back after the 1933 repeal weren't the small producers.
From the 1791 excise tax on whiskey to the distribution rules passed by Congress after Prohibition, the government has tended to make it easier to be a large producer of whiskey than a small-batch producer. That hasn't dampened the American tradition of small distilleries, though. By some estimates, nearly 900 small producers are licensed to make whiskey in the States today.
It's not just federal regulation that can tie small producers in knots. States impose their own rules, particularly those states that have monopolies on the sale of liquor. There are also sin taxes on the sales of alcohol in some places.
Still, that tangle of regulation didn't stop bourbon production from jumping from 13,137,000 9-liter cases in 2002 to 19,357,000 9-liter cases in 2014. In 2000, there were 24 craft distilleries in the country. As of 2014, there were more than 430.
Beyond U.S. Sales
The economics of whiskey goes beyond U.S. sales. It extends to exports, too. While the United Kingdom produces plenty of its own brown liquor to be proud of, it's also the principal importer of American whiskey. In 2007, U.S. exports of Tennessee whiskey/bourbon topped the $1 billion mark. By 2014 they had surpassed $1.56 billion. Not bad for a niche product.
According to the International Wine and Spirits Research (IWSR), whiskey and bourbon are trendy in global markets, where sales are projected to rise by 8.8% for whiskey and 19.3% for bourbon. Russia, Brazil, Mexico, India and Poland are the countries driving this growth in global demand.
There's also a powerful tourism component to the economics of whiskey. In 2013, 600,000 tourists visited distilleries in Kentucky alone. In 2015, there were a record-setting 762,009 visits to the Kentucky Bourbon Trail (KBT). That's up 22% from 2014.
The KBT is a nine-distillery trail of large, legacy whiskey-producers. An alternative tour is the Kentucky Bourbon Trail Craft Tour, which attracted 133,864 visitors in 2015, up 39%. The Buffalo Trace distillery alone saw its visitor numbers increase by 18% between 2014 and 2015.
A report by the University of Louisville examined the economic impact of bourbon tourism and found some impressive numbers. Researchers found that whiskey tourists tend to be "relatively affluent" visitors who make "multi-night hotel stays in Kentucky." They estimated the economic impact of bourbon tourists on Jefferson County, Kentucky alone to equal $2.5 million per year.
Looking Ahead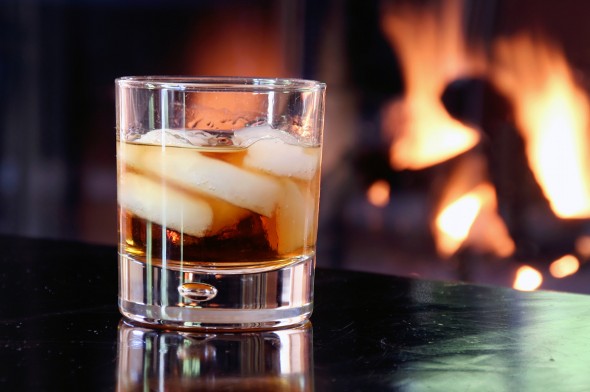 Although the revenue growth for brown liquor is impressive, sales are still well below, say, soda. Liquor is by nature a niche product, in part because we don't drink it throughout the day and at work (or at least we don't here at SmartAsset), because it's pricey and because sales are restricted by age.
Some have cautioned that there might be a "bourbon bubble" behind the soaring growth in sales. If this bubble bursts, as other alcoholic beverage bubbles have burst before, it could put some producers out of business.
Compounding the potentially devastating effects of a future slowdown in demand is the nature of whiskey production. Because it takes years to get a barrel of whiskey ready for consumers, production isn't very elastic in its response to demand. Distillers could lay out a lot of capital on whiskey that, years down the road, can't sell. For now, though, that day likely seems unthinkable to those who are cashing in on the boom in the whiskey business.
These days, the bigger crisis seems to be a lack of supply, not a lack of demand. The nearly 40-percent growth in sales of bourbon and Tennessee whiskey in the U.S. has come up against the finite supply of whiskey reserves. As demand – particularly for super-premium whiskey – has soared, distilleries have struggled to keep up.
That gets back to the problem of the multi-year timeline that makes whiskey so inelastic. The whiskey that's ready for sale now was conceived at a time when demand was lower. One distillery even announced it was going to stretch supplies by making each bottle less alcoholic. After considerable backlash, however, those plans were abandoned. The brand later apologized.
It will take years for brands to scale up with the stills and warehouses necessary to meet demand. In recent years, distilleries have announced multi-billion-dollar investments in capacity-building expansions.
In 2015, the Sazerac corporation opened a new, $20 million dollar, 83,000-square-foot distribution center as part of the Buffalo Trace Distillery. The expansion brings the total size of the distillery's distribution center to 134,840 square feet. Overall, Sazerac has invested $71 million into its three Kentucky distilleries.
Looming over these and other whiskey capital investments is the threat that a downturn in demand for U.S. whiskey, or even just a general economic downturn, could leave producers in the red, which happened in the 1970s as consumers turned away from brown liquor. For now, though, the future looks bright.
Update: Ready to sit down with a glass of whiskey and assess your personal financial situation? SmartAsset can help. So many people reached out to us looking for tax and long-term financial planning help, we started our own matching service to help you find a financial advisor. The SmartAdvisor matching tool can help you find a person to work with to meet your needs. First you'll answer a series of questions about your situation and goals. Then the program will narrow down your options from thousands of advisors to up to three registered investment advisors who suit your needs. You can then read their profiles to learn more about them, interview them on the phone or in person and choose who to work with in the future. This allows you to find a good fit while the program does much of the hard work for you.
Photo credit: ©iStock.com/Jaroslaw Pawlak, ©iStock.com/Ben_Pruchnie_Studio, ©iStock.com/jeff giniewicz