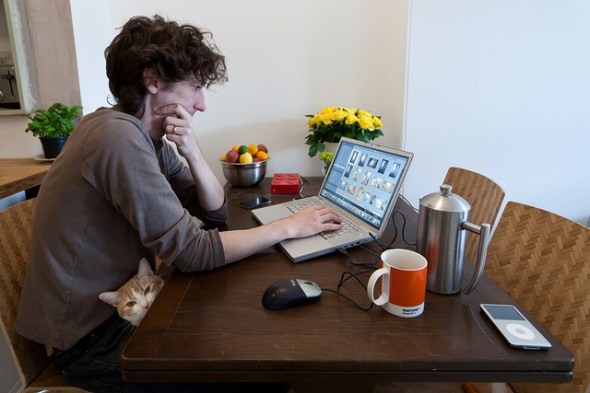 Working from home has become more popular than ever and it doesn't appear that the telecommuting trend is about to lose steam any time soon. According to consulting firm Global Workplace Analytics, approximately 25 million Americans work from home at least one day of the month and another 2.8 million consider their home their primary workplace. The number of people working from home grew 16% between 2008 and 2012, despite a 1.5% decline in the overall workforce.
While there are plenty of benefits to working from home (longer breaks, flexible hours, pajama Fridays versus casual Fridays), it's sometimes difficult to actually get any work done and you may find it hard to separate work time from personal time. In most cases, distractions and poor time management tend to be the biggest culprits. Whether you're running a small business out of your kitchen or bringing work home from the office a few days a week, here are some tips to stay on track.
1. Establish Boundaries
One of the issues you're bound to run into when working from home is where to draw the line between free time and working hours. This is especially important if you have friends or family members who are in the habit of dropping by unannounced or calling out of the blue just to chat.
If unplanned visits are derailing your day, it's okay to give your visitors a heads-up that you're not available at certain times. Politely but firmly explain what your business hours are and when you've got free time. Setting a schedule and sticking to it is vital, especially if you're working under a deadline.
2. Create a Routine
Setting a routine for each day ensures that you keep up with certain tasks and it also creates a rhythm that can make it easier to transition into work mode. Doing the same things in the same order at the same time helps train your brain so you can stay focused when it's time to start tackling the items on your to-do list.
What your daily routine looks like really depends on the nature of your work and your lifestyle. For some, it may mean getting up early to do 15 minutes of yoga or scroll through emails that came in overnight. For others, it may mean getting to work on the most challenging aspects of a project first thing. It may take some time to figure out what works best but once you do it can make your work day run much more smoothly.
3. Banish Distractions
When you're procrastinating on a work assignment or trying to complete a project that's giving you trouble, it's almost inevitable that something will try to draw your attention away. Social media, piles of dirty laundry or even the dishes in the kitchen sink will suddenly take on new importance as you look for ways to put off whatever it is you need to be working on.
If distractions are bogging down your work flow, setting aside a block of time each day to tackle chores or scroll through your Twitter feed can help you stay on task. Keeping your work time separate from personal time ensures that everything gets done when it needs to.
4. Set Daily Goals
Creating a list of things you want to accomplish each day can go a long way towards improving your productivity. It's easier to stay on track when you've got something you can refer back to regularly and it can also give you an idea of how well you're managing your time. Prioritizing your goals lets you get the most important things done first so that if something falls through the cracks, it won't be a catastrophe.
Making the transition to working from home can take some getting used to and the more prepared you are, the easier the adjustment will be. Staying organized, keeping an eye on your time and knowing what you want to accomplish can keep you headed in the right direction.
Photo Credit: Dave Morris