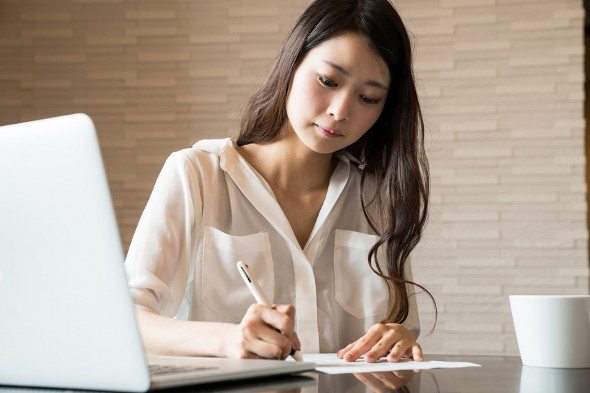 Accepting a job offer is exciting. But before you can settle into your new work space, you'll need to complete a lot of paperwork, enroll in your 401(k) plan (if your company offers one) and fill out a W-4 form. You'll also need to complete and submit an I-9 form. If you're not exactly sure what that form is, we'll explain why you need it and how to go about filling it out.
Check out our 401(k) calculator.
All About the I-9 Form
Under federal law, new employees are required to complete the Employment Eligibility Verification form (or Form I-9). Employers use this form to confirm that the people they hire are who they say they are. The I-9 form also verifies that an employee can legally work in the United States.
Employers are not allowed to use the information that workers provide on the I-9 form to discriminate against them or fire them. In fact, they can't present anyone with the form until after they make a job offer.
Companies who fail to collect I-9 forms or use them to commit fraud can be hit with fines as high as $16,000 for each violation. Those who engage in criminal activity can spend up to six months in prison. Employees who deliberately include false information on their I-9 forms can face fines and imprisonment, too.
After receiving workers' I-9 forms, employers hold onto them unless they're asked to turn them over to a government agency like the Department of Labor. If they make any clerical mistakes, they'll have 10 business days to fix them before facing any consequences.
Related Article: How Many Allowances Should You Claim?
Completing the I-9 Form: Section I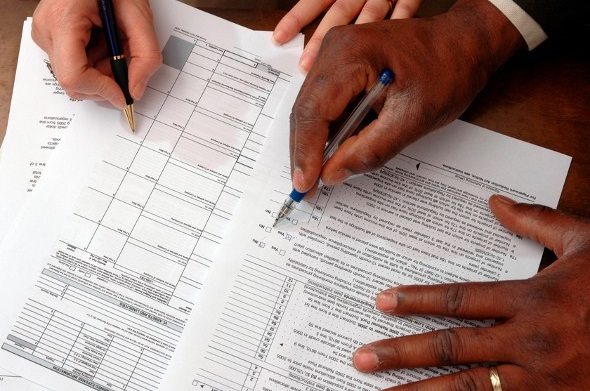 The I-9 form has three different sections. In Part I, new hires must provide their full name, current address, date of birth and Social Security number. They also have the option of writing in their email address and their phone number.
In the next portion of the first section, employees must check a box to indicate their citizenship status. They'll need to say whether they are citizens or noncitizen nationals. Lawful permanent residents and aliens who are allowed to work in the U.S. are required to write in their alien registration number (A-Number) or their USCIS number (which is simply the A-Number without the letter "A.")
Instead of including their alien registration number, aliens who can work in the country can write in their admission number from their Arrival-Departure Record form (Form I-94). They're also required to state how long they're allowed to work in the U.S if their employment authorization expires on a specific date.
Once an employee completes Part I, he or she must sign and date the form at the bottom. If a new hire cannot fill out the form without the help of a translator or a preparer (due to a disability, a language barrier or because he or she is a minor), the person who helped him finish the form must sign and date the form. Preparers and translators must also provide personal information, including their names and addresses.
Completing the I-9 Form: Section II
After completing the first section of Form I-9, new hires must submit their forms along with a document (or two) that meets two separate conditions: (1) that the employee can verify his or her identity and (2) that the employee is allowed to get a job in the U.S.
The I-9 form comes with a list of documents that employees can provide their employers. Documents that fall under list A meet both conditions. Examples include U.S. passports and passport cards, foreign passports and permanent resident cards.
If an employee doesn't have any of the documents from list A, he or she must provide one document from list B and one document from list C. List B documents establish identity and include school ID cards (with photographs), voter's registration cards, driver's licenses and report cards (if the employee is under 18). List C documents establish that a new hire is authorized to work in the U.S. Documents that fall under this category include birth certificates, U.S. citizen ID cards and Social Security cards.
Generally, within three days of an employee's first day at work, their employer must complete section II of Form I-9. First, the employer needs to write in the employee's full name under section 2. Then, the employer must take the document(s) that the employee submitted and indicate whether it's included under list A, B or C. For each of these documents, the employer has to write down the title of the document, the document number, its expiration date and the name of whoever issued it.
In the last part of the second section, the employer must list the employee's first day of work and sign and date the form. The employer must also write in their full name, company name and company address. As long as employees are working at a company for more than three days, they can present receipts (like a receipt proving that they're waiting for a replacement document after their original one was damaged or lost) if they don't have access to any of the listed documents.
Related Article: A Guide to Filling out Your W-4 Form
Completing the I-9 Form: Section III
Employers only need to fill out the third part of Form I-9 if they're rehiring or re-verifying an employee. If a hiring manager rehires someone within three years of signing their initial I-9 form, the employer can either complete part III of the form or fill out a brand new I-9 form.
Section III of Form I-9 is relatively easy to complete. Employers only need to list an employee's full name and rehire date. If the employee's employment authorization expired at some point, the employer will need to list whatever document the employee used to verify that they can still work in the country (whether it's from list A or list C).
Finally, the employer must sign, date and print their name on the form.
Bottom Line
From a legal standpoint, a new employee can't work without filling out an I-9 form. If an employer or his or her employees has trouble completing the form, they can always meet with a lawyer or reach out to someone from the U.S. Citizenship and Immigration Services. If anyone fails to provide accurate information on Form I-9, they risk facing charges.
Update: Have further financial questions? SmartAsset can help. So many people reached out to us looking for tax and long-term financial planning help, we started our own matching service to help you find a financial advisor. The SmartAdvisor matching tool can help you find a person to work with to meet your needs. First you'll answer a series of questions about your situation and goals. Then the program will narrow down your options from thousands of advisors to three fiduciaries who suit your needs. You can then read their profiles to learn more about them, interview them on the phone or in person and choose who to work with in the future. This allows you to find a good fit while the program does much of the hard work for you.
Photo credit: ©iStock.com/tdub303, ©iStock.com/Maica, ©iStock.com/Steve Debenport